Carbon Clean technology aims for industrial decarbonisation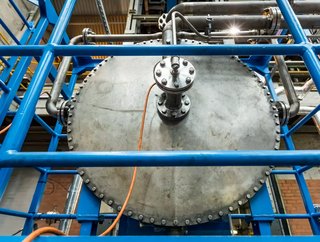 A compact carbon capture solution from Carbon Clean offers businesses a simple and affordable method for decarbonisation onsite
Today, Carbon Clean, a manufacturer of cost-effective industrial carbon capture technology, has launched its smallest solution, the CycloneCC. 
As many businesses are seeking to reduce their emissions, carbon capture removes what carbon has already been released and stores it safely away. However, as carbon capture facilities are so large, they are impossible for some businesses to install onsite. 
Due to its compact size, the CycloneCC brings carbon capture technology within reach of many more industrial emitters.
The privately held environmental service, Carbon Clean, was founded in 2009 and remains headquartered in London. 
Net zero with carbon capture
A recent survey from Decarb Connect has shown that space remains a major concern for businesses hoping to reduce their carbon footprints with carbon capture technology. 
Yet The International Energy Agency has said that if the world is to reach net zero by 2050, CCUS capacity deployment must be 50% higher than currently predicted trajectories. 
CycloneCC can help achieve this, as well as support industrial companies in their individual net zero ambitions.
Carbon capture technology and the issue of space
Carbon Clean saw that the biggest problems in widespread CCUS adoption were related to the size and cost of existing carbon capture technology. 
"Carbon Clean is breaking down these barriers with the world's smallest industrial carbon capture solution", said Aniruddha Sharma, Co-founder & CEO of Carbon Clean. "CycloneCC is the next generation of technology that will make carbon capture simple, affordable, and scalable – bringing it within reach of a huge number of industrial emitters, especially those with small to midsize emission point sources."
UK Energy & Climate Change Minister, Greg Hands, believes that carbon capture technology, both usage and storage, will be a critical tool as industries seek to decarbonise. 
"We want the UK to be a world leader in developing and deploying Carbon Capture, Usage and Storage technology, which will ensure our manufacturers remain internationally competitive", explained Hands. "Backed by £5mn of government funding, Carbon Clean's innovative new technology will help make the widespread industrial adoption of carbon capture a reality, supporting UK industries to decarbonise while attracting new investment as we work towards ending our contribution to climate change by 2050."