Thailand to become home to the world's largest solar roof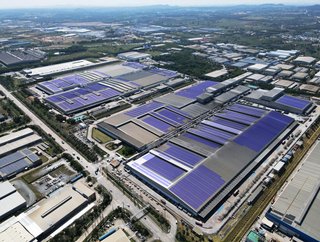 The rooftop solar panel will contribute to a total annual CO2 emissions reduction of 38,000 tonnes²
A solar panel the size of 18 football pitches is currently being built in the Falken tyre manufacturing facility—the largest rooftop installation worldwide
Falken is building the world's most extensive solar panel installation on a single facility, covering an area of 100,000 square metres, which is equivalent to over 18 football pitches. This installation is being constructed at the Sumitomo Rubber Industries (SRI) factory in Thailand, where Falken is a subsidiary.
The installation is composed of 40,000 solar panels with a combined output of 22MW and is set to be completed by January 2025. By then, the facility will be able to use 100% renewable energy, thanks to the investment in the new solar panel installation, as well as the adoption of a gas co-generation system and biomass electric power system initiatives at the Rayong Province facility. The gas co-generation system, which comprises two 6.6MW boilers powered by renewable energy sources, will replace energy supplied by local utility companies. Additionally, biomass obtained from the surplus branches and trunks after rubber trees are harvested, as part of SRI's Sustainable Natural Rubber⁴ programme, will provide additional electrical power.
In total, the new initiatives will reduce total annual CO2 emissions by 38,000 tonnes.²
Driven by SRI's long-term sustainability policy, 'Driving Our Future Challenge 2050⁵' the latest initiatives will help accelerate its carbon neutral goals. This aims to reduce annual Scope 1 and 2 CO2 emissions by 50% (compared to 2017 emissions) with its 2030 target now set to be achievable one year ahead of schedule.