Coldplay work towards net zero on sustainable tour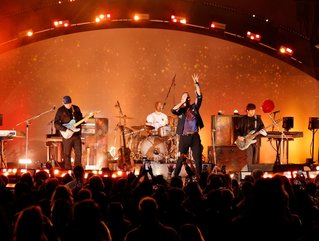 Coldplay - photo credit: Getty Images
Coldplay's World Tour is utilising groundbreaking sustainable practises through partnerships with SAP, DHL, BMW, Energy Floors and KultureCity
Live concerts and performances generate 405,000 tonnes of greenhouse gas emissions every year, according to the Tyndall Centre for Climate Research.
Founded in the late 90s in London, Coldplay have been touring the world since 2000, and are revolutionising touring to reduce their negative impact on the environment whilst maintaining positive interactions with fans globally.
Environmentally conscious touring
Their current world tour, Music of the Spheres, utilises a range of new technology, company and charity partnerships and industry defining developments to combat their environmental influence.
The sustainability initiative is guided by three principles:
Reduce — less consumption, more recycling and cut CO2 emissions by 50% (in comparison to the 2016-17 tour)
Reinvent —support new green technologies (including kinetic dance floors) and develop new sustainable, super-low carbon touring methods
Restore — fund projects and draw down more CO2 than the tour produces
The journey to sustainable touring has been overseen by Green Nation and Hope Solutions.
"Playing live and finding connection with people is ultimately why we exist as a band. At the same time, we're very conscious that the planet is facing a climate crisis," say Coldplay.
"So we've spent the last two years consulting with environmental experts to make this tour as sustainable as possible, and, just as importantly, to harness the tour's potential to push things forward. We won't get everything right, but we're committed to doing everything we can and sharing what we learn."
Renewable energy powering the future of live music
A selection of different sustainable energy sources are utilised to power the world tour:
Coldplay have partnered with BMW to develop a mobile, rechargeable battery that can power 100% of the show with renewable energy, anywhere in the world. Created using recycled BMW i3 batteries, the battery is the first of its kind.
Fan power in the form of kinetic dancefloors and static bicycles is being harnessed. Energy Floors have created tiles especially for the tour that are durable, portable, and use the audience dancing power to charge the batteries running the show.
Sustainable biofuels for vehicles, solar photovoltaic panels to charge the batteries and renewable grid power where necessary make up the rest of the renewable, low-emission energy used to power the show and tour.
SAF: Providing sustainable flight options
"Although the tour has been carefully routed and pre-planned to minimise air travel, some flying is unavoidable," Coldplay's sustainability pledge reads.
"For all flights, commercial and charter, we pay a surcharge to use or supply Sustainable Aviation Fuel (SAF)."
The fuel is created from waste including used cooking oil, and can help reduce greenhouse gas emissions from air travel by up to 80%.
Audience commitment to net-zero goal
Audience members are given reusable LED wristbands as part of the show. The bands are made from 100% compostable materials, and wristband production has been reduced 80% through collecting, sterilising and recharging them after use.
Coldplay have collaborated with One Tree Planted to plant one tree for every ticket sold to the Music of the Spheres world tour, reducing the impact of the crowds.
The tour is also working with the non-profit organisation KultureCity to make the tour inclusive for audience members with sensory issues through providing sensory bags and access to a mobile sensory room.
Partnering with SAP to reduce audience travel impact
33% of the 405,000 tonnes of greenhouse gas emissions generated by live concerts each year is from audience travel.
Coldplay are combating this through a free app, developed in partnership with software development company SAP. The app, which has had over 350,000 downloads since its launch in March 2022, encourages fans to use low carbon transport options and offers rewards through discount codes.
"With our technology and solutions, we empower organisations worldwide to drive sustainable change," says Christian Klein, CEO of SAP. "Coldplay and SAP share a common and profound commitment to sustainability, and we are thrilled to join forces to make their tour as environmentally friendly as possible."
Coldplay's sustainability goals — mid-tour review
The band have recently issued a statement regarding their sustainability goals so far through their tour, as reviewed by MIT's Environmental Solutions Initiative.
"On a show-by-show comparison, the Music Of The Spheres Tour has so far produced 47% less CO2e emissions than our last stadium tour (2016-17)," the statement reads.
The update lists achievements so far, but is also realistic that it hasn't hit its 50% target, and that there is still room to grow and improve.
What is the future for Coldplay's sustainability initiatives?
There seems to be no end in sight for the lengths that Coldplay will go to in an effort to reduce their environmental impact.
Alongside their direct actions, 10% of their income from all avenues going to the Good Causes Fund, supporting charities including:
Whether you're a fan of their music or not, it's hard to deny that Coldplay are pioneers for the future of sustainability in live music.
******
For more insights into Sustainability - check out the latest edition of Sustainability Magazine and be sure to follow us on LinkedIn & Twitter
Other magazines that may be of interest - EV Magazine | Energy Digital
Please also check out our upcoming event - Sustainability LIVE in London at the BDC on Sept 6/7th 2023
*******
BizClik is a global provider of B2B digital media platforms that cover 'Executive Communities' for CEO's, CFO's, CMO's, Sustainability Leaders, Procurement & Supply Chain Leaders, Technology & AI Leaders, Cyber Leaders, FinTech & InsurTech Leaders as well as covering industries such as Manufacturing, Mining, Energy, EV, Construction, Healthcare + Food & Drink.
BizClik, based in London, Dubai & New York offers services such as Content Creation, Advertising & Sponsorship Solutions, Webinars & Events.