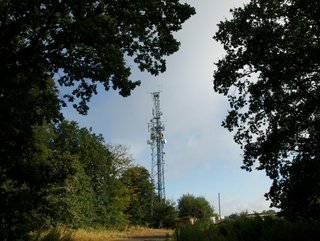 Cellnex UK. Credit | Cellnex
Success of a business is directly tied to successful ESG strategy, says Claire Cranton, Cellnex Head of ESG, who provides insight into ESG for telecoms
Claire Cranton is the Head of Corporate Communications, Public Affairs and ESG at Cellnex UK, Europe and the UK's largest independent owner and operator of wireless telecoms infrastructure.
What is ESG?
Environmental, Social and Governance is a collective term for a business's environmental and societal impact. It encapsulates a wide spectrum of measures, including encouraging diversity in UK boardrooms, ensuring fair and equal pay for all and minimising environmental impact.
Taking a closer look at the telecoms industry, ESG is an important consideration when it comes to addressing the amount of CO2 emitted and creating transparency and accountability among stakeholders. On top of this, it also plays a key part in supporting the government's "levelling up" plans to tackle digital exclusion across the UK.
Why is ESG important?
Now more than ever before, the success and growth of a business is directly tied to a solid, real and accountable ESG strategy. This means that companies must conduct business in a way that provides long-term value without producing any negative effects on the environment or society — or at the very least, tries to minimise its effects.
In 2021, Cellnex UK established its ESG Master Plan, which integrates social, environmental, ethical and governance initiatives in line with the United Nations' Sustainable Development Goals (SDG). A key initiative for Cellnex UK is facilitating social mobility through providing enhanced network connectivity to allow anyone within society, regardless of location, to unlock the benefits of digital technology. Within this, we support various community projects to help bridge the digital skills gap through facilitating access to computers and training sessions to support people in using technology in everyday life.
Can you give an example of the importance of ESG?
One of the areas of ESG that is important for me is the digital skills divide. It's a pressing issue for the nation, and recent figures go some way in illustrating just how stark the problem is.
One in four vulnerable children is currently without access to suitable learning devices, 70% of low-income households only have foundational digital skills, and 10% of Londoners don't own a smartphone. Ofcom also highlights how severely the digital divide impacts groups most vulnerable to digital exclusion: the elderly, people with limiting conditions such as visual or hearing impairment, and those not in employment.
It's clear that digital poverty is an ever-growing issue in the UK. Especially when you consider just how many essential services such as education, healthcare and financial assistance are increasingly digitised, and the majority of jobs require online applications. All of this is limiting equal opportunities, social mobility, as well as social and economic benefits that have the potential to positively impact people of all generations across the country as a result.
As part of my role at Cellnex UK, I am responsible for ensuring that Cellnex UK is rising to the challenge of providing everyone with equal access to digital technology. This includes working with the government to address the nationwide deployment and adoption of 5G infrastructure to ensure marginalised groups have access to the fundamental resources that they need to live and thrive in society.
Why is ESG crucial in working towards net zero emissions and hitting the targets of the Paris Agreement?
We all personally and professionally contribute to the rise in temperatures globally. From using energy to manufacture products, to the delivery of goods around the world and the disposal of products at the end of their life. That's why the environment and climate change are often key components in an organisation's ESG strategy – it's something that's no longer a 'nice to have', but simply expected from the workforce, key stakeholders and industries at large.
In the telecoms industry specifically, operators rely on a network of data centres, relay stations and masts, which require a constant power supply and, therefore, contribute to carbon emissions. With this in mind, the journey towards net zero emissions is a big focus area, and the industry is certainly rising to the challenge of reducing its impact on the environment.
Within this, Cellnex UK is working towards meeting the Government's Net Zero targets in the telecoms industry by investing in a shared connectivity infrastructure to support the UK's efforts towards a greener future. By adopting a neutral host model, radio equipment sites, which mobile operators traditionally manage, will be shared, reducing the amount of energy required to power equipment. It's estimated that the duplication avoided by independent managers in the construction of new sites will prevent almost four million tons of carbon emissions in the development of towers up to 2030.
How is ESG shaping modern business?
A good ESG strategy includes various sustainability factors, such as a company's efforts toward reducing its carbon footprint, encouraging diversity or introducing employee wellness programmes. It also focuses on initiatives that matter the most to the communities that a business is involved with, helping companies to gain investor confidence, earn customer loyalty, reduce operating costs and improve both asset management and financial performance.
ESG factors are also influencing employment decisions in a big way. It's driving the growing trend of 'climate quitting', especially among the younger workforce, who are seeking out a more environmentally friendly job. Almost one in two (46%) want the company they work for to demonstrate a commitment to ESG, while one in five (20%) have turned down a job offer when the company's ESG commitments were not in line with their values.
It's clear that socially conscious investors and other stakeholders, including employees, customers, regulators, suppliers, etc., want to know a company's stance on socioeconomic factors, its sustainability efforts and its corporate governance processes. ESG is now fundamental to business growth and, indeed, survival!
What shapes successful ESG strategy?
ESG strategies can vary greatly among companies and industries. What constitutes success will depend on the company's specific context, goals, and commitment to ESG principles. Additionally, ESG performance can evolve over time as companies adapt to changing stakeholder expectations and global challenges.
As part of Cellnex UK's ESG strategy, we're pleased to support some fantastic charities that do important work to promote digital inclusion. Via the UK Community Foundation, we have been able to help fund initiatives such as the Holborn Community Association's digital arts club, which provides access to digital equipment and increases skills for children from typically low-income families.
We also work with the Scottish Council for Voluntary Organisations to support charities such as CarComm, which help elderly people living in care homes to use digital devices to keep in touch with family, shop online and access media content based on their interests.
Successful ESG strategies begin with well-defined, measurable goals and metrics. They are often based on a long-term perspective, recognising that sustainable practices can lead to enduring value creation for a company. Ultimately, a successful ESG strategy is one that has buy-in and commitment from the very top of the company to its investors and all colleagues, and is evident through attitude, business practises and commitment. For me, it has to be authentic and have real change in its sights.
*************************************************
For more insights into Sustainability - check out the latest edition of Sustainability Magazine and be sure to follow us on LinkedIn & Twitter
Other magazines that may be of interest - EV Magazine | Energy Digital
*********************************************
BizClik is a global provider of B2B digital media platforms that cover 'Executive Communities' for CEO's, CFO's, CMO's, Sustainability Leaders, Procurement & Supply Chain Leaders, Technology & AI Leaders, Cyber Leaders, FinTech & InsurTech Leaders as well as covering industries such as Manufacturing, Mining, Energy, EV, Construction, Healthcare + Food & Drink.
BizClik, based in London, Dubai & New York offers services such as Content Creation, Advertising & Sponsorship Solutions, Webinars & Events.