Supply Chain Sustainability
Digital tools: revolutionising Scope 3 emission management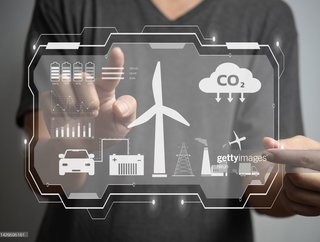 Scope 3 emissions
With SAP's Gunther Rothermel, we explore how businesses can utilise digital tools to better track Scope 3 emissions
In an era marked by increasing environmental awareness, many businesses are undergoing a remarkable mindset transformation when it comes to sustainability.
But to achieve vital sustainability targets, businesses must extend their focus beyond just their operations. Although Scope 1 and Scope 2 emissions provide a solid foundation for emission management, Scope 3 emissions occur outside the direct control of the company. These are instead created by suppliers when developing or delivering products, or when customers use company products, for example. Scope 3 emissions are thus indirect and originate from the value chain, contributing to the lion's share of a company's carbon footprint – and they often account for more than 70% of a business's overall emissions.
By delving into Scope 3 emissions, businesses gain a comprehensive view of their environmental impact to uncover opportunities for a significant reduction. As with most aspects of modern life, technology is becoming a vital tool for tracking, monitoring and reducing these emissions.
Tracking Scope 3 emissions with technology
The current approach to carbon accounting, which involves monitoring and controlling Scope 3 emissions is heavily dependent on spreadsheets and partially automated tools that rely on approximations and averages for carbon footprints. However, these methods are insufficient. To accurately track carbon emissions, businesses must shift towards utilising precise and controlled data values throughout the entire supply chain.
"Digital tools increase data transparency, accuracy and reliability so that high-quality carbon data, like a company's financial data, is auditable, transparent and reliable," says Gunther Rothermel, Senior Vice President and Head of Sustainability Engineering at SAP. "This is how digital tools provide executives with a future-proof toolset to manage and reduce their carbon footprints.
"Implementing SAP's sustainability solutions can be a quick time to value because they are SaaS-based, modular solutions. That means the solutions are hosted and made available for customers over the internet.
"What can be challenging, however, is not necessarily the technology, but the standards lying behind. That is, the data availability and data quality used to feed a level of transactional and granular management of Scope 3 emissions. Companies must take a 'whole business' approach to be able to record, report and act on reliable, accessible emissions data across both corporate and product levels."
To achieve sustainable operations and effectively reduce carbon emissions on a large scale, businesses must ensure accurate and accessible sustainability data recording, reporting and action. As a leading provider in this domain, SAP offers a comprehensive range of modular, cloud-based sustainability solutions that address key challenges related to climate action, ESG reporting, circular economy, and social responsibility.
SAP has recently unveiled SAP Sustainability Footprint Management, a single solution to calculate and manage carbon flows with high granularity on company, process, and product levels across Scopes 1, 2, and 3.
Building on the capabilities of previously released SAP solutions, this latest addition introduces advanced functionalities, such as enhanced management of diverse emissions sources and support for a wide range of industry-specific requirements. By incorporating SAP Sustainability Footprint Management into their operations, businesses can effectively measure, track and control their carbon footprints in a more comprehensive and precise manner.
"SAP Sustainability Data Exchange is a new solution designed to securely exchange standardised sustainability data, including product footprints, along the value chain," Rothermel says. "The solution allows precision accuracy by gathering actual carbon data directly from suppliers; it also uses standards and interoperability protocols developed in collaboration with the WBCSD PACT programme.
"With regard to ESG reporting, SAP Sustainability Control Tower supports companies in setting regulatory-compliant KPIs and disclosing sustainability progress to a broad range of frameworks. It provides a holistic view that is vital to understanding where emissions are occurring, setting accurate net-zero targets, and identifying specific areas to take action for maximum decarbonisation impact."

Integrating digital tools into current processes
Without access to relevant and usable data, companies are unable to make informed and sustainable business decisions, particularly when it comes to reducing Scope 3 emissions. Digital tools play a crucial role in ensuring transparency, accessibility and reliability of emissions data. By leveraging these tools, executives gain the necessary insights to make well-informed decisions regarding emission reduction strategies and determine the specific areas and extent to which emissions can be reduced.
"The much-quoted phrase, "you cannot manage what you don't measure," sums up the need for digital tools well. Considering that more than 70% of a business's carbon footprint lies within its supply chain, the inability to track, manage and gain insights from live data and embed it into core business processes can cripple the best-intentioned emissions reduction efforts," Rothermel says.
To ensure companies can integrate digital tools into their existing sustainability management systems, they need to ensure they take a holistic view of their enterprise in their sustainability management system. This means they need to embed sustainability data into their core business processes, across key business functions, and ensure everything is connected.
"The best way to achieve this is to base sustainability management on the enterprise resource planning backbone," Rothermel adds. "Using their Enterprise Resource Planning system, supported by specific sustainability capabilities, companies connect accounting and finance to human resources, manufacturing, supply chain, services, procurement and more. This allows deep insights through predictive analytics and scenario planning so effective business decisions can be made to run more sustainably.
"By connecting financial information and environmental information in a 'Green Ledger', for example, executives can make informed real-time decisions at the optimal place in the value chain, maximising sustainability and profitability."