Supply Chain Sustainability
Fibrebond's off-site construction meets data centre demands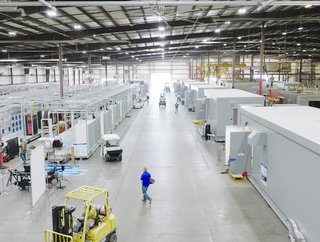 Fibrebond Data Centre - Main Floor
Fibrebond supports NTT in it's growth by developing high-quality data centres safely and efficiently in a manufacturing environment
There is currently an emphasis on how data centre firms construct their facilities, with focus placed on efficiency and quality while adhering to collective principles. It is at this unique intersection the story between Fibrebond and NTT DATA takes place.
As the construction firm providing the 'electrical backbone' of its data centre operations, Fibrebond has fostered a safer, more efficient method of construction in support of the industry's rapid development. Leveraging off-site construction methods and prefabricating the primary electrical infrastructure of a data centre, Fibrebond is on a mission to cut costs and schedules while giving its customers a critical tool in dealing with electrical supply chain challenges.
"We have worked with NTT since 2018, when it was primarily a US-based data center team," says Graham Walker, President & CEO at Fibrebond.
"They're trying to figure out how to scale up quickly, so we developed with them an initial design that grew into a broader construction philosophy that solved for limited skilled electricians and material shortages."
Off-site construction creates on-site safety and flexibility
By creating an equipment-agnostic environment for NTT, Fibrebond is able to build facilities much faster to meet scaling needs of the company, which is one of the key components of its incredible growth. Leveraging the similar elements for each design, Fibrebond is responsible for managing the construction of its data centres in the factory, which reduces on-site construction inputs.
"We look at the availability of skilled labour – and that is something that every company talks about, deals with, struggles to find, especially on a large construction project where, at best, it's organised chaos," says Walker.

Through concurrent scheduling, customers like NTT afford better flexibility when it comes to growing their data centre footprints thanks to Fibrebond, allowing them to reduce development times and become operational in record times. Working in this way also provides more time for quality management in the manufacturing environment, ticking off more tasks before infrastructure reaches the site.
Scaling up is a lengthy process, but Fibrebond's methods allow customers to see the end goal and visualise the route to completion, which is a selling point for data centre operators looking to plan their next course of action.
"Because we can build that flexibility into what we do for a customer – again, site agnostic, equipment agnostic, contractor-agnostic – we get greater forward visibility. And in the inflationary cost environment of the past 24 months, that visibility unlocks a world of potential," says Walker.
"We can then go to our suppliers and – by placing orders early, by securing materials with deposits and various things – we can now mitigate the inflation. As our backlog expands and we grow, we can't have material costs inflating underneath us. And that we don't lose access to materials."
Understanding how manufacturing plays a crucial role in data centre business growth, Fibrebond's business model is driving efficiencies and shortening response times for production completion while also enabling rapid scaling.
Read the full NTT's digital report HERE.