Supply Chain Sustainability
Great tasting coffee that doesn't cost the earth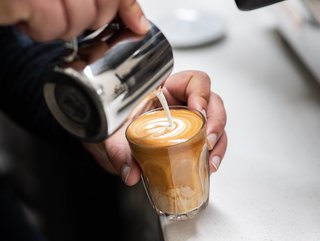 Great tasting coffee that doesn't cost the earth
Santo Buccheri, founder of the Buccheri Group / Coemenate, pours his passion for coffee and sustainability into every cup served across Australia
Santo Buccheri founded the Buccheri Group / Coemenate through a passion for fine coffee. The perfect blend of rich Italian and Australian roots and a firm belief in community, Santo wanted to share that passion with the Australian coffee community.
Santo built the successful business through hard work and dedication, and that can be tasted in every cup – savoured by people at hundreds of cafes all over Australia and New Zealand, but also at companies like Amazon, Woolworths, Australia Post, ANZ, Suncorp, Medibank, and many others.
"We are unique in that we are an Australian, family-owned business," says Santo. "You just don't see that at the level that we operate at, supplying Australia's biggest and most well known companies.
"But ever since I started Coemanate, the focus has been on creating a business that can evolve with our customer's needs, regardless of their size. From the smallest cafes to the largest corporate office buildings."

Buccheri Group / Coemenate help their growers invest long term in their future by buying high-grade coffee at a premium. This helps them secure the future of their own families and communities.
It is important to understand the whole 'ecosystem' of the coffee's journey, right down to which beans grew in which field. By buying direct from suppliers, Buccheri Group / Coemenate can see for themselves the impact they are having on local communities across the supply chain.
As well as green bean sourcing, careful roasting, and bespoke coffee solutions, Buccheri Group / Coemenate provide barista training, the kind of highly personalised customer service you would expect from a family business, and 24/7 technical service.
"That culture of staying agile and being able to respond to the individual needs of every one of our customers, that's exactly why our customers like us," says Santo.​​​​​​​

When it comes to coffee roasting, consistency is equal parts art, science, and focus. The attention to detail coupled with contemporary technology is the perfect blueprint for the way Buccheri Group / Coemenate conducts business.
This means we analyse every process from the coffee farm to cup, so you can be sure every cup is well crafted and carefully intended to provide our customers with a memorable coffee experience.
Roasting takes place in a state-of-the-art plant in Melbourne, with each batch being analysed and tested to ensure consistency before being shipped nationwide.
The authenticity, craftsmanship and consistency you look for in every coffee is guaranteed by a commitment to the roasting process that combines contemporary technology with traditional roasting methods.
As well as sourcing direct from suppliers and paying a fair price for the green beans, Buccheri Group / Coemenate has partnered with Reground to have coffee waste and soft plastics sent to recycling facilities and community gardens. This ensures waste is diverted from landfill and is used to help support local businesses and communities.
On top of that, the company has saved energy and reduced CO2 emissions by installing solar panels on the roasting plant roof.
Even used coffee sacks are recycled – cleverly used by a local community garden to grow vegetables and promote a healthier lifestyle.
Sustainability is essential. After all, a cup of great tasting coffee doesn't have to cost the earth.
READ THE FULL AMAZON REPORT HERE