Raízen & Sulzer partner for advanced biofuel production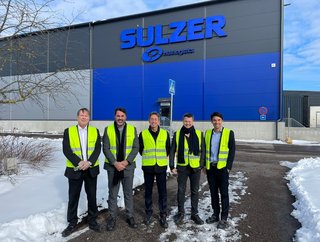 Henrique Nakamura and Marcelo Mancini from Raizen visiting Sulzer factory in Finland with Veli-Pekka Tiittanen, Stefano Sampaolo and Michael Yang Credit: SULZER
Raíze partners with Sulzer as a key technology supplier, to meet the growing global bioethanol demand
Raízen, the leading producer of ethanol derived from sugarcane waste in Brazil, is embarking on a significant investment initiative.
Over the next seven years, the company plans to construct 20 advanced processing facilities for ethanol production and has chosen Sulzer as a key technology provider.
Raízen, a partnership between Shell and Brazilian sugar and energy conglomerate Cosan, is responsible for a substantial portion of global ethanol production. They currently produce around 2.5 billion litres of ethanol from sugarcane at various plants across Brazil. Anticipating a projected annual growth rate of over 14% in global bioethanol demand, Raízen is expanding its production capacity by adopting second-generation ethanol (E2G) technology.
Ethanol, produced through the fermentation of agricultural residues, has become the most widely utilised and significant biofuel worldwide. It has become common practice in numerous markets to blend ethanol with gasoline, reducing the carbon emissions associated with road transportation.
Energy companies also aim to develop fully renewable biofuels that can directly replace their fossil fuel counterparts. For example, since 2022, Shell has incorporated bioethanol as a crucial component in their 100% renewable race fuel supplied to the NTT IndyCar series.

Reducing greenhouse gas emissions
While Raízen's traditional bioethanol plants utilise raw sugarcane as their primary input, the E2G facilities are specifically designed to process bagasse, the residual material remaining after the production of sugar or ethanol from sugarcane.
By utilising bagasse for ethanol production, there is potential to increase the overall yield by 50%. Moreover, this ethanol exhibits an even lower carbon footprint compared to the conventional product, resulting in 97% lower greenhouse gas emissions than gasoline.
Sulzer, a renowned global specialist in pumps, has collaborated with Raízen for over two decades to address the pumping requirements for E2G technology.
They have provided a variety of pumps for pilot plants, and their engineering teams have closely collaborated to overcome the intricate technical obstacles involved in converting bagasse into valuable fuel.

The future for Raízen
By selecting Sulzer as the sole supplier of major pumps for the E2G project, Raízen gains various benefits in addition to the well-established technical capabilities of the pumps. This contract streamlines the procurement process for the new project and allows the facilities to maintain minimal inventories of spare parts.
Sulzer's Industry team in Brazil will be responsible for providing maintenance and spare parts support for each facility, ensuring their availability whenever needed. These capabilities play a crucial role in ensuring the smooth and successful operation of the E2G plants.