Sustainability LIVE London 2023 venue newly B Corp certified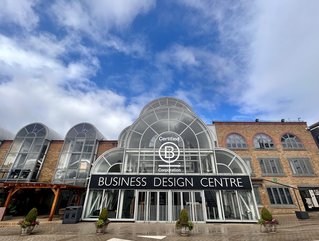 The Business Design Centre, London. Credit | The Business Design Centre
The Business Design Centre CEO Dominic Jones shares the venue's B Corp certification a month ahead of welcoming global leaders to Sustainability LIVE 2023
In a month's time, the Business Design Centre (BDC) will be full of industry leaders as the world's largest companies head to Sustainability LIVE London 2023.
The must-attend hybrid event, hosted by BizClik Media at the BDC, will provide two days of unmissable content on September 6th and 7th, 2023, with keynote speeches from sustainability leaders at companies including AWS, Amazon and Meta.
B Corp certification enforces environmental leadership status
B Corp certification highlights the positive work that an organisation is doing for the environment, as well as gaining the benefits of joining the global community of certified B Corporations and following the B Corp guidance.
Certified B Corporations are pioneers, working together for an inclusive, equitable, and regenerative economy.
"It's very cool that we get to work with amazing venues such as the BDC and I want to wish them the biggest congratulations on becoming a B-Corp ahead of our busy Sustainability LIVE show on Sept 6/7th," shares Glen White, Founder and Chief Executive Officer of BizClik Media.
To gain the certification, a company has its ESG performance measured — from supply chain, to charitable giving, employee benefits and more — ensuring that B Corp Certification accurately verifies that a business is meeting high standards of social and environmental performance, transparency, and accountability.
"This is a huge milestone in the company's history," says Dominic Jones, Chief Executive Officer at the Business Design Centre.
"To be able to meet the rigorous standards set by the B Corp model shows that we are moving along on exactly the right path when it comes to the way we take care of both our people and the planet.
"Receiving B Corp status is the next step on our journey of continual improvement across all aspects of our business and one that we are extremely proud to celebrate. We are a purpose-driven business that holds a strong belief in doing things better, for the people under our roof, our community and for the world around us and look forward to working alongside B Corp and the B Corp community."
A global community of ESG leaders
BDC joins over 7,135 companies, across 161 industries, in 91 countries in becoming B Corp certified, 1,400 of which are based in the UK.
Moving forward from the certification, companies must make a legal commitment by changing their corporate governance structure to be accountable to all stakeholders, alongside maintaining and improving the standard of the original assessment.
"We've been moving through the B Corp assessment and review over the last eighteen months, and it's been a great way to look holistically at how our company operates across these areas," Kate Vandenburg, the BDC's Marketing and Communications Director adds.
"Despite being straightforward, the process is quite rightly very challenging and so we know having completed it, we are joining an incredible international community of other organisations that are also doing business better."
"We are pleased to have B Corps of all shapes and sizes as part of our community – from startups to multinationals and across many different industries. Business is a powerful force and B Corps demonstrate that you can do good in any sector," says Chris Turner, Executive Director of B Lab UK.
"Welcoming the Business Design Centre is an exciting moment because they have an opportunity to lead the way within the events industry. We and the rest of the B Corp community are really pleased to support the BDC in paving the way for a new way of doing things".
So, clear your calendar for September 6th and 7th, and register for your FREE ticket to ensure you don't miss out on the world's biggest and best sustainability event.
******
For more energy insights check out the latest edition of Energy Digital Magazine and be sure to follow us on LinkedIn & Twitter.
You may also be interested in Sustainability Magazine and EV Magazine.
Please also check out our upcoming event - Sustainability LIVE in London on September 6-7 2023.
BizClik is a global provider of B2B digital media platforms that cover Executive Communities for CEOs, CFOs, CMOs, Sustainability Leaders, Procurement & Supply Chain Leaders, Technology & AI Leaders, Cyber Leaders, FinTech & InsurTech Leaders as well as covering industries such as Manufacturing, Mining, Energy, EV, Construction, Healthcare + Food & Drink.
BizClik – based in London, Dubai, and New York – offers services such as Content Creation, Advertising & Sponsorship Solutions, Webinars & Events.