SUSTAINABILITY LIVE London: SOLD OUT!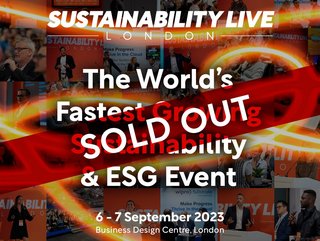 SUSTAINABILITY LIVE London 2023 SOLD OUT
The highly-anticipated SUSTAINABILITY LIVE London has sold out! The event will be taking place on September 6th and 7th 2023 with world-renowned speakers
Sustainability LIVE London, the leading ESG, net zero, and sustainability event in London, is set to take place on September 6th and 7th, 2023, at the Business Design Centre (BDC) and has officially sold out.

The two-day conference is due to gather over 8,000 in-person and virtual participants, uniting influential figures from diverse industries to exchange groundbreaking ideas, proven solutions, and actionable insights for a sustainable future.

Alongside the main conference sessions, there will be nine key themes where attendees can engage in focused discussions on specific sustainability topics. These themes will provide a platform for in-depth exploration and collaboration, including:
Sustainability Strategies
The Future of ESG
Net Zero & Planet
Diversity & Inclusion
Supply Chain Sustainability
Green & Renewable Energy
Sustainable & Ethical Investing
Tech & AI in Sustainability
Women in Sustainability
Business Design Centre (BDC)
With its roots dating back to 1861, the Business Design Centre (BDC) is an iconic, grade II-listed venue in the heart of London.
Sustainability LIVE London is returning for a second year to this iconic building, one which puts sustainability at the forefront of everything that it does and is celebrating 10 years as a carbon-neutral venue.
Meet our speakers
Sustainability LIVE London 2023 is pleased to welcome an array of thought leaders and C-suite executives from the world of sustainability to deep dive into our nine core themes.
Discover some of our speakers below:
To see our full list of speakers, click here.
To take a look at our previous events, click here.