The intrinsic link between climate change & the water crisis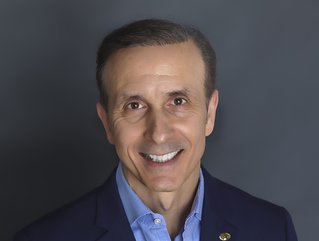 Emilio Tenuta
Ecolab's Emilio Tenuta discusses the critical nexus between the water crisis and climate change, urging businesses to prioritise taking action
Ecolab's Emilio Tenuta discusses the critical nexus between the water crisis and climate change, urging businesses to prioritise taking action on the work that we need to be done in order to achieve the targets set in place to prevent further damage.
By early 2025, almost half of the world's population could be living in areas facing water scarcity, according to UNICEF. What's more, by 2030, some 700 million people could be displaced by intense water scarcity and 1-in-4 children worldwide will be living in areas of extremely high water stress.
Yet the intrinsic link between the water crisis and climate change can often be overlooked. Climate change disrupts rainfall patterns, increases evaporation with higher temperatures, and melts glaciers – all of which impact water availability. Sea levels are rising and extreme weather events – driven by climate change – cause flooding and damage water systems. Natural water regulations are impacted by changes within ecosystems, and these changes only worsen water scarcity across the globe.
Emilio Tenuta, Senior Vice President and Chief Sustainability Officer, Ecolab, says that globally, we're "falling behind" on the work that needs to be done to achieve the targets set in place and to prevent further damage.
Echoing research from the World Economic Forum, Tenuta highlights the role that nature plays in supporting economic activity around the world, stating that over half of the world's GDP – US$44tn of economic value generation – is moderately or highly dependent on nature and its services and, as a result, exposed to risks from nature loss. But nature loss can not be the sole focus; water also has to be considered.
With Sustainability Magazine, Tenuta explores this link in greater depth, while highlighting the pioneering work that Ecolab is doing to reduce the issue.
Raising awareness of the water crisis
In 2020, Ecolab launched its 2030 Impact Goals, its most ambitious yet, which focus on creating a positive impact by working with its customers within its operations, communities, and environment. In its operational water and climate goals, Ecolab outlines a number of specific targets, including:
Reducing the company's water impact by 40% per unit production across its enterprise, from the 2018 base year
Restoring more than 50% of its absolute water withdrawal volume at high-risk sites
Achieving Alliance for Water Stewardship (AWS) Standard certification in high-risk watersheds
SBTi approved climate target to get to net zero by 2050 and halfway there by 2030
"We have a lot of big goals," Tenuta explains, "for example, we want to have a net positive water goal by 2030, as well as the target of being net zero by 2050. Additionally, we're very proud of our DEI goals, as well as those to impose safety, as safety is at the core of the company.
"But what really speaks volumes is the positive impact we're making by helping our customers achieve their bold business and sustainability goals in 2022. For example, we helped our customers conserve 219 billion gallons of water – equivalent to the drinking water needs of 758 million people. We helped our customers provide safe and high-quality food to 1.4 billion people while providing hand hygiene solutions to clean 57 billion hands and avoiding 3.6 million metric tonnes of greenhouse gas emissions, which helped prevent almost 6 million pollution-related illnesses. These statistics, to me, demonstrate how we're stepping up to help our customers achieve their bold, ambitious goals while making a positive impact for the planet while growing their businesses each year."

Collaboration for better climate action
The water crisis isn't just a humanitarian challenge – it has business implications, too. But, businesses are able to help solve and have a huge impact on these problems. By working with industries, governments, NGOs and other stakeholders, Ecolab acts as a convenor by tackling some of the most pressing challenges around the climate and water crisis. For example, in 2020, Ecolab co-founded the Water Resilience Coalition – a CEO-led coalition focused on building awareness and taking action around the water crisis.
"The coalition has been contributing some really meaningful work," Tenuta says. "For example, it identified that 150 of the world's largest companies and their supply chains can impact one-third of the freshwater use globally by adopting a net positive water pledge. If you really think about that, it's an unbelievable statistic as it highlights why businesses need to lean in on the water crisis, to not only support the challenges that businesses face but also the humanitarian challenges that we see around the world."
Although the Water Resilience Coalition is having a tremendous positive impact, it demonstrates a wider concept; sustainability goals can't be achieved by one company alone – it takes working together to drive scale in at-risk watersheds.
Three steps to a sustainable future
For businesses keen to embark on their sustainability journey, Tenuta highlights three key points, the first being to act now.
"The world is behind on our water and climate goals," Tenuta explains, "and although there's a lot of talk about being innovative, we must utilise the current technologies available, rather than waiting for the next best thing to come along."
Secondly, he highlights that water must be considered as part of the climate strategy. "It's often the overlooked part of the equation," Tenuta adds, "but water equals climate – we know this. We're mainly experiencing the effects of climate change through water – for example, through extreme droughts, weather and flooding, to name a few. Water, therefore, has to be part of the strategy."
The third and final step is to take note of and utilise collaborations. "We cannot do this alone – it needs to be a joint effort," Tenuta says. "Coalitions and industry groups are critical to solving some of the challenges that we're seeing around water and climate, today. But we need to act together."