Diversity & Inclusion (D&I)
The menopause movement: Revolutionising workplaces for women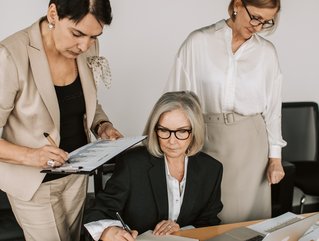 The menopause movement: Revolutionising workplaces for women
Menopause is widely seen as a taboo workplace topic – this needs to change. Menopause experts and executives from Leidos and Accenture explain why
The days of being unable to talk about women's health issues in the workplace are long behind us. In fact, employers that promote open conversations and provide supportive policies are becoming increasingly favourable.
Women account for 47.7% of the global workforce, yet still, there are many silent barriers that arise everyday. Although it's commonly known that women face a great amount of adversity in the workplace, health concerns should not be one of them.
Breaking workplace taboos
Hot flushes, night sweats, low moods, anxiety and problems with memory and concentration, are just a few of the symptoms that menopausal women can experience. Those used to a busy business environment will easily be able to understand how these symptoms can impact a woman's professional career.
In fact, 10% of women shared that they left their job because of menopausal symptoms, 14% had reduced their working hours and 8% of women expressed that symptoms had deterred them from applying for promotion, according to The Menopause in the Workplace report. What's more, 44% of polled women shared that menopause symptoms affected their ability to work, 61% felt that symptoms caused them to lose motivation to work and 52% had lost confidence.
But, it doesn't stop there. Almost three quarters of women reported feeling unsupported whilst experiencing menopause at work, with a whopping 41% stating that they had seen either the menopause or menopause symptoms being treated as a joke by peers. Not only do these statistics demonstrate the adversity that every working woman, at some point, will face, but also the imperative need for businesses to take menopausal support seriously.
"Menopause and the symptoms associated with it are still seen as taboo," says Haley White, Founder of Menospace. "There's an assumption that menopause only happens to older women, when in fact, menopause can happen at any age.
"Employers have a responsibility for the health and safety of their employees. The number of tribunals citing menopause has tripled, yet staff training and the right policies are still lacking," White adds. "Employers and managers need to realise that this is not something that is going to go away or that can 'be fixed'. It's something that every woman goes through and it affects all of us – including men.
"The more we talk openly about this, the less embarrassing it becomes. Organisations should start with training for both male and female line managers, run sessions that allow and encourage women to share their experiences, as well as having menopause policies in place. Organisations need to remember that this is not a box-ticking exercise – women's health issues need to be taken seriously and embedded at all levels throughout the organisation."
Leidos and Accenture: Menopause-friendly businesses
Increased exposure to women's health issues – particularly the menopause – is causing more businesses to pioneer change.
Fortune 500 technology solutions company Leidos, is just one company leading by example. With a global workforce of over 44,000 women, the business is committed to creating a culture that welcomes diversity, attracts new talent and provides development opportunities enabling every employee to thrive.
"Leidos employs thousands of women around the globe," says Alison Noon-Jones, Vice President & HR Director, Leidos UK. "We recognise that in the workplace a lack of knowledge and awareness around menopause and a fear of speaking out, can negatively affect people's health. That is why we have introduced a menopause support programme to help all Leidos employees.
"This includes adding menopause support to our healthcare packages – enabling staff to access specialists with ease – hosting regular internal support groups for our staff, making sure all our managers undergo awareness training, and also even running joint workshops with many of our clients too. This creates an open and supportive workplace culture that continually informs and educates the employee base, while empowering women."
The business also provides the "Leidos Life" programme, which provides flexibility and support in ways of working. Noon-Jones adds: "Our renewed focus on policies such as the Menopause and Women's Health Policies have enhanced our ability to both attract and retain a population of female employees who may have ordinarily struggled with personal recognition. We continue to celebrate the successes of our highly talented female workforce and look forward to making continuous and recognisable progress in the years ahead."
IT services and consulting company, Accenture has also incorporated women's health considerations into its comprehensive health and wellness package. This includes a digital healthcare application designed to assist individuals during significant life stages such as fertility, early parenthood and menopause. Accenture also integrated Peppy into its healthcare offerings, granting individuals access to menopause specialists who provide guidance through chat, personalised programmes, events and virtual consultations.
Jill Ross, Managing Director at Accenture affirms: "Menopause can no longer be taboo at work. We are proud to be a menopause-friendly employer and strive to support women, and all our people, with their hormonal health and create a culture where everyone feels a sense of belonging.
"By having better information and open conversations, organisations can go some way to dispelling myths about the menopause and empower their people. Breaking down barriers on the menopause helps us all to be better leaders and colleagues and forms part of our journey to becoming one of the most inclusive companies in the world."
The future of women's health
Change is happening – but not at a quick enough pace. Rather than seeing women's health as a female problem, employers need to understand that they impact the entire business.
"Workplaces need to remove the taboo and any barriers around the subjects – staff training is key," White adds. "It's wonderful that we have seen a huge rise in the wellbeing and mental health support in the workplaces, but employers need to start taking women's health issues just as seriously. After all, the two are linked."
Once the perspective on these topics change, we can only hope that women will receive the support they deserve, making them less inclined to cut their careers short.