The slow-but-sure shift to a sustainable circular economy
By Charlie Steer-Stephenson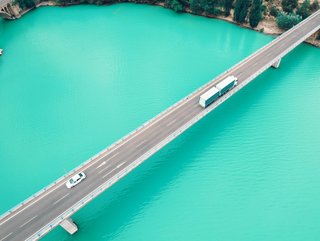 The transition from an excessive, linear supply chain to a sustainable, circular model is certainly underway – but it's not without huge challenges ahead
As supply chain disruptions continue to affect industries across the world, environmental, social and governance (ESG) concerns remain a business priority. Producers and consumers alike are being urged to consider whether their actions align with the sustainable principles of a circular economy - a model of production and consumption based on sharing, reusing, repairing, refurbishing and recycling existing materials for as long as possible, in order to extend the life-cycle of products and minimise waste.
Currently, only 8.6% of the world's economy is successfully circular and there are still 91 billion tonnes of materials being wasted each year. Research undertaken by SAP and the World Economic Forum revealed that 4.9 billion people (61% of the world's population) lack access to waste management or recycling infrastructure. It's therefore more critical than ever for businesses to put sustainability at the top of their agendas.
The operational significance of a circular supply chain
With sustainability a top priority, net-zero practices must become central to companies' end-to-end operations. From design to consumption, companies should be striving for zero emissions, zero waste, and zero inequality ESG goals at every stage of the supply chain.
Speaking at BizClik's Sustainability LIVE event earlier this year, SAP's Global Head of Circular Economy Solutions, Stephen Jamieson, explained how the company has been helping businesses achieve their sustainability goals for the past 50 years. SAP believes in the importance of a circular model built on reusability and recyclability in the design, sourcing, marketing, production and delivery of goods, if the supply chain is to become truly sustainable.
"We're using more resources than the planet can sustainably provide, and half of total global emissions come from the way we use materials," Jamieson told his live and virtual audience. "Shifting to a circular economy means a change in how we design not only products and new materials to eliminate waste, but also new policies, infrastructure and business ecosystems."
Technological innovations are vital for a successful circular economy
With globalisation, increased product complexity and heightened consumer demands, businesses continue to face barriers in the shift to a circular economy. Jamieson explained that the first step is to collect and use data to understand the environmental impact of decisions made along the supply chain. SAP focuses on three key areas for this:
Eliminating waste to prevent environmental destruction.
Circulating materials within the supply chain for as long as possible.
Driving regenerative business via end-to-end operational insight, interweaving consumer decisions throughout.
To achieve these goals, businesses must engage with technological innovations that provide a fuller picture of their impact along the supply chain.
Sensors and ever-improving internet connectivity allow companies to collect data at every checkpoint, from the status of raw materials to the location of finished goods. Similarly, machine learning and artificial intelligence (AI) allow companies to gather advanced data that promotes efficiency along the supply chain – whether that's altering transportation routes to speed-up delivery or exchanging single-use materials in favour of reusable ones.
"To deliver a circular economy, we first need to measure it," says Jamieson. "We need to understand the recycled content in materials and in products. We need to understand whether those things are reusable, compostable, whether they're sourced from fossil-based sources, and what the CO2 content is."
Design and packaging complexities continue to pose a problem
A study by Capgemini revealed that 41% of companies still have no plans to implement sustainable product design. Whereas many businesses have already taken strides in reducing their carbon emissions at all stages of the supply chain, many companies continue to ignore the early stages of product design and the later stages of end-of-life management.
Although the sustainable design of products and packaging can be expensive at first, the transition is vital if companies are to reap the benefits of a circular economy. Once sustainable design had been fully implemented, 73% of companies experienced increased revenue growth alongside a 67% reduction in carbon emissions.
Jamieson also discussed the complexities underlying sustainable packaging, as well as the need for companies to collect and interpret data to fully understand their environmental impact.
"Take a chocolate box. You have the tray containing the chocolate that sits within the primary packaging and then the secondary packaging around that. Then there's the tertiary packaging, used for transportation. Being able to understand what materials are used at what point in time in production is an unbelievably complicated task, and the reality is that the data needed is often in disparate systems," he says.
"We want to solve the data problem to provide a view of the renewables in chocolate-box packaging. What's its recyclability? How compostable is it? What's the thickness? What's the weight? Once we understand such things, we can then start to aggregate analytics at a global level and help sustainability managers understand how they're performing against commitments."
Circularity isn't just a problem for big, international businesses; small to medium-sized businesses also have a part to play. While they might not have access to the same funding or technology as their larger rivals, Jamieson says it's important that SMEs focus on scalable principles first: "It's all about embedding sustainable practices that can be scaled as you grow."
Facing the challenge of complex sustainability regulations
As regulations around sustainability continue to evolve, SAP is helping companies make the most of its network-based solutions, like SAP Ariba and SAP Business Network for Logistics. These technology-led strategies aim to help businesses address the key sustainability challenges – including the collection of data – and transition to sustainable design and packaging.
"As we move forward in 2023, it's about innovating business-specific and industry-specific solutions that address the final mile, so we can help consumers play their role in delivering a waste-free future," says Jamieson.
"We're also being very selective in terms of the materials we are focusing on. At the moment, we have a real focus on plastics and packaging, but this will rapidly expand into textiles, batteries, food, building materials, and electronic components, as further regulations come online and existing regulations change."