Will a 4-day work week cut CO2 emissions?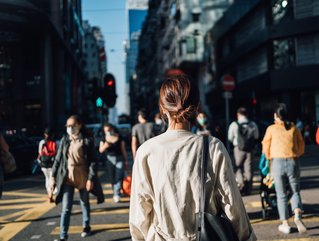 Credit: Getty Images
The first successful trials of the 4-day work week have concluded that it improves work-life balance - could it also be the answer to lower CO2 emissions?
The 4-day work week campaign has been gaining momentum around the world, after the UK's first successful trial resulted in less stress without impacting productivity, inspiring 56 of the 61 companies involved to adopt it full time. A welcome move forward as it is reported that more employees are suffering from poor mental health caused by overwork, with stress being the main cause for the majority of long-term sickness leave.
Along with the indisputable benefits of the 4-day work wee, including increased revenue, significantly less attrition, higher staff satisfaction due to less stress and feelings of burnout, and a better work/life balance, studies have also shown that it could be key to reducing CO2 emissions by 127 million tonnes per year by 2025.
The pandemic has shaken up the working environment, proving that flexible and remote working patterns massively improve the lives of workers, without affecting their productivity. The 4-day work week takes this a step further, by shifting the balance of work and leisure to give employees more time to spend with their loved ones, eat properly and work out. But how does the 4-day work week improve the environment?
Environmental benefits of the 4-day week
The most major benefit of the 4-day work week would be to lower emissions through the reduction of commuting. A study by Green Peace estimated that the 4-day week could cut commuting miles by a staggering 558 million per week. Without the exhausting and frustrating nature of multiple long commutes, employees may even be inspired to ditch the car and get out on their bikes to get around.
The carbon savings go even further. With businesses closed for the day, there is no need for heating and utilities to be in use for 8 or more hours per week. This not only saves the business money but saves the environment from millions of tonnes of wasted power and emissions. A 4-day week also means 1 day less of office waste that ends up in landfill, where it fills the air with noxious gases that contribute to global warming.
Less time in work means less stressed and happier employees overall. With more time for self-care and greater mental bandwidth to make healthier and more sustainability conscious decisions. This includes more time for getting out in nature or having more time for activities like recycling. Employees with more free time are able to spend more time cooking nutritious meals made with whole foods, rather than relying on carbon producing processed ready meals.
This increase in health through more exercise and better nutrition results in less time at the doctors, saving resources, as well as preventing the need for carbon heavy tests and procedures. There is no doubt that the 4-day working week will have incredible benefits for both people and the environment. Whether the business world will bite the bullet and accept working on these new terms is debatable.
Evidence continues to support the shift to the 4-day work week, and with these new studies showing its potential to aid in our battle against global warming, we'd be stupid not to embrace this new style of working.