Every Acer Aspire Vero sold will result in 100 trees planted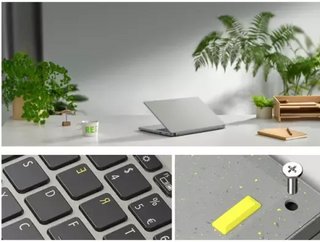 Every Acer Aspire Vero sold will result in 100 trees being planted as company lays down green roots
Earlier this year, The Acer Group announced that it had joined the RE100 initiative and shared a pledge to achieve 100% renewable energy use by the year 2035.
The company declared its mission to help tackle environmental challenges with its 'Earthion' platform which unites the strengths of its employees and supply chain partners, while expanding the circle of its sustainability impact.
Acer Aspire Vero – The Green Laptop
The Acer Aspire Vero is a tangible manifestation of Acer's commitment to more sustainable operations. Its chassis is composed of 30% PCR plastic, cutting CO2 emissions by 21% for the production of that part.
Meanwhile, the keycaps also contain 50% PCR plastic and the Aspire Vero's award-winning 100% recyclable packaging can be repurposed as a DIY laptop stand. From there, a thoughtful design helps to eliminate needless waste by making it easy to disassemble, repair, upgrade and recycle the computer or its components.
Furthermore, The green PC's 99% recyclable 15.6-inch FHD IPS display is powered by 11th Gen Intel Core processors and Intel Iris Xe Graphics. When working on less demanding tasks, Acer's new VeroSense software gives users the option of selecting a usage mode that has been optimised for energy efficiency and battery life.
Tree of life
Customers will also be able to register to plant 100 trees to carbon offset the manufacture and shipping of the unit by registering their devices.
Acer UK has partnered with Ecologi to plant trees across  many different projects, including reforestation planting in the UK and preserving Amazonian Rainforests in Brazil.
With e-waste at an all-time high in the UK and up by 21%, Acer UK increasingly recognises its responsibility in terms of what happens to  tech after customers are finished with them.
Consequently, it is partnering with Computers4Charity, which collects old, used, working or broken laptops or devices, safely wipes the data and donates them to people can give them a 'second life'.
The devices are frequently given to rehab facilities, young carers, homeless youth, hospices, charity volunteers, unemployed veterans and UK charities supporting schools in Africa.