IVECO to Supply Further CNG Delivery Trucks to Hermes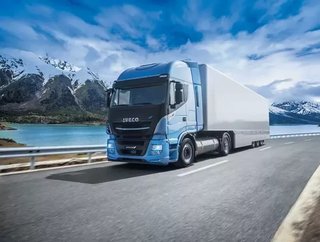 Hermes has ordered more compressed-natural-gas-fuelled delivery trucks to add to its current fleet in an effort to decarbonise its road transportation
Alternative energy sources are making their way into logistical operations in leading delivery companies. With the trial and adoption of hydrogen fuel-cell heavy goods vehicles (HGVs) to the use of compressed natural gas (CNG) to power large delivery trucks. Hermes announced it has placed an order for 70 CNG commercial vehicles to be manufactured by IVECO. 
IVECO has taken great strides in the development of gas-powered trucks as part of its long-term strategy for sustainable heavy goods transport. As a result, the Hermes currently owns 90 of its gas-powered trucks and has ordered a further 70 CNG trucks to reduce the companies carbon emissions. Each vehicle is capable of reducing emissions by 150 tonnes a year, providing Hermes with a total annual reduction of 24,000 tonnes of CO2. Other benefits of the CNG trucks are reduced NOX (70%), almost no residual particulate matter—thanks to a 99% reduction, 90% less non-methane hydrocarbons (NMHC), and 88% less methane. 
High Profile Companies Require Sustainable Transportation
Hermes is not the only participant in adopting CNG-fuelled vehicles. Royal Mail, John Lewis, and Ocado, have all invested in the technology. But Hermes is also taking further measures for operational sustainability as the company explores the use of electric vehicles for its Central London routes, as well as other alternative fuel options. 
'Sustainability is a huge focus for us as we recognise our responsibility as one of the UK's largest consumer delivery companies', says David Landy, head of fleet at Hermes UK. 'We are committed to putting sustainability at the heart of every aspect of our business, through innovative products and processes. As such we were an early adopter of CNG as an alternative fuel and are continuing to increase its presence in our fleet, to drive down emissions'. 
Gareth Lumsdaine, Heavy Business-Line Director at IVECO has expressed the demand for large delivery organisations to make the switch to alternative transportation methods. 'An incredibly prominent national operator on our roads, Hermes already run one of the largest IVECO CNG truck fleets', says Lumsdaine. 'We are therefore honoured that they will continue to grow this with us, taking the new IVECO S-WAY CNG and cementing not just our position as a market-leader in natural gas propulsion, but theirs as pioneers in commercial transport decarbonisation'.

Fore more sustainability insights, check out the latest issue of Sustainability Magazine.