General Electric: Successful Sustainability Initiatives
Sustainability magazine takes a look at the GE 2020 Sustainability Report and discusses the company's sustainability practices so far
General Electric (GE) comes into contact with many industries and strongly supports Environmental, Social and Governance issues. During the initial stages of the coronavirus pandemic, the company provided much-needed support to healthcare providers across the globe to allow services to continue operating with the necessary medical equipment. 
The firm has also taken on critical renewable energy partnerships in an effort to reach net-zero status - as set out by the Paris Climate Agreement, including the likes of Shell and Safran Group. Across its subsidiaries, the company has also supported its extensive workforce of 174,000 employees, spanning 170 countries, providing a safe work environment and promoting diversity and inclusion in all of its industries. 
With the release of the GE 2020 Sustainability Report, let's take a brief look at some of GE's actions and developments over the past year.
Supporting Global Pandemic Recovery
At the beginning of 2020, GE played a vital role in supporting the unprecedented outbreak of Covid-19. The company wasted no time in protecting and supporting the steeply declining population. GE followed a 'two-pronged approach to the coronavirus - throughout its worst stages - by protecting the health and safety of its staff and providing technology to support its communities.
Workplace Health And Safety
GE began its supporting efforts by encouraging the safety of its staff. A four-level site roadmap was implemented in the early stages that encouraged GE employees to "Protect and Respect" while also communicating frequently about workplace safety. The company says it will continue to honour these principles going forward. 
Providing For The Healthcare Industry
The company increased the production of ventilators four-fold during the height of the pandemic. It also made significant changes to increase its capacity for producing medical equipment, including monitoring solutions, x-rays, anaesthesia, and point-of-care ultrasounds products - as well as digital solutions for virtual healthcare. To provide much-needed healthcare solutions to the US, Southeast Asia, and Africa, the GE Foundation provided US$4.9mn in funding while also donating US$1mn to the United Nations and World Health Organisation's Strategic Pandemic Response Plan.
Developing Renewable Energy Partnerships
GE is proudly committed to the task set out by the Paris Agreement. The aim of decarbonisation also suits the company's focus on a full life cycle of power sector technology. The company's commitments span from renewable wind energy and hydropower to innovative solutions for lower carbon nuclear energy production at reduced costs. The company supports the emissions strategies of countries like Brazil, France, Indonesia, Kenya, Mexico, and the United Arab Emirates (UAE).
GE is leveraging artificial intelligence (AI) to develop its renewable energy technology, allowing a faster response to the impending climate change. It makes the most of Industrial AI and machine learning (ML) to carry out predictive monitoring of its current technology, and with the use of Digital Twins, GE can map out entire digital energy networks.
Developing Use Of Hydrogen
GE is utilising hydrogen as a low-carbon fuel for gas turbine innovation. The company aims to decarbonise the operation of gas turbines, which requires the use of hydrogen. As the interest in hydrogen fuel grows, GE continues to push its boundaries as a replacement for conventional fossil fuels. 
Making Travel Sustainable
The company has set out its three main focus points when it comes to aviation development:
Accelerate the bold development of technology in future aviation engines - to reduce emissions. 

Drive efficiencies across its development facilities. 

Engage with local authorities to encourage the use of alternatives like sustainable aviation fuel (SAF).
As mentioned on EnergyDigital.com, GE has begun a partnership with Safran Group this year. This was one of the most important stages of the firm's plans to decarbonise the aviation industry. The company has also been committed to the more advanced engineering of aviation engines, which provides exciting opportunities for sustainable development in the sector.
The company has worked closely with authorities in developing these technologies, specifically the International Civil Aviation Organisation (ICAO). In doing so, GE is focused on reaching emissions reduction targets, set out by the International Air Transport Association (IATA), Air Transport Action Group (ATAG), and other partners: 
An average improvement in fuel efficiency of 1.5% per year from 2009 to 2020 (achieved).

Stabilising CO2 emissions from 2020 with carbon-neutral growth.

A reduction in net aviation CO2 emissions of 50% by 2050, relative to the recorded levels in 2005. 
Commitment To Diversity And Inclusion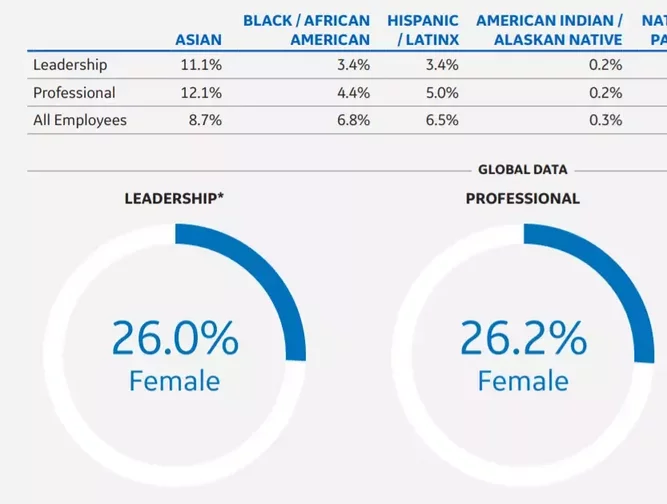 A highly important aspect of sustainability for all organisations in 2021. GE is committed to diversity and inclusion across its workforce. According to the report, 26% of the company's leadership roles are occupied by females, while they also hold 26.2% of professional positions at the company. The overall number of female members in the workforce adds up to around 21.9%.
The report also provides employment statistics for minority groups, with 18.8% of its leadership being from minority groups, 23.4% in its professional roles, and making up 24.1% of its complete workforce.