Supply Chain Sustainability
Illy produces quality through a sustainable supply chain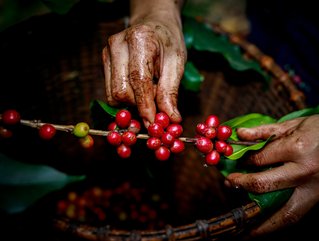 Achieving B Corporation status in 2021, Illy commits to a sustainable supply chain and develops the industry through regenerative, decarbonisation action
Following on from the cocoa FairTrade, it was recognised that the coffee industry requires constant attention to ensure that workers within the sector are treated fairly. In an underdeveloped area of the world where coffee growers are most prone to exploitation, illycaffè is making a difference by supporting growers to grow better coffee.
The coffee roaster, — based in Trieste, Italy — achieved its B Corporation status in April 2021, and has since been working with its suppliers to not only produce great coffee beans but to ensure that the company is paying premium prices. To maintain a sustainable supply chain, the company is working closely with its suppliers to perfect the growing process and ensure that quality is retained throughout.
Illy creates quality throughout its supply chain
The illycaffè Sustainability Roadmap outlines the company's efforts to encourage sustainable sourcing and improve its supplier relationships. The company preaches that ethics and sustainability are embedded in its DNA.
The company also understands that to produce great coffee sustainability, it must invest in the people that grow it. Recognising the needs of the countries in which it sources its coffee beans, illycaffè has gone beyond its immediate stake to provide support for better education in Nicaragua, reforestation efforts in Colombia, driving a movement for female coffee producers in Rwanda, as well as critical biodiversity protection measures and environmental developments:
The company's latest certification protocol provides sustainability insight throughout the procurement process
Supporting 62 rural schools across the Cauca region of Colombia, the company is helping to provide education and development for its youth
13 of its coffee growers in Nicaragua and Honduras were able to reduce water consumption by 35% thanks to a new wastewater treatment system
The 'Viveiro de Atitude' project provided the necessary resources to build a nursery that is capable of housing 100 plant species
Can Illy produce carbon-neutral coffee?
In late-2021, illycaffè announced plans to implement regenerative agriculture initiatives in Guatemala and Ethiopia. The aim of the projects is to work with the natural landscape to produce coffee that is carbon-neutral.
Under the expectation that a large proportion of agricultural land in these countries will no longer be suitable for coffee growing in 2050, the company is working on a less conventional method of producing high-volume, high-quality coffee. Andrea Illy, the Chairman of illycaffè explained in October 2021 that moving from a conventional method would allow growers to continue, but also decarbonise the industry and potentially sequester more carbon from the atmosphere.
• Join global business leaders and sustainability experts taking meaningful action at Sustainability LIVE, held at Tobacco Dock, London, 23-24 February 2022. Register to attend today! Click here to learn more.