Azimut commits to sustainable luxury with hybrid yacht tech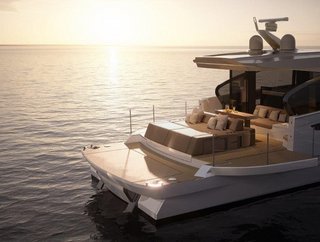 Azimut releases design and credentials of its hybrid-electric yachts
The luxury bespoke superyacht builder, Azimut announced its Seadeck Series fitted with hybrid-electric motor technology for lower-emission yacht propulsion
Sustainability and luxury were once seen in opposing commercial categories, but they now go hand-in-hand, allowing organisations like Azimut to achieve great things for high-end superyacht customers.

The Seadeck Series of boats marks a milestone in this responsible luxury arena as it sports lower-emissions propulsion by using hybrid-electric technologies.

As a result, Azimut—part of Azimut|Benetti Group—has fitted the range of superyachts with more efficient engines to achieve up to 40% emissions reduction.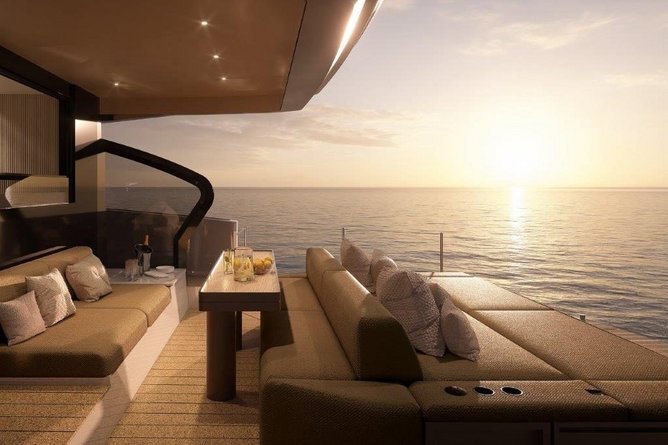 The view from the Azimut Seadeck 6
Alongside this efficiency update comes the Fun Island, which is a redesigned aft terrace that allows boat owners to embrace the ocean environment and live the luxury lifestyle at sea.
The latest engine marks a collaboration between Volvo Penta and Azimut on a pioneering journey to reduce the impact of its yachts, and showcases more than 20 years of research and development into sustainable innovation.
"Seadeck is a new starting point for future generations. We wish, once again, to chart a course that will be an inspiration for the entire industry, so that the theme of respect for the environment is interpreted—as it is for Seadeck—with a concrete approach made up of investment, technological research, and the courage to introduce a new lifestyle that embraces the sea," says Giovanna Vitelli, Chair of Azimut|Benetti Group.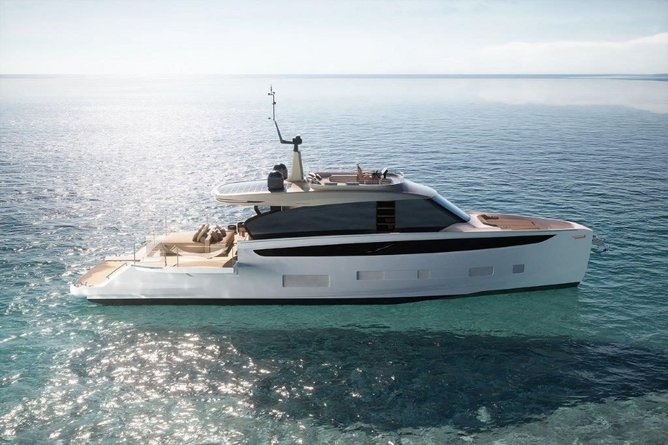 Full view of the Azimut Seadeck 7 hybrid-electric yacht
A hybrid-electric boat for embracing nature
The Seadeck Series design is responsible in part to Alberto Mancini, an award-winning yacht designer with a portfolio of varying luxury watercraft.
Mancini explains that the hybrid-electric Seadeck Series is more than sustainable, but allows its passengers to fully enjoy the surrounding environment—something which was incorporated into the design of the three models: Seadeck 6, 7, and 8.
"We wanted to create a boat that puts maximum emphasis on the concept of openness and transparency, and that also represented a radical change in terms of the relationship with nature," says Mancini.
"With the introduction of the Fun Island, Seadeck is actually a floating island where owners can get away from their daily routine and live in total contact with the sea."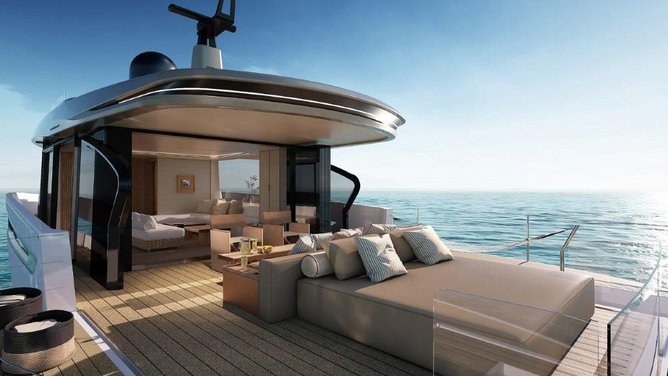 View of the deck on the Seadeck 7 hybrid-electric boat
Sustainability doesn't compromise Azimut's luxury
Aside from the Seadeck performance and its uniquely designed deck experience, the luxury interior of the boats echo the conscious mindset and philosophy of those using them while retaining a high-quality feel and finish. Designed by Matteo Thun and Antonio Rodriguez, the renderings of the boats' interior shows how sustainability can become one with even the most high-end projects on the mark today.
Using conscious materials, such as cork to replace teak, gives the Seadeck Series sustainable credentials of its own.
"We prefer to talk about consciousness rather than sustainability, a philosophy that determines our way of practising architecture," explain Matteo Thun and Antonio Rodriguez.
"We try to work by subtraction, because reduction means durability, both technical and aesthetic. "And a boat must stand the test of time and be beautiful forever".