Boeing and Nasa fly to new heights for sustainable aviation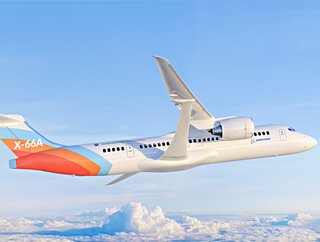 Boeing and Nasa develop new technologies in aviation, Credit: NASA
Boeing and Nasa work together to design the next generation of sustainable flight, utilising hybrid fuelling and airframe configuration to reduce emissions
Due to their heavy usage, single-aisle aircraft account for nearly half of worldwide aviation emissions.
Some aviation companies are reducing pollution by utilising Sustainable Aviation Fuels (SAF) which can reduce carbon dioxide emissions by up to 80% over conventional jet fuels.
Other groups, including Boeing, are investing in the fuels and technologies of the future, pushing for the next steps in sustainable travel.
The X-66A brings sustainability to the forefront of flight
Boeing and NASA are collaborating with American airlines — including Alaska Airlines, American Airlines, Delta Air Lines, Southwest Airlines and United Airlines to develop the X-66A — an aircraft produced through the agency's Sustainable Flight Demonstrator project to inform a potential new generation of more sustainable single-aisle aircraft.
The X-66A is the first X-plane specifically focused on helping the United States achieve the goal of net-zero aviation greenhouse gas emissions, as articulated in the White House's U.S. Aviation Climate Action Plan.
"To reach our goal of net zero aviation emissions by 2050, we need transformative aircraft concepts like the ones we're flying on the X-66A," said Robert Pearce, associate administrator for NASA's Aeronautics Research Mission Directorate.
"With this experimental aircraft, we're aiming high to demonstrate the kinds of energy-saving, emissions-reducing technologies the aviation industry needs."
The X-66A will utilise the newly developed Transonic Truss-Braced Wing (TTBW) airframe configuration and be built at a Boeing facility from a modified MD-90 aircraft.
In combination with advancements in other areas, a single-aisle aeroplane with a TTBW configuration could reduce fuel consumption and emissions up to 30% when compared to today's domestic fleet of aeroplanes.
"Hearing directly from the operators during all phases of the Sustainable Flight Demonstrator project will help us understand exact requirements and tradeoffs," said Todd Citron, Chief Technology Officer at Boeing.
"The airlines' feedback will significantly contribute to the X-66A project learnings while furthering aviation sustainability."
Alternative fuels propelling the future of aviation
Boeing has also joined Nasa's Electric Powertrain Flight Demonstration (EPFD) programme, a US$260m, five year initiative to conduct ground and flight testing of a megawatt-class hybrid electric propulsion system.
The new hybrid propulsion system is being designed for single-aisle aircraft suitable for short-range regional commercial air travel, with a view to impact the planes polluting the most.
Boeing is to make the nacelle of the aircraft, design the flight deck interface and its software, provide aircraft-level performance analysis, and systems integration.
Also partnering on the project, GE Aviation was awarded US$179m, and electric-powertrain developer MagniX US$74.3m to develop and test the hybrid-electric powertrain utilising GE's CT7-9B turboshaft engines.
"We are proud to contribute our expertise in aircraft components, systems engineering, and testing to this important project," said Per Beith, President and CEO of Aurora Flight Sciences (the R&D subsidiary of Boeing),
"Working with GE Aviation, we will make a significant impact on the advancement of electrified propulsion for commercial air transport."
*************************************************
For more insights into Sustainability - check out the latest edition of Sustainability Magazine and be sure to follow us on LinkedIn & Twitter
Other magazines that may be of interest - EV Magazine | Energy Digital
Please also check out our upcoming event - Sustainability LIVE in London at the BDC on Sept 6/7th 2023
*********************************************
BizClik is a global provider of B2B digital media platforms that cover 'Executive Communities' for CEO's, CFO's, CMO's, Sustainability Leaders, Procurement & Supply Chain Leaders, Technology & AI Leaders, Cyber Leaders, FinTech & InsurTech Leaders as well as covering industries such as Manufacturing, Mining, Energy, EV, Construction, Healthcare + Food & Drink.
BizClik, based in London, Dubai & New York offers services such as Content Creation, Advertising & Sponsorship Solutions, Webinars & Events.