Diversity & Inclusion (D&I)
The rise and impact of chief diversity officers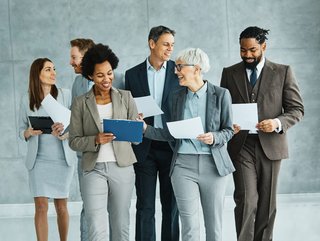 DEI
As the number of chief diversity officers has skyrocketed in recent years, we explore why more businesses need to capitalise on these integral roles
Time and time again, diversity has been proven to be a vital component in progressing business growth. In fact, over the past five years alone, positions dedicated to diversity, equity and inclusion (DEI) have quadrupled in the US, according to McKinsey.
The role of Chief Diversity Officer (CDO) has become more visible and more crucial than ever, with new hires tripling in 2021. Now, 53% of Fortune 500 companies have a CDO, with over 60 appointing their first-ever diversity leader.
A growing need for CDOs
As the CDO role is one of the newest additions to the C-Suite, the responsibilities it carries can often come with a question mark and are thought to be ambiguous. Yet, in 2020, McKinsey revealed that companies with higher gender diversity in executive teams had a 25% greater chance of achieving above-average profitability compared to companies in the lowest quartile. Similarly, companies in the top quartile for ethnic and cultural diversity outperformed those in the lowest quartile by 36% in terms of profitability. DEI, therefore, needs to be at the top of every business's priority list
Toiya Sosa, Associate Vice President, Chief Diversity Officer at Riverside Health Systems, explains that CDOs are responsible for establishing "a DEI strategic plan that diversifies the organisation's workforce at all levels, evaluates existing policies, processes and procedures, and executes more effective ways to reinforce equity and inclusion in all aspects of the business".
Around 40% of individuals residing in the US identify as non-white, encompassing Black/African American, Hispanic/Latinx or Asian backgrounds. As per Nielsen data, this diverse demographic possesses a substantial purchasing influence – amounting to US$3.2tn.
It is therefore crucial for CDOs to prioritise the cultivation of a workforce that reflects the multicultural consumers the business caters to. It is equally essential for businesses to comprehend the presence and impact of their products and services in the market.
On a similar note, CDOs provide support and education to employees of all levels and are often required to hold executive leadership accountable. Many leaders and executives express a desire to recruit diverse talent but may lack awareness of the internal adjustments required to actualise that goal.
Promoting workplace DEI
Creating a workplace culture that embraces DEI requires a proactive, multifaceted approach. Cultivating DEI involves implementing unbiased recruitment and hiring practices, providing training and education on diversity awareness and inclusion, and establishing employee resource groups to support underrepresented communities.
"Recruiting diverse talent is critical to represent the diverse communities that we serve," Sosa says. "Diversity representation and training can lead to businesses understanding the importance of offering services that meet the needs of everyone."
Sosa shares three ways in which organisations can attract and retain diverse talent:
Recruit outside of the typical recruiting firms like LinkedIn, Zip Recruiter, and Glassdoor. Building relationships with diverse organisations is key. These organisations can provide consultancy about the unique needs and wants of their constituency, allowing organisations to interface directly with a customised approach.
Support causes that resonate with diverse communities, and that show the organisation cares beyond what is in it for them. According to a JobSage survey, over 64% of respondents said it's important for employers to take a stand on social issues. Percentages were even higher for Black Americans (83%), Gen Z (82%), and women (72%).
Expose youth and young adults to the various careers available within the organisation, and provide internships and externships to build a pipeline of diverse future leaders.
Once the right people are onboard, DEI policies need to be implemented and reinforced by business leaders, Sosa says: "First and foremost, DEI must have a defined budget that accomplishes what is outlined in the DEI strategic plan. Leaders must incorporate a comprehensive training programme in the DEI strategic plan that includes all employees embarking on a long-term learning journey. This training cannot be a one-off class – it must be part of a larger educational strategy.
"It's imperative to establish a DEI advisory committee that includes all senior executives starting with the CEO, consistently engaging with them in the formulation and execution of the DEI strategic plan.
"Businesses also need to develop a communications strategy that consistently promotes the importance of DEI, while creating an environment of psychological safety and inclusion, transparently communicates the DEI goals and accomplishments of the organisation and encourages, listens, and acts upon employee feedback."
Final thoughts
In sum, CDOs are playing an increasingly vital role in promoting diversity and inclusion within businesses, as shown by the rising number of CDO hires and their impact on business growth. They are responsible for diversifying the workforce, implementing DEI strategies and holding leadership accountable, while organisations must prioritise diversity to reflect the multicultural consumer base and understand the market impact of their products and services.
Businesses that have not yet welcomed a CDO, or someone of an equivalent role, need to prioritise the establishment of such a position to effectively address DEI initiatives and harness the benefits they bring to business growth and success.