Ecovadis: Firms are struggling to keep pace with ESG laws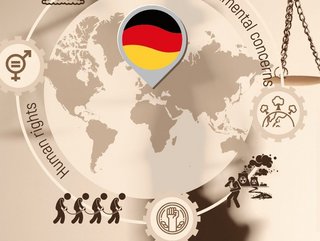 Julia Salant, General Solution Manager, Carbon, with EcoVadis, says it's challenging for companies to ensure suppliers are complying with every new ESG regulation, such as the German Supply Chain Due Diligence Act ​​​​​​​
Julia Salant, EcoVadis Carbon Solution Manager, warns that organisations may struggle to keep up with evolving ESG laws and regulations
​​​​​​​Companies lack the technical resources and human capital to comply with changing regulations around greenhouse gas (GHG) emissions, a leading sustainability figure warns.
Julia Salant is General Solution Manager, Carbon, with EcoVadis, a global provider of sustainability ratings and assessments for companies, based on their environmental, social, and ethical performance.
The company provides a platform for businesses to measure, monitor, and improve their sustainability practices, with the goal of promoting sustainable supply chains and reducing environmental and social risks.
Salant told Supply Chain Digital: "GHG reporting requirements are necessary to mitigate climate change but many companies have neither the technical resources nor human capital needed to comply with new and evolving regulations."
Her warning echoes a recent Accenture report, which found that although a third of the world's largest companies have signalled their intention to become carbon net-zero by 2050, fewer than 1 in 10 are on track to do so.

Among the new sustainability laws Salant is referencing are:
German Supply Chain Due Diligence Act – which went into effect on January 1 2023, and that means German companies face fines of up to 2% of their global turnover if they cannot demonstrate ESG transparency in their supply chain.
It also means non-German firms that supply a large German company, in any sector, will have to provide large amounts of detailed ESG data to their German customers in order to keep doing business with them.
Corporate Sustainability Reporting Directive, which will have mandatory sustainability reporting standards finalised by the end of June.
The EU Directive substantially increases not only the reporting requirements on companies falling within its scope but also the volume of businesses that have to report. Previously, this was around 11,700, but this will rise to approximately 49,000.
Monitoring supplier ESG compliance 'a challenge'
"It is challenging for companies to ensure their suppliers are complying with every new regulation," says Salant
She adds: "One of the foundational pieces to the majority of recent climate-focused regulations is GHG emissions and carbon footprint, but many companies struggle to assess their top-tier suppliers.
"Companies need to invest in supply chain sustainability monitoring tools, along with carbon reduction efforts, in order to tackle the full scope of their GHG emissions."
With around 80-90% of all GHG emissions coming from supply chains net-zero targets must address supply chain sustainability to be meaningful. Salant says this means "companies taking action in the supply chain must push GHG reduction efforts further upstream in order to make the biggest impacts and achieve their promised goals".
Upstream is the portion of the supply chain that includes all activities prior to manufacturing, such as the sourcing and delivery of raw materials and components.
'Include suppliers in GHS discussions'
Salant continues: "Companies that adapt GHG reduction strategies and action plans to the reality of their supply chain and include suppliers in the dialogue are proving to be the most successful.
"For example, engaging with a supplier to figure out where it is in the GHG reductions journey. It might be that it's looking to further reduce GHG emissions, or it might be taking its first steps towards tackling carbon management. In either case, it shows the supplier they're not alone. "Collaboration between a company and its suppliers is vital in the carbon improvement journey."
She adds: "Companies can build the foundation for sustainable change and drive measurable improvement through regular assessments and reporting on their progress being made.
"Including suppliers in regular assessments creates the depth of visibility necessary to drive significant change. It spurs accountability and collaboration to deliver on sector-wide promises for sustainable procurement."
To date, Ecovadis has rated 34,000 companies on their carbon management practices, including commitments, actions and reporting.

"What we are seeing as best practice is that companies are adapting strategies and action plans to the reality of their supply chain," says Salant.

"But to achieve far-reaching decarbonisation in supply chains, suppliers must be included in the dialogue."