Supply Chain Sustainability
Exclusive Video: Sheri Hinish, Joanna Gluzman, James Butcher
EY's Sheri Hinish, PZ Cussons' Joanna Gluzman, Supply Pilot's James Butcher discussed sustainable supply chains at Sustainability LIVE New York
Sustainability Magazine, Feedspot's number-one ESG magazine, hosts a number of in-person and virtual events throughout the year, welcoming the world's most influential sustainability leaders to the stage to discuss some of today's most pressing topics.
On 19th April 2023, the first-ever Sustainability LIVE New York was held, where thousands of delegates tuned in virtually from across the globe.

Sustainable Supply Chains Forum: a top-down approach
Sustainability is a full company endeavour. Without direction and buy-in from senior leadership, often Sustainability efforts are dead in the water. This can be particularly true within supply chains, where the lowest cost is often the main consideration when it comes to which suppliers earn those valuable contracts.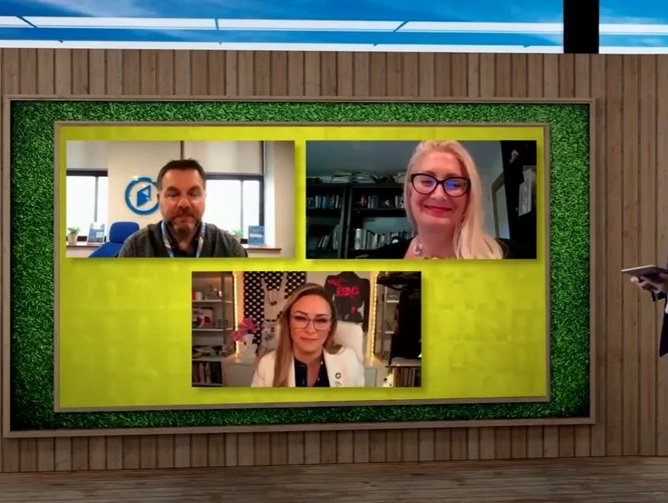 EY's Sheri Hinish, PZ Cussons' Joanna Gluzman, Supply Pilot's James Butcher at Sustainability LIVE New York
Sustainability LIVE New York sits down with, Sheri Hinish, Principal, Global Sustainability Innovation + Ecosystem Leader at EY, Joanna Gluzman, Chief Sustainability Officer at PZ Cussons and James Butcher, CEO at Supply Pilot discuss how you can engage your senior leaders in sustainability efforts and why sustainability in the supply chain is so important.
Gluzman starts the discussion by stating the importance of having leaders that prioritise sustainability. "If sustainability is not taken seriously at the top, it's very difficult to achieve the goals you have set out to achieve," she says. "So the first important thing is that the company goals are all-encompassing across all the areas of the company."
Hinish also discusses sustainability within supply chains, stating: "I think that there are three things that are the overarching challenges and opportunities the climate emergency, social inequities and the business model emergency. And what I often find, because we're talking about the board or the C-suite, is that there's a lot of talk about due diligence and compliance, but choice is also a key factor that can be used to drive trust in a system.

"So due diligence and choice are really two key factors that you can use to drive trust in a system, in an industry, in an organisation. This is all about driving trust to promote things like accountability and supply chain transparency, personal responsibility. And I think that it's the very first step in a maturity continuum is just for a sustainable supply chain or sustainability more broadly."
The three then continue to discuss starting the sustainability journey, while increasing efficiencies while reducing costs.
To watch any of our other speakers from Sustainability Live USA, click here.
To find out more about upcoming Sustainability Events, click here.
To find out more about sustainability, visit Sustainability Magazine.
To take a look at our previous events, click here.