Google: Using AI & machine learning to boost sustainability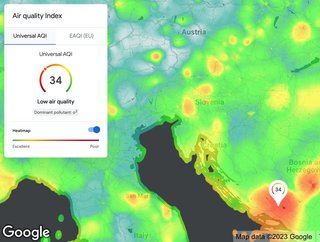 Google has announced three new products that apply AI and machine learning to help businesses mitigate their climate impact, Credit: Google
By using AI and machine learning, Google is helping businesses leverage environmental data to mitigate their climate impact with three new products
Technology giant Google has numerous sustainability goals to differentiate itself as a leader in the sector. For example, the company strives to run on carbon-free energy on every grid it operates on by 2030, with a 64% global average of carbon-free energy across its data centres and offices.
Additionally, Google Cloud Next is expanding its sustainability offerings with new products in the Google Maps Platform, which apply AI and machine learning to help mitigate the company's global impact. Developers, businesses and organisations can utilise this technology to build tools that map and mitigate environmental impact.
Using AI to monitor solar energy
Project Sunroof – an initiative that was launched in 2015 – enables users to explore the estimated solar potential in their area. Over the years, the Solar API product has expanded to use mapping and computing resources to make detailed rooftop solar potential data available for more than 320 million buildings across 40 countries.
To achieve this, Google trained an AI model to extract 3D information about the roof geometry directly from aerial imagery, while also accounting for factors such as historical weather patterns. Before visiting potential areas, solar installers can now see how much sunlight buildings receive, as well as their potential energy savings, while enabling homeowners to install panels more quickly and with more ease.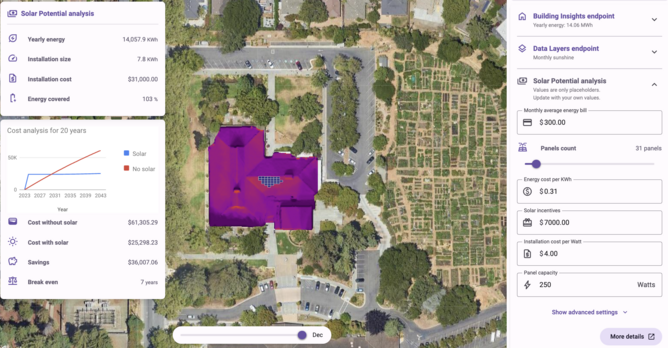 Solar potential analysis from Project Sunroof, Credit: Google
Increasing air quality with technology
By building the Air Quality API in Google Maps Platform, users have access to reliable air quality data, enabling them to make informed decisions about their travel preferences – particularly relevant in terms of extreme weather.
The API processes vast amounts of data from numerous sources, including government stations and meteorological data, to create a comprehensive index incorporating live traffic data to analyse congestion and vehicle numbers in specific regions.
Through machine learning, it forecasts different pollutants in those regions at specific times. This capability enables businesses in healthcare, automotive, transportation and other sectors to furnish precise and timely air quality details to their users regardless of their location.
Leveraging technology to reduce allergens
Google's new Pollen API shows current pollen information for the most common allergens in over 65 countries.
The technology offers localised pollen count data, visualisations in the form of heatmaps, detailed allergen information about plants and practical advice to assist those with allergies in minimising exposure. This is achieved by utilising machine learning to identify the locations of pollen-producing plants, and, when coupled with local wind patterns, this enables the calculation of pollen seasonality, daily quantities and prediction of pollen dispersion.
By leveraging this information, businesses are able to enhance people's wellbeing, while gaining access to data-driven insights. For example, a travel planning app can utilise pollen data to enhance daily commute or vacation planning.
*************************************************
For more insights into Sustainability - check out the latest edition of Sustainability Magazine and be sure to follow us on LinkedIn & Twitter
Other magazines that may be of interest - EV Magazine | Energy Digital
Please also check out our upcoming event - Sustainability LIVE in London at the BDC on Sept 6/7th 2023
*********************************************
BizClik is a global provider of B2B digital media platforms that cover 'Executive Communities' for CEO's, CFO's, CMO's, Sustainability Leaders, Procurement & Supply Chain Leaders, Technology & AI Leaders, Cyber Leaders, FinTech & InsurTech Leaders as well as covering industries such as Manufacturing, Mining, Energy, EV, Construction, Healthcare + Food & Drink.
BizClik, based in London, Dubai & New York offers services such as Content Creation, Advertising & Sponsorship Solutions, Webinars & Events