Logicalis: Sustainability and ESG for digital businesses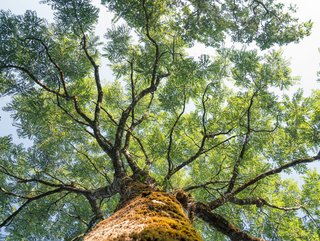 Beyond the environment, it's important to look at your areas of influence and impact and question how you can make your role in those spaces a more positive one. Credit | Getty
Charissa Jaganath, Head of Responsible Business at Logicalis, discusses sustainability for digital businesses — prioritising accountability and reporting
Sustainability has always been a passion for Charissa Jaganath. Now Head of Responsible Business at Logicalis, she started her high school's first environmental committee back in the early 2000s, and went on to complete a MSc in Environmental Science and an MBA to equip herself with a holistic understanding of sustainability and the drivers for its success in organisations.
What drives your passion for sustainability?
Feeling like the work I do has the potential to make a difference and add value to the world has always been what has fulfilled me, and I feel privileged to be able to do this work every day.
I began my career as an environmental consultant, but followed my passion for people and education into the non-profit sector in South Africa with WESSA (Wildlife and Environment Society of South Africa), where I led sustainability and education initiatives for disadvantaged and underprivileged communities and schools. I later took on a newly created role at packaged foods company Tiger Brands, one of the largest FMCG companies in Africa, as Head of CSR. Similar to my role at Logicalis, I was tasked with developing and driving a CSR strategy, the first of its kind at Tiger Brands.
At the time, I was the youngest member of the senior leadership team, and one of very few females. In those early days, I was underestimated in many of my engagements with the business. As a well-established brand and having been in operation since 1921, it would have been easy to be discouraged.
Nevertheless, I wasn't deterred by the old way of doing things. I believed in my approach, and developed a strategy based on the concept of evolving Tiger Brand's philanthropic approach to CSR to a focus on sustainable nutrition and food security. By prioritising education and training over food parcel handouts alone, Tiger Brands have been able to work with communities to teach them how to grow their own food and start their own food-related small businesses to sustain themselves and their families. Moving from a philanthropic to a self-sustaining approach has made all the difference to those communities and I'm so proud to have been able to influence that change.
While I was only in my role at Tiger Brands for just under two years before moving to Dublin five years ago, the strategy that I pushed for and implemented remains in place. It has become a core pillar of how Tiger Brands executes their CSR, transforming thousands of lives in a sustainable way.
What does it mean to head up 'responsible business'?
My role was created to ensure that Logicalis continues to operate with integrity in everything we do, from our impact on the environment to our role within the communities we operate in, and on our people.
I'm very fortunate in that I have a clear mandate from the senior leadership team, who don't just want us to meet our obligations, but want to drive positive change both in and outside of our organisation. My role has been to develop and execute a strategy to do just that, so that we can create value for our people, planet and communities, and also for our business. Since joining the organisation in 2001, I've led the creation of our Responsible Business strategy through which we've identified three core focus areas, all of which are underpinned by a strong governance framework: Our People, Our Communities and Our Planet.
Over the past decade or so, the creation of ESG-orientated management roles has increased — what some popular examples of these?
It has been interesting to witness the seismic shift in ESG roles over the last few years, both in the nature of the roles and the demand for them. ESG risks and opportunities have historically been thought of as separate to core business, but consumer awareness, employee sentiment and values, shareholders' acknowledgement of ESG business value, and the role of investors and regulators have driven the evolution of ESG into a mainstream business topic and a competitive differentiator.
Whether it's as Head of ESG, CSR Lead, or Responsible Business Manager, these roles are being created to embed ESG throughout the company with a clear strategy and measurable goals. The intention is increasingly moving away from ESG as a siloed function, seen as a nice to have driven by people who were passionate but slightly disconnected from the rest of the business. Now ESG touches everything, from training to procurement. For it to have a real impact it needs to be coordinated and directly support the overall business goals.
What do sustainability priorities look like for digital companies?
Unlike some industries like retail or consumer goods that have been at the sharp end of debate around their environmental impact, IT has flown slightly under the radar and not been subject to the same high levels of scrutiny. But being a responsible business is about so much more than protecting your reputation; it's about being a leader in your field, an innovator, a business that customers want to work with and an attractive employer. Those are some of the reasons why it's a priority for us.
Whether it's gauging and tackling Greenhouse Gas (GHG) emissions, pursuing renewable energy targets, ensuring responsible management around systems protection and cybersecurity, responsible supply chain practices or supporting initiatives to create a more inclusive and diverse sector, sustainability priorities may vary slightly based on a company's assessment of ESG materiality. Whatever these priorities may be, digital businesses aren't immune to the growing focus on ESG; so for businesses that aren't yet prioritising sustainability, now's the time to start.
What are your top tips for sustainable practices in increasingly digital businesses?
In terms of environmental sustainability, the key first step is measurement. ESG data collection and management is one of the most important aspects to implementing a meaningful ESG strategy. You need to know what your current environmental impact is before you can work out how to reduce it. It's a journey we've been on ourselves, as part of our commitment to the Science Based Targets Initiative (SBTi), and now we're trying to encourage others do the same.
It's incredibly hard for CIOs to wade through the data coming from their digital estate, which is why we've launched our Digital Fabric Platform at Logicalis. It's a dashboard that not only shows the metrics you would expect a CIO to be interested in, such as security and network performance, but also environmental impact. We're making it easy to see how a business is performing in terms of energy consumption, how this compares to other comparable organisations, and what steps our customers could take to bring down their carbon emissions.
Beyond the environment, it's important to look at your areas of influence and impact and question how you can make your role in those spaces a more positive one. As part of our focus on communities, our aim is to help create opportunities for people who haven't previously been encouraged into digital careers, so we're operating a number of STEM education initiatives with a particular focus on women and minority groups underrepresented in digital industries. I'd love to see more businesses taking a proactive approach in this area. Through concerted, collective action, we can make an even bigger difference.
*************************************************
For more insights into Sustainability - check out the latest edition of Sustainability Magazine and be sure to follow us on LinkedIn & Twitter
Other magazines that may be of interest - EV Magazine | Energy Digital
*********************************************
BizClik is a global provider of B2B digital media platforms that cover 'Executive Communities' for CEO's, CFO's, CMO's, Sustainability Leaders, Procurement & Supply Chain Leaders, Technology & AI Leaders, Cyber Leaders, FinTech & InsurTech Leaders as well as covering industries such as Manufacturing, Mining, Energy, EV, Construction, Healthcare + Food & Drink.
BizClik, based in London, Dubai & New York offers services such as Content Creation, Advertising & Sponsorship Solutions, Webinars & Events.