Nike: Making strides towards net zero with sustainable foam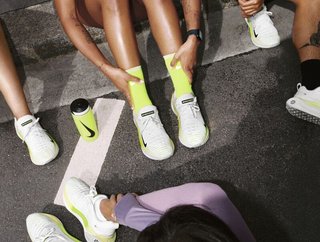 Nike's ReactX foam can be found in the new InfinityRN 4 road running trainers. Credit | Nike
ReactX foam reduces the InfinityRN 4's carbon footprint by 43%, supporting Nike's journey to 70% reduction of greenhouse gas emissions
Founded in 1964, American lifestyle brand Nike is a global household name with nearly 80,000 employees and US$50.6bn revenue in 2023.
The company's public facing brand stays fresh and stylish through a combination of partnerships and fresh perspective working in collaboration with classic, staple designs like Converse and Air Force.
Similarly, its attitudes to sustainability are held fast by core principles of reducing impact, whilst creating energetic partnerships with companies including technology partner Cognizant, Avangrid Renewables, Iberdrola and even Roblox and Snapchat.
Sustainability targets: Working towards net zero
Nike's sustainability encompasses multiple areas of the business, including circular solutions which include supporting product care for longer life, promoting recycling of used products, selling refurbished returned shoes as an accessible priced and sustainable reuse option, and re-creating pieces from vintage and dead stock products.
The company is working towards its targets:
0.5m imperial tonnes less of greenhouse gas (GHG) emissions by 2025, through increasing use of environmentally preferred materials to 50% of all key materials: polyester, cotton, leather and rubber. As of FY22, 182K+ metric tonnes of emissions were reduced by using 39% environmentally preferred materials in products.
100% waste diverted from landfill in the extended supply chain with at least 80% of waste recycled back into Nike products and other goods by 2025. Ninety-seven per cent waste diverted from landfill as of FY22.
25% reduction of fresh water usage per kg in textile dyeing and finishing by 2025.
70% reduction of GHG emissions in owned or operated facilities — 64% as of FY22.
Material development powering Nike towards ESG goals
More than 70% of any Nike product's carbon footprint comes from materials, so it is unsurprising that the company is continuously developing sustainable materials.
Innovative material development includes:
Nike Forward: An all-new material made from ultra-thin, needle-punched layers with a reduced carbon footprint of 75% on average when compared to traditional knit.
Nike Flyknit: A lightweight fabric made from plastic bottles, precision-engineered with an average of 60% less waste than in traditional footwear upper manufacturing.
Nike Flyleather: Created by binding at least 50% recycled leather fibres with synthetic fibres using a water-powered process which is a low waste, low impact alternative to traditional leather.
Nike believes in developing sustainable materials that not only support the planet, but are also a better alternative for its customers.
"I'm not going to ask customers to accept sustainability because it's sustainable," said Eric Sprunk, Nike's CEO when the Nike Flyleather was launched.
"They're going to say, 'This is better'. That's a great win. An ugly shoe designed for sustainability: that's no victory."
The company also imposes voluntary restrictions on chemicals, uses 100% organic, recycled or Better Cotton sourced through the Better Cotton Initiative (BCI) as of 2020, and saves an average of one billion plastic bottles from landfills and waterways annually through using recycled polyester.
ReactX: Reducing carbon footprint by 43%
Nike's newest development in sustainable material is a new ReactX foam cushioning unit, which is launching soon in the InfinityRN 4. The shoe, which also utilises Nike Flyknit, is designed for road running and is part of a range of Nike shoes designed for long distance comfort and support.
The ReactX Foam reduces the carbon footprint of the midsole by over 43%, and offers improved support and cushioning for the user. The foam is put through an injection process, rather than the compression moulding used previously, which boosts energy return whilst reducing carbon output.
Over the past five years, the material has been researched, developed and tested to ensure progress in both performance and environmental impact.
"We are always looking for ways to improve our products' carbon footprint," says Noel Kinder, Nike's Chief Sustainability Officer, regarding the new material launch.
"This is our next step in that sustainability journey."
*************************************************
For more insights into Sustainability check out the latest edition of Sustainability Magazine and be sure to follow us on LinkedIn & Twitter
You may also be interested in EV Magazine or Energy Digital
Please also check out our upcoming event Sustainability LIVE in London on Sept 6/7th 2023
*********************************************
BizClik is a global provider of B2B digital media platforms that cover Executive Communities for CEOs, CFOs, CMOs, Sustainability Leaders, Procurement & Supply Chain Leaders, Technology & AI Leaders, Cyber Leaders, FinTech & InsurTech Leaders as well as covering industries such as Manufacturing, Mining, Energy, EV, Construction, Healthcare + Food & Drink.
BizClik - based in London, Dubai & New York - offers services such as Content Creation, Advertising & Sponsorship Solutions, Webinars & Events.