Rolls-Royce runs successful first tests of UltraFan tech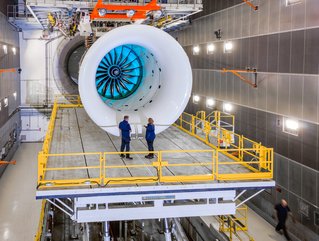 UltraFan demonstrator on test Credit: Rolls-Royce
Rolls-Royce has announced the first successful tests of its UltraFan technology demonstrator, which was conducted using 100% Sustainable Aviation Fuel
Rolls-Royce has achieved a significant milestone by successfully completing the initial tests of its UltraFan technology demonstrator, which were conducted exclusively utilising 100% Sustainable Aviation Fuel (SAF).
This achievement confirms the effectiveness of the comprehensive range of technologies integrated into the demonstrator, representing a significant leap forward in enhancing the efficiency of both present and future aircraft engines.
The UltraFan engine boasts an impressive 10% improvement in efficiency compared to the already highly efficient Trent XWB, which currently holds the title of the world's most efficient large aero engine in active service.
"The UltraFan demonstrator is a game changer – the technologies we are testing as part of this program have the capability to improve the engines of today as well as the engines of tomorrow," says Tufan Erginbilgic, Chief Executive at Rolls-Royce.
"That is why this announcement is so important – we are witnessing history in the making; a step-change in engine efficiency improvement. When combined with Sustainable Aviation Fuels, more efficient gas turbine engines will be key to hitting the industry's target of Net Zero flight by 2050. Today we are closer to achieving this ambition."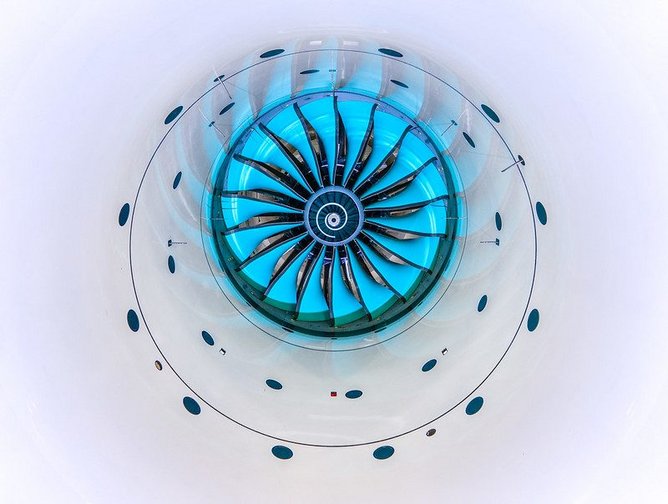 UltraFan demonstrator on test Credit: Rolls-Royce
Distinctive design and flexibility
UltraFan, which was publicly introduced in 2014, represents the culmination of a decade-long development process.
It stands apart from the approximately 4,200 Rolls-Royce Civil large engines presently in operation due to its distinctive design architecture.
By demonstrating this engine at its current scale, Rolls-Royce possesses the flexibility to downscale it as per the requirements of its customers.
This unique capability places Rolls-Royce in an advantageous position, enabling the brand to offer a diverse range of propulsion solutions including two-shaft, three-shaft, direct drive and geared options to power future aircraft.
The demonstrator incorporates several noteworthy engineering features:
It integrates a new and proven Advance3 core architecture and the ALECSys lean burn combustion system. This combination ensures optimal fuel burn efficiency and minimal emissions.
Carbon titanium fan blades and a composite casing contribute to the engine's construction, providing robustness and lightness.
The geared design of the engine facilitates the efficient generation of power for future engines with high-thrust and high bypass ratios. Remarkably, the power gearbox has achieved a record-setting 64MW, establishing a milestone in the aerospace field.
Gary Elliott, Chief Executive Officer of Aerospace Technology Institute, adds: "Rolls-Royce's UltraFan programme has achieved a huge step forward in terms of the fuel efficiency of aircraft engines.
"The technology developed within the programme has greatly improved our understanding of how to increase engine performance while reducing environmental impact."