Sustainability LIVE London: EY, Tech Mahindra, Tate & Lyle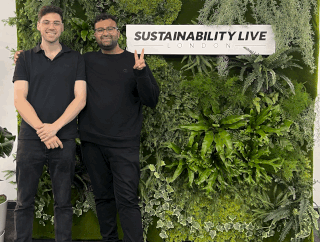 Join us at Sustainability LIVE London on September 6th and 7th 2023
As Sustainability LIVE London is only two days away, we're proud to introduce six more speakers who will be taking centre stage on the second day
SUSTAINABILITY LIVE London is back at the Business Design Centre! Join us in September as we bring together the most influential figures from diverse industries to share groundbreaking ideas, and proven solutions and provide actionable insights that will help us drive a sustainable future.
The two-day conference will welcome more than 70 internationally acclaimed leaders within the global sustainability community along with solutions for the most imperative elements of sustainability. Whether it be the delivery of industry insights or topical debates, expect to deep dive into issues affecting our present and future.
At this unmissable event, we'll be hosting some of the world's best speakers who specialise in sustainability. That's why, we're pleased to introduce three speakers who will be taking centre stage on the 6th and 7th September, 2023.
Stephen Lorimer has built new programmes and teams across smart cities, data and energy. Clean Energy Cities is my project at Centre for Net Zero, powered by Octopus Energy and delivered an international standard for cities to be the new leaders of the energy transition. Stephen has written the £16m business case that created the Data Standards Authority for the UK Government, and the £5m case for the London Office of Technology and Innovation for London's 33 boroughs and the Mayor.
He also managed a new £2m pre-seed fund for sustainable technologies at Imperial Business School. Stephen is an expert in sustainable cities and data sharing after years as the policy lead for data sharing for the UK government, for smart cities for the Mayor of London, and as a consultant for urban design and regeneration.
Marnix van Ginneken, Chief ESG & Legal Officer & Member of the Board of Management, Philips
After 15 years at Philips, Marnix van Ginneken is proud to champion the fully integrated approach to how we do business responsibly and sustainably. As a purpose-driven company, we know we have a responsibility towards society and we strive to embed these values ever deeper in the way we do business. This is why he is passionate about driving Philips' ESG strategy, targets and commitments.
Michelle Davies advises clients across the energy transition, climate and all aspects of sustainability. Michelle's clients are participants sourcing clean energy and sustainability solutions as well as those providing and financing these and include governments, financial institutions and corporations.
She is an energy transition and sustainability leader at EY. Michelle has been granted industry recognition including being listed as a leader in renewables by 'The Lawyer Hot 100 Lawyers', being named Solar Woman of the Year for MENA by the Middle East Solar Industry Association (MESIA), being invited to the UK Government's POWERful Women Group and named for the last 3 years as being one of the top 100 people in global wind power and one of the top women in global wind power by 'A Word About Wind'. She is on the Advisory Boards of the Climate Bond Initiative and Dii and other key bodies and Chairs the REA Finance Group and Climate Change Committee Advisory Group.

Sandeep Chandna is a versatile, goal-driven, results-oriented executive leader with diverse background in multiple sectors with a proven track record of 25 years in IT & IT Services, Oil & Gas and Infrastructure industry.
With more than a decade of experience in the area of EHS and Corporate Sustainability, Sandeep has led the sustainability agenda from the initiation stage at Tech Mahindra to the Leadership position today.
He has been instrumental in several key policy advocacy initiatives, leading a diverse stakeholder base and is being recognised by the national and international agencies.
Anna Pierce is the Director of Sustainability at Tate & Lyle, a 160-year-old business-to-business ingredient solutions producer, with 57 locations in 39 countries worldwide. Anna leads Tate & Lyle's sustainability programme focused on initiatives and partnerships that will deliver on the company's science-based emissions targets, net zero by 2050 commitment, and other focus areas, including sustainable agriculture programs.
Her global team works to infuse sustainability throughout the company's operations and support customers, and multinational food and beverage businesses, to deliver on their sustainability goals. Anna joined Tate & Lyle after spending her career in various Environmental, Health and Safety roles at General Electric. She holds a Bachelor of Science degree in Environmental Science, a minor in Environmental and Occupational Science and Health, and an MBA from Gannon University.
Alessandro is the co-founder and CEO of AWorld, the platform and App in support of the United Nations campaign for individual action on climate change and sustainability, ActNow.
AWorld is a guide intended to inspire the public to learn about sustainability and take action in the fight against climate change. The App is a user-friendly application with the aim to educate all the communities on how to make small sustainable everyday actions and to connect people to sustainable brands, and international and non-governmental organisations contributing to the different dimensions of sustainability.
Alessandro is an award-winning tech entrepreneur devoted to innovation and sustainability. He has extensive communications and marketing expertise in startup and e-commerce environments, both in the United States and internationally.
*************************************************
For more insights into Sustainability - check out the latest edition of Sustainability Magazine and be sure to follow us on LinkedIn & Twitter
Other magazines that may be of interest - EV Magazine | Energy Digital
Please also check out our upcoming event - Sustainability LIVE in London at the BDC on Sept 6/7th 2023
*********************************************
BizClik is a global provider of B2B digital media platforms that cover 'Executive Communities' for CEO's, CFO's, CMO's, Sustainability Leaders, Procurement & Supply Chain Leaders, Technology & AI Leaders, Cyber Leaders, FinTech & InsurTech Leaders as well as covering industries such as Manufacturing, Mining, Energy, EV, Construction, Healthcare + Food & Drink.
BizClik, based in London, Dubai & New York offers services such as Content Creation, Advertising & Sponsorship Solutions, Webinars & Events.