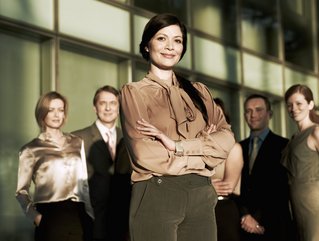 Discover the top 10 CEOs leading some of the world's most sustainable companies Credit: Getty Images
Sustainability Magazine shares the top 10 leaders at the helm of some of the world's biggest companies, including EY, Accenture, Capgemini and many more
For a business to make true progress towards sustainability, it needs to have a passionate, trustworthy and influential leader at its helm, to ensure that sustainability principles are integrated into every aspect of the organisation's operations, decision-making processes, and long-term strategy.
That's why Sustainability Magazine has celebrated the top 10 CEOs from some of the world's largest companies, making a positive impact on the planet and driving sustainable change.
Company: Cognizant
In January 2023, Ravi Kumar took the position of CEO and has led more than 350,000 associates across the world who are dedicated to living the company's purpose. Prior to this role, Kumar was the Independent Director at TransUnion and is currently on the Board of Governors for the International Tennis Hall of Fame.
"With a belief that we are all in the golden era of technology where software is the new alchemy for every business and every Industry is a technology Industry, Cognizant's purpose resonates with me," Kumar says. "I'm excited to come to work each day to collaborate with our teams to innovate for our clients, who are among the world's largest enterprises and ensure their continuing relevance to their customers."
Company: EY
As the Global Chairman and CEO for EY, one of the largest professional services organisations in the world, Carmine Di Sibio is responsible for leading the company to success. In the last fiscal year, EY achieved US$45bn in revenues, and today, has approximately 400,000 employees serving clients in more than 150 countries worldwide.
Prior to being elected to his current post, Di Sibio served as EY Global Managing Partner – Client Service, leading the execution of the organisation's global strategy and its four geographical areas and four service lines.
Company:​​​​​​​ Ecolab
Christophe Beck is President and CEO of Ecolab Inc, the global leader in water, hygiene and infection prevention solutions and services that protect people and vital resources. Prior to taking on this role in 2021, Beck was Ecolab's President and COO.
Beck has held several senior leadership roles at Ecolab, including executive vice president and president of the Global Industrial Group; executive vice president and president of Nalco Water, an Ecolab company; and executive vice president and president of International Regions.
Company:​​​​​​​ Accenture
For thirteen years, Julie Sweet has led Accenture as the CEO. During her first year at the company, Sweet saw over US$44.3bn in revenue and US$5.1bn in profit – a growth of 7% from the previous year. While achieving all this, she also steered the company and its half-a-million employees through a global pandemic. She also serves on the World Economic Forum Board of Trustees and on the board of directors for the Business Roundtable.
Company:​​​​​​​ Schneider Electric
Starting his career as electrician when he was just 15 years old, Peter Herweck's passion for the world of energy led him to the helm of Schneider Electric. Over the past 25 years, Herweck worked across the world, in places spanning Munich, Beijing and Chicago, continuously learning and innovating with new technologies that make the world's buildings, industries and cities more efficient, reliable, safe and sustainable.
Company:​​​​​​​ Rolls-Royce
After building a career in international business including over 20 years, Tufan Erginbilgic was appointed as Rolls-Royce's CEO in January 2023. He said: "As CEO, my goal is to work with customers, partners, and colleagues to leverage Rolls-Royce's proud heritage of engineering excellence to deliver its full potential as the market rapidly changes."
Before taking this position, Erginbilgic led BP's downstream business, which included Refining, Petrochemicals, Service Station Network, Lubricants, Midstream operations and the Air BP jet fuel operation.
Company:​​​​​​​ Deloitte
Deloitte's CEO Joe Ucuzoglu is responsible for leading more than 415,000 professionals and approximately US$60bn in revenue, while still remaining actively engaged with many of the business's clients and external stakeholders. Prior to this role, Ucuzoglu served as the CEO of Deloitte US, and previously served as the leader of the Deloitte US Audit & Assurance practice.
He frequently speaks on a broad range of current issues facing the business community such as building a culture of purpose and inclusivity, the evolving nature of leadership, and the role that businesses must play in leading society through the rapid pace of technology-driven change.
Company:​​​​​​​ Siemens
Ronald Busch took the role of President and Chief Executive Officer of Siemens AG in 2021, and has since been steering the company to success. Prior to this role, he held numerous roles within the company, including Deputy CEO AG and Labor Director.
"As a technology company that transforms the backbone of economies, I can safely say there is no more exciting place to work on the things that make a difference in the world, than Siemens," Busch says.
Company:​​​​​​​ Capgemini
Passionate about unleashing human energy through technology for an inclusive and sustainable future, Aiman Ezzat sits at the helm of the Capgemini Group.
Responsible for leading a team of 360,000 across more than 50 countries, Ezzat ensures Capgemini is a trusted partner of its clients, while enabling technological innovation that supports the businesses transformation and growth.
Ezzat says: "I believe that digital transformation should benefit all of humanity and am committed to ensuring Capgemini plays an active and responsible role within the communities where we live and work, so that nobody is left behind or excluded."
Company:​​​​​​​ Boston Consulting Group (BCG)
Christoph Schweizer took the position of CEO of BCG in May 2021, and has since been at the company's helm.
Prior to this his role at BCG, Schweizer was Chairman for the business's Central and Eastern Europe and the Middle East departments. He has also served as a member of the firm's Executive and Operating Committees since 2014.
Additionally, Schweizer is a member of several leading organisations, spanning the Business Roundtable and the World Economic Forum's International Business Council. For the past three years, INvolve People recognised Schweizer as a HERoes Advocate Executive Role Model for his work with Women@BCG related to the hiring, promotion, and retention of women.
*******
For more insights into Sustainability - check out the latest edition of Sustainability Magazine and be sure to follow us on LinkedIn & Twitter
Other magazines that may be of interest - EV Magazine | Energy Digital
Please also check out our upcoming event - Sustainability LIVE in London at the BDC on Sept 6/7th 2023
********
BizClik is a global provider of B2B digital media platforms that cover 'Executive Communities' for CEO's, CFO's, CMO's, Sustainability Leaders, Procurement & Supply Chain Leaders, Technology & AI Leaders, Cyber Leaders, FinTech & InsurTech Leaders as well as covering industries such as Manufacturing, Mining, Energy, EV, Construction, Healthcare + Food & Drink.
BizClik, based in London, Dubai & New York offers services such as Content Creation, Advertising & Sponsorship Solutions, Webinars & Events.