Top 10 sustainable companies in Europe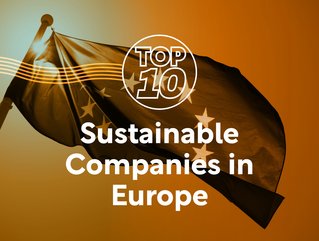 Top 10 Sustainable Companies in Europe
Our Top 10 sustainable companies in Europe include Schneider Electric, Siemens, Vestas Wind Systems A/S, Unilever, Nestle, Deloitte, Accenture and more
As reporting standards, strategy and transparency in sustainability all advance, companies around the globe commit to bettering their sustainability credentials. Our top sustainable companies in Europe are some of the pioneers in sustainability, working not only as industry leaders in their sectors, but also in sustainability.
Our full Top 100 Sustainable Companies 2023 features the most sustainable companies around the globe, and our Top 10 Sustainable Startups are the companies to watch for the future of sustainability.
CEO: Robert E. Moritz
Headquarters: London, England, United Kingdom
At PwC, the business is driven by a purpose to build trust in society and solve important problems. With a network of firms in 152 countries with over 327,000 people who are committed to delivering quality assurance, advisory and tax services.
PwC has a passionate community of solvers, ready to combine real-world experience with a commitment to change. Additionally, PwC's global Centre for Nature Positive Business unites more than 500 nature specialists from across the business's network. Bringing together knowledge in biodiversity, water, forestry, regenerative agriculture and geospatial analysis, the Centre is accelerating the global transition to a nature-positive and net-zero future.
CEO: Aiman Ezzat
Headquarters: Paris, France
Capgemini is a global leader in partnering with companies to transform and manage their business by harnessing the power of technology. The Group is guided every day by its purpose of unleashing human energy through technology for an inclusive and sustainable future.
It is a responsible and diverse organisation of 360,000 team members in more than 50 countries. With its strong 55-year heritage and deep industry expertise, Capgemini is trusted by its clients to address the entire breadth of their business needs, from strategy and design to operations, fuelled by the fast evolving and innovative world of cloud, data, AI, connectivity, software, digital engineering and platforms. The Group reported in 2022 global revenues of €22bn (US$24bn).
CEO: Carmine Di Sibio
Headquarters: London, England, United Kingdom
EY exists to build a better working world, helping create long-term value for clients, people and society and to build trust in the capital markets. Enabled by data and technology, diverse EY teams in over 150 countries provide trust through assurance and help clients grow, transform and operate. Working across assurance, consulting, law, strategy, tax and transactions, EY teams ask better questions to find new answers for the complex issues facing our world today.
EY teams have a legacy of over 20 years of providing sustainability and ESG services. The business utilises its deep technical skills across a breadth of business issues to help businesses create value for sustainability — while helping sustainability create value for business.
CEO: Julie Sweet
Headquarters: Dublin, Ireland
With Julie Sweet – one of the world's most powerful businesswomen – at the helm, Accenture is a firm driving change and creating meaningful value.
Accenture operates in over 120 countries and serves more than 9,000 clients. Its approach to sustainability is comprehensive, integrating sustainability into every facet of its work for the benefit of all stakeholders. Accenture offers solutions that mitigate carbon emissions across various domains, such as buildings, transport, and even entire cities, while simultaneously promoting social and economic advantages.
Accenture works with organisations to incorporate sustainability throughout the value chain, thus enabling trusted, circular, and net-zero value chains.
CEO: Joe Ucuzoglu
Headquarters: London, England, United Kingdom
For over 20 years, Deloitte has helped organisations make progress toward delivering sustainable value for their stakeholders – from investors, customers and business partners, to regulators, governments, and communities. Deloitte serves organisations as they redefine their strategies, embed sustainability into their operations, meet disclosure and regulatory requirements and help them accelerate the transformation of their organisations.
Through innovative approaches, digital solutions and lessons learned from its own journey, Deloitte works with organisations to embed sustainability into operations. Deloitte invests in outstanding people of diverse talents and backgrounds to empower them to achieve more than they could elsewhere.
CEO: Mark Schneider
Headquarters: Vevey, Switzerland
As the world's largest food and beverage company, Nestle is driven by a simple aim: unlocking the power of food to enhance the quality of life for everyone, today and for generations to come. To deliver on this, Nestle serves with passion, with a spirit of excellence, offering products and services for all stages of life, every moment of the day, helping people care for themselves and their families.
Nestle can trace its origins back to 1866 when the first European condensed milk factory was opened. One year later, Henri Nestlé launched one of the world's first prepared infant cereals 'Farine lactée' in Vevey, Switzerland. Today, Nestle employs around 273,000 people and has factories or operations in almost every country in the world.
CEO: Hein Schumacher
Headquarters: London, England, United Kingdom
As one of the most notable sustainable companies, Unilever is making exciting new developments in packaging with the idea that paper-based bottles will replace plastic.
The business has a clear view of its social and environmental obligations and is committed to developing plant-based alternatives to fossil-fuel-derived cleaning products and packaging, reaching net-zero carbon emissions by 2039, and is already taking social action for people's welfare. The business will achieve this by raising the standards of living across the globe and employing 93% of leaders from local communities, as well as promoting DEI in modern society. Unilever employs 127,000 people across the world, working for over 400 brand names in 190 countries.
CEO: Henrik Andersen
Headquarters: Aarhus, Denmark
Vestas Wind Systems A/S is the world's largest wind turbine manufacturer and wind turbine service provider. With a vision to become the global leader in sustainable energy solutions, everything the business does revolves around the development and deployment of sustainable energy solutions.
Every day, Vestas's more than 28,000 employees help to create a better world by designing, manufacturing, installing, developing and servicing wind energy and hybrid projects all over the world. With +164 GW of wind turbines installed in 88 countries, its sustainable energy solutions have already prevented 1.9 billion tonnes of CO2 from being emitted into the atmosphere and contributed to a more sustainable energy system.
At Vestas, sustainability is grounded in our four corporate values: simplicity, collaboration, accountability and passion. Sustainability at Vestas means reducing or eliminating negative environmental and social impacts, as well as maximising the value that the business and products provide for its customers, employees, shareholders, suppliers, local communities and the planet at large. It also means upholding sustainability in governance structures. It believes these efforts will help to elevate the standards of the industry as a whole.
Vestas has more than 40 years of experience in wind energy and was the first company to reach the 100 GW landmark for both the installation and service of wind turbines. As such, Vestas believes it has already played a crucial role in laying the foundations for the sustainable era, and that it is uniquely positioned to show the path to a sustainable planet.
Vestas highly values diversity and different perspectives. The business builds, leads and contributes to high-performing teams that make better-informed decisions and solutions. Leaders also make an effort to understand other viewpoints before making an opinion or taking action, leading with a feedback culture, which asks for and learns from feedback.
CEO: Roland Busch
Headquarters: Munich, Germany
Technology giant Siemens focuses on industry, infrastructure, transport, and healthcare. From more resource-efficient factories, resilient supply chains, and smarter buildings and grids, to cleaner and more comfortable transportation as well as advanced healthcare, the company creates technology with purpose, adding real value for customers. By combining the real and the digital worlds, Siemens empowers its customers to transform their industries and markets, helping them to transform the every day for billions of people.
Siemens also owns a majority stake in the publicly listed company Siemens Healthineers, a globally leading medical technology provider shaping the future of healthcare. In addition, Siemens holds a minority stake in Siemens Energy, a global leader in the transmission and generation of electrical power. In fiscal 2022, which ended on September 30, 2022, the Siemens Group generated revenue of €72bn (US$78bn) and net income of €4.4bn (US$4.7bn). As of September 30, 2022, the company had around 311,000 employees worldwide.
What's more, sustainability is a key part of Siemens' strategy. This is demonstrated as Siemens is taking its ESG commitment to the next level with its DEGREE framework. It constitutes a 360-degree approach for all stakeholders – its customers, suppliers, investors, people, the societies it serves, and the planet. In addressing the three aspects of ESG, Siemens is building a better future that helps the business stay within planetary boundaries, helps foster a culture of trust, empowerment and growth, supports inclusive economic opportunities, and ensures its people and businesses remain resilient and relevant for whatever the future holds.
CEO: Peter Herweck
Headquarters: Rueil-Malmaison, France
Founded in 1836, Schneider Electric's purpose is to empower all to make the most of our energy and resources, bridging progress and sustainability for all. The company drives digital transformation by integrating world-leading process and energy technologies, end-point to cloud connecting products, controls, software and services, across the entire lifecycle, enabling integrated company management, for homes, buildings, data centres, infrastructure and industries. Schneider Electric is the most local of global companies. Additionally, it advocates open standards and partnership ecosystems that are passionate about the business's shared meaningful purpose and inclusive and empowered values.
Sustainability is at the heart of Schneider Electric. To demonstrate this, it has six key commitments: the business pledges to act for a climate-positive world, be efficient with resources, live up to its principles of trust, create equal opportunities, harness the power of all generations, and empower local communities.
The business has also helped 1,000 suppliers deliver on their climate-positive goal to reduce CO2 emissions by half by 2025. Through Schneider Electric's dedicated decarbonisation programme that offers training, expert support, tools, and solutions, its partners get everything they need to accelerate their business.
DE&I is also a top priority for Schneider Electric. In fact, its 130,000 employees span five generations, 182 nationalities and 108 countries. And, as of December 2022, 34% of the company were women. This includes 41% in the executive committee, 45% in the board of directors, 42% in all new hires, 27% in frontline managers, and 28% in senior leadership positions. Finally, in an 2022 internal engagement survey, 77% of employees stated that they felt fairly treated, regardless of individual differences.
Schneider Electric was also recognised as the world's most sustainable company in 2021 by Corporate Knights Global 100 Index.
*************************************************
For more insights into Sustainability - check out the latest edition of Sustainability Magazine and be sure to follow us on LinkedIn & Twitter
Other magazines that may be of interest - EV Magazine | Energy Digital
*********************************************
BizClik is a global provider of B2B digital media platforms that cover 'Executive Communities' for CEO's, CFO's, CMO's, Sustainability Leaders, Procurement & Supply Chain Leaders, Technology & AI Leaders, Cyber Leaders, FinTech & InsurTech Leaders as well as covering industries such as Manufacturing, Mining, Energy, EV, Construction, Healthcare + Food & Drink.
BizClik, based in London, Dubai & New York offers services such as Content Creation, Advertising & Sponsorship Solutions, Webinars & Events.