Supply Chain Sustainability
Top 10 Strategies for Decarbonisation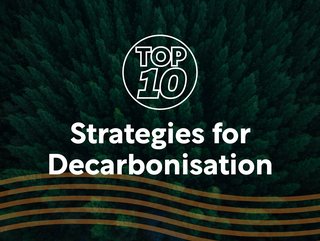 Top 10 Strategies for Decarbonisation
Sustainability Magazine has rounded up the top 10 companies that have implemented decarbonisation strategies to lower their environmental impact.
To combat climate change, some of the world's largest companies have set decarbonisation strategies to reduce their environmental impact. These strategies involve transitioning to renewable energy sources, enhancing energy efficiency across sectors, electrifying transportation, implementing carbon pricing mechanisms and investing in carbon capture technologies, to name a few.
In doing so, these measures curb greenhouse gas emissions, mitigate global warming and build a more sustainable and resilient future for our planet. Although decarbonisation requires collaborative efforts at all levels of society, some of the world's biggest companies implemented strategies to ensure they're making a positive impact.
ICF – a global advisory and technology services provider – believes that achieving its decarbonisation goals requires a firm grasp of current emissions while assessing the requirements that need to be adhered to, what needs to be achieved, and how well various solutions can get you there. To achieve this, the business offers a deep dive into multiple sectors, carbon accounting, and costs and benefits assessments that serve as the basis for actionable strategies.
Through extensive research, PwC has found that industry-wide ambitions need to be changed to prioritise decarbonisation, with two-thirds of survey respondents stating value creation as their top driver for environmental change and claiming to consider it in their transformation or value creation plan. Additionally, PwC's Responsible Investment Survey shows a shift among leaders — from considering environmental topics and thinking about risk mitigation to prioritising value creation. This research suggests growing, industry-wide ambitions to make a change when it comes to decarbonisation – something that the firm has made a top priority for itself.
Aerospace and defence company Rolls-Royce have made numerous efforts to decarbonise, by implementing technology to help the business itself and the sectors it operates in to reach zero emissions within all operations, products and facilities. The business aims to achieve this by 2030. Additionally, the business has committed to a reduction of lifetime emissions of newly sold products from the Power Systems business by 2030.
IBM Envizi has designed a suite of decarbonisation software products aimed at supporting organisations in their sustainability and decarbonisation initiatives. This comprehensive suite facilitates continuous monitoring, in-depth analysis, efficient management and streamlined reporting of energy consumption within large organisational structures.
What's more, by integrating data from various sources such as utility invoices, interval metres, renewable assets and facility data, these products provide granular insights for informed decision-making on resource allocation and consumption patterns.
Renewable energy company Drax Global has implemented a number of decarbonisation strategies to ensure the business is achieving its sustainability goals. For example, the company achieved a 74% reduction in carbon intensity of power generation, from 311 tCO2 / GWh in 2017, down to 80 tCO2 / GWh in the first half of 2021.
By moving away from coal, Drax Global was able to decarbonisation, due to its move away from coal to hydro and biomass.
Understanding the importance of having a solid decarbonisation strategy, EY has prioritised developing strategies both for internal targets as well as external clients by developing credible plans to achieve net zero. For example, the EY Carbon programme enables businesses to transform their strategies while also building trust with stakeholders.
Since 1926, McKinsey has collaborated with companies across various stages of development to expedite their progress toward sustainability. To advance its decarbonisation efforts, McKinsey has set net-zero goals and partnered with clients, to take a collaborative approach to mitigating climate change, while also working to devise and execute operational changes that deliver lasting improvements.
Focused on industry, infrastructure, transport and healthcare, Siemens has become one of the very few companies worldwide to sign up for four ambitious sustainability initiatives at once: RE100, EP100, EV100 and the Science Based Targets initiative (SBTi).
In a bid to limit global warming in accordance with the Paris Agreement, Siemens has committed to reducing science-based reduction pathways along its entire value chain, while also ensuring its climate-protection efforts are in harmony with the policy's highest level of ambition.
Deloitte has outlined a comprehensive framework for utility decarbonisation by identifying three key strategic pathways: Renew supply, reshaping demand and refuelling end uses.
Firstly, renewing supply retires how non-renewable plants and mitigating emissions from fossil-fueled ones allow utility-scale solar and wind to dominate the energy landscape.
Additionally, Deloitte looks to reshape demand by employing demand response to reduce reliance on carbon-emitting peakers, for example, by distributing energy resources such as rooftop solar panels.
The third and final strategy is to refuel end uses by transitioning from oil and natural gas to electricity in sectors like transportation, heating and industry. This will maximise renewable energy benefits, as well as minimising waste, seasonal storage and thermal fuels is crucial.
Professional service network KPMG is a global network providing audit, tax and advisory services, with over 227,000 employees in 146 countries and territories.
For the firm, understanding that stakeholders increasingly inform their decisions based on its ESG credentials is paramount. KPMG believes that consumers are choosing brands for their ethical behaviour and their record on climate change. What's more, KPMG believes that investors are favouring businesses with robust ESG frameworks and that governments are implementing regulations requiring organisations to increase transparency across a number of frameworks, such as modern slavery, DEI and carbon emissions.
ESG is, therefore, crucial to long-term value creation and growth, with KPMG believing that sustainable growth is the best way to build a successful business.
*************************************************
For more insights into Sustainability - check out the latest edition of Sustainability Magazine and be sure to follow us on LinkedIn & Twitter
Other magazines that may be of interest - EV Magazine | Energy Digital
*********************************************
BizClik is a global provider of B2B digital media platforms that cover 'Executive Communities' for CEO's, CFO's, CMO's, Sustainability Leaders, Procurement & Supply Chain Leaders, Technology & AI Leaders, Cyber Leaders, FinTech & InsurTech Leaders as well as covering industries such as Manufacturing, Mining, Energy, EV, Construction, Healthcare + Food & Drink.
BizClik, based in London, Dubai & New York offers services such as Content Creation, Advertising & Sponsorship Solutions, Webinars & Events.