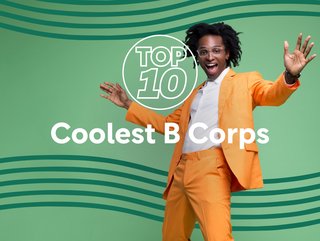 Top 10 Coolest B Corps
Sustainability Magazine looks at the top 10 coolest B Corps creating sustainable and meaningful change, including Patagonia, Gousto, and Ben and Jerry's
Benefit Corporations – otherwise known as B Corps – are businesses that seek to balance profit with social and environmental responsibility.
To become a B Corp, businesses must undergo rigorous assessments by the non-profit organisation B Lab, to ensure the highest sustainable standards are met and to encourage businesses to become 'forces for good'.
Typically, businesses that become B Corps are purpose-driven, aiming to create a positive impact on society and the environment while also adhering to the "triple bottom line".
B Corps are required to publish an annual B Impact Report, to ensure each business is as transparent as possible when disclosing their social and environmental performance to the public.
Sustainability Magazine has listed the top 10 coolest B Corps, which are changing the world for the better, while also driving meaningful change.
CEO: Everette Taylor
Headquarters: New York, US
As the world's largest funding community for creative projects, Kickstarter covers startups from all sectors, spanning films, restaurants, music, technology, and many more. Since launching in 2009, Kickstarter has welcomed pledges from 7.5 million people, totalling US$1.5b, funding more than 75,000 creative projects. As an independent company based in Brooklyn, New York, Kickstarter is on a mission to make the world a better place by bringing creative projects to life.
CEO: Timo Boldt
Headquarters: London, UK
Offering recipe boxes across the UK, Gousto has the ambition to change the way people shop and eat for the better. Each box includes precise ingredients that customers need, as well as easy-to-follow recipe cards to ensure cooking from scratch is exciting. The business is also dedicated to encouraging sustainable cooking, by reducing food waste, cutting plastic in recipe boxes, and finding more ways to help the planet with every plate.
CEO: Hichame Assi
Headquarters: Melbourne, Australia
On a mission to create great creative content powered by a global community, Envato unites customers and content authors to share and licence creative items, tools and talent. From templates and stock assets to bespoke marketing collateral, Envato's community approach ensures products and assets are comprehensive, on-trend, diverse and engaging. What's more, the business provides freelancers and creative agencies to some of the most widely recognised companies, spanning Walmart, Nike and Microsoft, to name a few.
CEO: Matthew McCarthy
Headquarters: Vermont, US
As one of the most notable ice cream brands in the world, Ben and Jerry's is focused on making delicious ice cream that doesn't cost the earth. At every level of business, Ben and Jerry's seeks to advance human rights and dignity, support social and economic justice for historically marginalised communities, and to protect and restore the Earth's natural systems.
CEO: Neil Blumenthal
Headquarters: New York, US
Warby Parker is on a mission to inspire and impact the world with vision, purpose, and style. The eyewear business constantly assesses how it can make a greater impact on the planet, while demonstrating that a business can scale while also being profitable and sustainable. for it. The Canadian-based business believes that everyone should have access to vision, which is why for every pair of glasses or sunglasses sold, another pair is distributed to someone in need through the Buy a Pair, Give a Pair programme.
CEO: David Boynton
Headquarters: London, UK
Founded by Dame Anita Roddick in Brighton, UK, The Body Shop has become a leading skincare and beauty brand, offering high-quality, naturally-inspired products which are ethically and sustainably sourced. With a global presence, The Body Shop operates in almost 70 countries with approximately 3,000 stores, with 8,000 direct employees. What's more, The Body Shop has committed to a number of social causes, including supporting social and environmental movements, as well as raising awareness of human trafficking, domestic violence, deforestation and animal testing, to name a few.
CEO: Ryan Gellert
Headquarters: California, US
Outdoor apparel brand Patagonia has become synonymous with sustainability. Their latest season uses 87% recycled materials, which has allowed them to avoid 4,300 metric tonnes of CO₂. That's enough to power 500 homes for one year. And the virgin cotton used? That's grown organically, which reduces CO₂ emissions and saves water. They're also kind to their workers, by improving conditions and ensuring that 87% of their line is Fair Trade Certified.
CEO: Magnus Wedhammar
Headquarters: California, US
Since 2006, footwear and lifestyle brand TOMS has been using business to improve lives. The business has positively impacted the lives of over 100,000,000 individuals, by supporting a variety of non-profit organisations across the globe.
By committing one-third of its profits to grassroots organisations, TOMS aims to create a future where people can thrive. Boosting mental health, ending gun violence and increasing access to opportunities all contribute to this mission, too, to support people working to build a more equitable tomorrow. What's more, by 2025, the business aims to use 100% sustainable cotton and to track the business's carbon footprint.
CEO: Jeff Maggioncalda
Headquarters: California, US
Learning platform Coursera was launched by two Stanford Computer Science professors in 2012, to drive universal access to world-class learning for all. Now, over a decade on, the site has more than 107 million registered learners, making it one of the largest learning platforms in the world. To achieve this, the business has partnered with over 275 leading universities and industry partners to offer a broad catalogue of content, spanning everything from professional certificates to master's degrees.
Courses are often affordable and flexible, allowing as many people as possible to access learning – whether that be for professional or personal endeavours.
Coursera was founded in California, US, and now operates in 11 countries, including Australia, China, India, United Arab Emirates and the UK, to name a few.
CEO: Martin Dougiamas
Headquarters: Perth, Australia
As one of the world's most customisable and trusted eLearning solutions, Moodle aims to empower educators to improve the world. With more than 372,000,000 users worldwide and 2.6 billion course enrolments, Moodle believes in providing free and open-access education to all. The business also believes that technology plays a vital role in achieving this, and therefore uses the platform to strive to create a more equitable world where everyone can pursue a quality education.
As a member of Open Education Global and the UNESCO Global Education Coalition, Moodle is driven to make decisions and implement practices that consider not just shareholder value, but the impact on educators, learners, employees, customers, society and the environment, too.
*************************************************
For more insights into Sustainability - check out the latest edition of Sustainability Magazine and be sure to follow us on LinkedIn & Twitter
Other magazines that may be of interest - EV Magazine | Energy Digital
Please also check out our upcoming event - Sustainability LIVE in London at the BDC on Sept 6/7th 2023
*********************************************
BizClik is a global provider of B2B digital media platforms that cover 'Executive Communities' for CEO's, CFO's, CMO's, Sustainability Leaders, Procurement & Supply Chain Leaders, Technology & AI Leaders, Cyber Leaders, FinTech & InsurTech Leaders as well as covering industries such as Manufacturing, Mining, Energy, EV, Construction, Healthcare + Food & Drink.
BizClik, based in London, Dubai & New York offers services such as Content Creation, Advertising & Sponsorship Solutions, Webinars & Events.