Top 10: Sustainable Companies in the UK 2023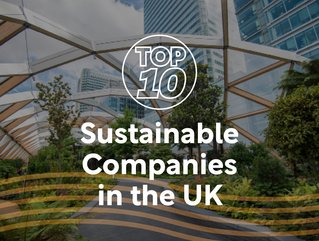 Sustainability Magazine is proud to share the Top 10 Sustainable Companies in the UK
Sustainability Magazine has launched its Top 100 Companies 2023 supplement. We highlight the top 10 UK-based businesses featured, including BAT, PwC & HSBC
Sustainability Magazine, Feedspot's number-one ESG magazine, has launched its highly-anticipated Top 100 Companies supplement, which celebrates the sustainability journeys of the world's biggest businesses.
Through the supplement, we take a look at how some of the world's most successful companies have shaped their sustainability strategies, by committing to clean energy goals, adhering to rigorous reporting standards and increasing transparency, to name just a few strategies.
We're proud to share the top 10 companies that were found to go above and beyond, pioneering the way for a more sustainable future for all.
CEO: Bas Burger
Headquarters: London, UK
The BT Group is one of the world's leading communications services companies, which has a purpose as simple as it is ambitious: to provide connections for good. The business believes that there are no limits to what people can do when they connect. That's why, through the power of technology, the BT Group are supporting customers to live, work and play together better. To achieve this, the business has accelerated its full fibre rollout to hit 25m premises by the end of 2026, getting fibre to more people, faster, fuelling the UK economic recovery. The Group also owns the UK's fastest mobile network, EE, providing more reliable service and near-instant connections for its customers.

CEO: Rakesh Kapoor
Headquarters: London, UK
Reckitt, a British multinational consumer goods company, recognises the ongoing fight to ensure that access to the highest quality hygiene, wellness and nourishment is a right and not a privilege. Each of Reckitt's products is meticulously designed to contribute to this cause. With a legacy spanning over 200 years, the business of well-loved brands has made a significant difference in people's daily lives worldwide. These brands include Durex, Dettol, Enfamil, Nurofen, Strepsils and Gaviscon, to name a few. As a growing global community of over 43,000 individuals, Reckitt is on a transformative journey towards sustainable growth, aiming to have a positive impact on communities worldwide, promoting a healthier planet and fostering a fairer society.

CEO: CS Venkatakrishnan
Headquarters: London, UK
Barclays is a British universal bank, which spans consumer banking and payments operations around the world. It is also a top-tier, full-service, global corporate and investment bank – all of which are supported by service companies which provide technology, operations and functional services across the Group. With over 325 years of history and expertise in banking, Barclays operates in over 40 countries and employs approximately 83,500 people. Barclays moves, lends, invests and protects money for customers and clients worldwide. Additionally, Barclays supports efforts to further enhance ESG reporting and advocates for improved consistency across the industry across disclosures and ESG ratings and benchmarks.

CEO: Tadeu Marroco
Headquarters: London, UK
British American Tobacco (BAT) is proud to be a truly global company with a highly successful past and a transformational future. Founded in 1902, the business has evolved into one of the world's leading consumer goods businesses. As a leading FTSE company, BAT is spread across six continents and has more than 50,000 people worldwide. Its purpose is to build 'A Better Tomorrow' by reducing the health impact of the business by offering a greater choice of enjoyable products for consumers. BAT is becoming a business that defines itself, not by the product it sells, but by the consumer needs that it meets. Since 2018, BAT has been a Global Top Employer for its long-standing commitment to sustaining a diverse and inclusive culture.

CEO: Pascal Soriot
Headquarters: London, UK
Pharmaceutical and biotechnology company AstraZeneca believes that science can build a sustainable future for people, society and the planet. The business is united by a desire to push the boundaries of science to deliver life-changing medicines in a way that is respectful of the planet. As a global business, AstraZeneca is playing its part in tackling the biggest challenges of our time, from climate change to access to healthcare and disease prevention. It is harnessing the power of science and innovation, and its global reach to make a positive impact on society, healthcare systems and the environment. By embedding sustainability in everything it does, AstraZeneca is helping to strengthen healthcare systems so that they are more resilient.

CEO: Noel Quinn
Headquarters: London, UK
With the mission of opening up a world of opportunity for its customers, investors and the planet, HSBC is a financial services organisation that serves more than 40 million customers, ranging from individual savers and investors to some of the world's biggest companies and governments. Its network covers 63 countries and territories and lends unique expertise, capabilities, breadth and perspectives to its customers and clients. HSBC has joined the World Resources Institute and WWF to form a 5-year partnership, with the aim of providing climate solutions to become a commercial reality and have an impact on the world. HSBC is listed on the London, Hong Kong, New York, Paris and Bermuda stock exchanges.

CEO: Kevin Ellis
Headquarters: London, UK
At PwC, the business is driven by a purpose to build trust in society and solve important problems. With a network of firms in 152 countries with over 327,000 people who are committed to delivering quality assurance, advisory and tax services. PwC has a passionate community of solvers, ready to combine real-world experience with a commitment to change. Additionally, PwC's global Centre for Nature Positive Business unites more than 500 nature specialists from across the business's network. Bringing together knowledge in biodiversity, water, forestry, regenerative agriculture and geospatial analysis, the Centre is accelerating the global transition to a nature-positive and net-zero future.

CEO: Carmine Di Sibio
Headquarters: London, UK
EY exists to build a better working world, helping create long-term value for clients, people and society and to build trust in the capital markets. Enabled by data and technology, diverse EY teams in over 150 countries provide trust through assurance and help clients grow, transform and operate. Working across assurance, consulting, law, strategy, tax and transactions, EY teams ask better questions to find new answers for the complex issues facing our world today. EY teams have a legacy of over 20 years of providing sustainability and ESG services. The business utilises its deep technical skills across a breadth of business issues to help businesses create value for sustainability — while helping sustainability create value for business.

CEO: Joe Ucuzoglu
Headquarters: London, UK
For over 20 years, Deloitte has helped organisations make progress toward delivering sustainable value for their stakeholders – from investors, customers and business partners, to regulators, governments, and communities. Deloitte serves organisations as they redefine their strategies, embed sustainability into their operations, meet disclosure and regulatory requirements and help them accelerate the transformation of their organisations. Through innovative approaches, digital solutions and lessons learned from its own journey, Deloitte works with organisations to embed sustainability into operations. Deloitte invests in outstanding people of diverse talents and backgrounds to empower them to achieve more than they could elsewhere.

CEO: Hein Schumacher
Headquarters: London, UK
As one of the most notable sustainable companies, Unilever is making exciting new developments in packaging with the idea that paper-based bottles will replace plastic. The business has a clear view of its social and environmental obligations and is committed to developing plant-based alternatives to fossil-fuel-derived cleaning products and packaging, reaching net-zero carbon emissions by 2039, and is already taking social action for people's welfare.

The business will achieve this by raising the standards of living across the globe and employing 93% of leaders from local communities, as well as promoting DE&i in modern society. Unilever employs 127,000 people across the world, working for over 400 brand names in 190 countries.

*************************************************
For more insights into Sustainability - check out the latest edition of Sustainability Magazine and be sure to follow us on LinkedIn & Twitter
Other magazines that may be of interest - EV Magazine | Energy Digital
Please also check out our upcoming event - Sustainability LIVE in London at the BDC on Sept 6/7th 2023
*********************************************
BizClik is a global provider of B2B digital media platforms that cover 'Executive Communities' for CEO's, CFO's, CMO's, Sustainability Leaders, Procurement & Supply Chain Leaders, Technology & AI Leaders, Cyber Leaders, FinTech & InsurTech Leaders as well as covering industries such as Manufacturing, Mining, Energy, EV, Construction, Healthcare + Food & Drink.
BizClik, based in London, Dubai & New York offers services such as Content Creation, Advertising & Sponsorship Solutions, Webinars & Events.