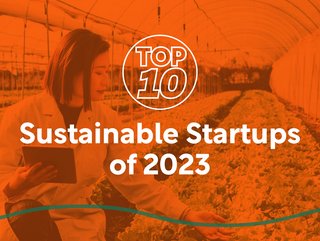 Top 10 sustainable startups of 2023
We take a look at the top 10 startups demonstrating dedicated action to mitigate their climate impact, including Aurora Solar, AMP Robotics, and more
The path to sustainable operations is a tricky one, laden with unexpected pitfalls, significant sacrifices and lacking a unifying expectation of what 'sustainable' actually looks like in practice. Yet, getting a grip on emissions, waste and renewable resources among other elements – not to mention all the associated policy and process changes – is of vital importance in the coming years.
Enter the startup world. Often renowned for their ingenuity, scalability and passionate problem-solving, startups are perfectly poised to take on the mantle of sustainable practice and generate innovative solutions. Uninhibited by legacy tech and embedded processes, startups are free to assess sustainability in more efficient, effective ways.
Here, we take a look at the top 10 sustainable startups of 2023 to see which are prioritising the planet over personal gain and devising sustainable solutions.
Headquarters: California, US
CEO: Christie Obiaya
Total funding: US$332.6m
Renewable energy technology company Heliogen is focused on eliminating the need for fossil fuels in heavy industry and powering a sustainable future. The company's AI-enabled, modular concentrated solar technology aims to cost-effectively deliver near 24/7 carbon-free energy in the form of heat, power or green hydrogen fuel at scale – for the first time in history.
The company's HelioHeat technology was recognised by TIME on its prestigious Best Inventions of 2020 list and Fast Company honoured Heliogen with a 2020 World Changing Ideas Award.

Headquarters: San Francisco, US
CEO: Stuart Landesberg
Total funding: US$606.5m
Certified B Corp, Grove Collaborative, is a one-stop shop for brands that love the planet. Offering over 200 brands, from cleaning products to wellness items, each item has been carefully selected having undergone thorough evaluation to meet stringent criteria for guaranteed sustainability.
The company also proudly holds the distinction of being the world's first plastic-neutral retailer. When consumers buy plastic packaging from the business, it takes responsibility by collecting an equivalent amount of nature-bound plastic pollution through our partnership with rePurpose Global.
Headquarters: Paris, France
CEO: Guillaume Fourdinier
Total funding: US$40.6m
In 35 m2, Agricool can produce the same amount of food as 4,000 m2, with no pesticides, no transportation and with 100% renewable energy. To achieve this, the business has created a paradise for fruits and vegetables in recycled shipping containers, to provide the best lighting, temperature, irrigation and air quality. Through these innovative containers, usually seasonal fruit and vegetables can be grown all year round, while water use and carbon emissions are reduced.
Headquarters: London, UK
CEO: Mauro Cozzi
Total funding: US$16.6m
Emitwise takes the creativity out of carbon accountancy by providing an easy-to-use platform that accurately measures, tracks, reports targets and reduces emissions across the supply chain.
The journey to reduce a company's carbon emissions begins within its owned operations – but extends much further beyond. Emitwise's platform ensures that clients have access to the same level of detail, accuracy and insights throughout your entire supply chain. In fact, 1 in 4 Emitwise customers have set a net-zero target and 85% of the emissions the business tracks are Scope 3.
Headquarters: New South Wales, Australia
CEO: Guy Hudson
Total funding: US$105m
To help solve the climate crisis, Loam works with 4.5bn years of evolution. As microbes have changed the composition of the Earth's atmosphere, Loam is ensuring they can do it again. By gaining a better understanding of how microbes influence the carbon cycle, Loam is creating new planetary-scale opportunities for carbon sequestration and improving agricultural productivity.
The business delivers high-quality CO2 removal with environmental co-benefits, by providing growers with unique tools and connecting them to business leaders who are driving the global path to net-zero.
Headquarters: Colorado, US
CEO: Dr. Matanya Horowitz
Number of employees: 200
Total funding: US$180mn
By applying AI and automation, AMP Robotics is modernising and scaling the world's recycling infrastructure to increase rates and recover recyclables reclaimed as raw materials for the global supply chain.
AMP's technology is widely deployed across North America, Asia and Europe to recover various valuable materials from different sources. This includes the retrieval of plastics, paper and metals from municipal waste, precious commodities from electronic scrap, high-value materials from construction and demolition debris and valuable feedstocks from organic materials.
Headquarters: Boston, Massachusetts
CEO: Bob Mumgaard
Total funding: US$2bn
With the fastest, lowest cost paths to commercial fusion energy, Commonwealth Fusion Systems (CFS) is collaborating with MIT to utilise decades of research combined with new groundbreaking high-temperature superconducting (HTS) magnet technology.
CFS is also constructing SPARC, the world's first commercially relevant, net energy fusion demonstration device – a significant stepping stone towards ARC, the first fusion power plant that will provide power on the grid. Ultimately, CFS's mission is to deploy fusion power plants to meet global decarbonisation goals as fast as possible.
Headquarters: California, US
CEO: Adrián Ferrero
Total funding: US$25m
Silicon Valley-based Biome Makers has become a global AgTech leader, setting a high standard in soil health with BeCrop® technology – the largest global taxonomic database of 14mn microorganisms.
Built on industry-leading AgTech expertise and driven by data and science, Biome Makers connect soil biology to agricultural decision-making to optimise farming practices and reverse the degradation of arable soils.
With a global team passion about preserving, restoring, and improving soil health, Biome Makers have impacted over one million acres of land across the globe.
Headquarters: Abu Dhabi, UAE
CEO: Sky Kurtz
Total funding: US$334.4m
Pure Harvest Smart Farms is a pioneering, technology-enabled agribusiness headquartered in the United Arab Emirates, focused on sustainable year-round production of premium-quality fresh fruits and vegetables. The business is committed to delivering on their mission of farming extraordinarily flavourful, affordable and fresh produce. They achieve this by innovating across the full value chain of controlled-environment agriculture (CEA), including technology design, procurement, construction and farm operations.
Pure Harvest Smart Farms' world-leading yields are the result of their inventive approach to farming. They introduced the Middle East's first semi-automated, high-tech hybrid growing system and incorporated horticultural best practices to address significant regional challenges, such as food security, water conservation, economic diversification and sustainability demands.
Pure Harvest Smart Farms has secured over US$334.4m in capital commitments from a global investor base that spans from California, USA to Seoul, Korea. These investors recognise the value of the company's mission and their unwavering commitment to sustainable agriculture.
Headquarters: California, US
CEO: Christopher Hopper
Total funding: US$523.5mn
Aurora's cloud-based software revolutionises solar design, sales and delivery. By simply providing an address and electric bill, Aurora enables individuals to generate comprehensive, precise and customisable designs for each client – ultimately, securing immediate agreements.
The company contributes to the advancement of renewable energy by supporting numerous solar projects every week, aiming to make solar power accessible to all. Aurora calls for a departure from outdated power grids and the adoption of the solar future, simplifying tasks, discarding obsolete technology and accelerating business growth.
Now, more than 7,000 of the industry's top organisations rely on Aurora and over ten million solar projects have been designed with the platform globally. The San Francisco-based company was the only climate tech business named to the 2022 Forbes AI 50 and was voted the best solar software by Solar Power World in 2021.
*************************************************
For more insights into Sustainability - check out the latest edition of Sustainability Magazine and be sure to follow us on LinkedIn & Twitter
Other magazines that may be of interest - EV Magazine | Energy Digital
Please also check out our upcoming event - Sustainability LIVE in London at the BDC on Sept 6/7th 2023
*********************************************
BizClik is a global provider of B2B digital media platforms that cover 'Executive Communities' for CEO's, CFO's, CMO's, Sustainability Leaders, Procurement & Supply Chain Leaders, Technology & AI Leaders, Cyber Leaders, FinTech & InsurTech Leaders as well as covering industries such as Manufacturing, Mining, Energy, EV, Construction, Healthcare + Food & Drink.
BizClik, based in London, Dubai & New York offers services such as Content Creation, Advertising & Sponsorship Solutions, Webinars & Events.