Top 10: Sustainable companies in the USA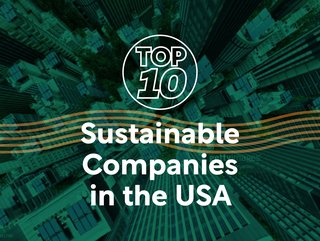 Top 10 Sustainable Companies in the US
Sustainability Magazine is proud to share the top 10 sustainable companies, including Amazon, Tesla, Autodesk, Evoqua Water Technologies, Cisco and more
Sustainability Magazine's highly anticipated Top 100 Sustainably Companies supplement announced the best US-based businesses prioritising their sustainable impact.
In a world where sustainable practices are becoming ever-more important, businesses can minimising their environmental footprint, contribute to the preservation of natural resources, mitigate climate change and protect of biodiversity. What's more, businesses that prioritise social and ethical considerations contribute to equitable growth, improved working conditions and stronger community relationships.
Thats why, Sustainability Magazine has recognised the best global businesses in the US who are leading by example.
Headquarters: San Jose, California, United States
CEO: Chuck Robbins
American-based digital communications technology conglomerate Cisco enables people to make powerful connections – whether in business, education, philanthropy or creativity. Cisco hardware, software, and service offerings are used to create the Internet solutions that make networks possible – providing easy access to information anywhere, at any time.
Since the company's inception in 1984, Cisco engineers have been leaders in the development of Internet Protocol (IP)-based networking technologies.
Today, with more than 71,000 employees worldwide, this tradition of innovation continues with industry-leading products and solutions in the company's core development areas of routing and switching, as well as in advanced technologies.
Headquarters: Austin, Texas, United States
CEO: Safra Catz
Cloud technology company Oracle Cloud provides organisations around the world with computing infrastructure and software to help them innovate, unlock efficiencies and become more effective. The business also created the world's first – and only – autonomous database to help organise and secure its customers' data.
Oracle Cloud Infrastructure offers high performance, security and cost savings. It is designed so businesses can move workloads easily from on-premises systems to the cloud, and between the cloud and on-premises and other clouds.
Oracle also embraces diversity, encourages personal and professional growth and celebrates a global team of passionate people developing innovative technologies.
Headquarters: Austin, Texas, United States
CEO: Elon Musk
On a mission to accelerate the world's transition to sustainable energy, Tesla is building a world powered by solar energy, running on batteries and transported by electric vehicles.
With global temperatures rising, the faster society frees itself from fossil fuel reliance and achieves a zero-emission future, the better. In pursuit of this mission, Tesla produces and instals infinitely scalable clean energy generation and storage products that help its customers further decrease their environmental impact.
When it comes to achieving its goals, Tesla prides itself on accomplishing what others deem impossible. That's why they are opening new factories and increasing output every day, to build a sustainable future.
Headquarters: Armonk, New York, United States
CEO: Arvind Krishna
IBM brings together all the necessary technology and services, regardless of where those solutions come from, to help clients solve the most pressing business problems.
IBM aspires to make a lasting, positive impact on the world through business ethics, its environment and the communities in which its clients and employees work and live. The business is doing so in a number of ways. For example, IBM acquired Envizi to accelerate its sustainability initiative and to build on its growing investments in AI-powered software to help organisations create more sustainable operations and supply chains. IBM also strives to reach carbon neutrality by 2030 and to divert 90% by weight of non-hazardous waste from landfill and incineration by 2025.
Headquarters: Cupertino, California, United States
CEO: Tim Cook
As one of the world's most notable companies, Apple is committed to becoming more sustainable, by pledging carbon neutrality by 2030. Likewise, every Apple product will be made with clean energy and even more recycled and renewable materials.
Apple believes that using recycled materials is one of the ways it can lower the business' carbon impact of its products, since these materials often have a lower carbon footprint than materials from primary sources. That's why Apple is sourcing more recycled content than ever, which brings the business closer to its goal of one day making products with only recycled and renewable materials.
Headquarters: San Francisco, California, United States
CEO: Andrew Anagnost
Autodesk is changing how the world is designed and made. Its technology spans architecture, engineering, construction, product design, manufacturing, media, and entertainment, empowering innovators everywhere to solve challenges big and small. From greener buildings to smarter products to more mesmerising blockbusters, Autodesk software helps its customers to design and make a better world for all.
At Autodesk, sustainability is about creating technology that improves energy and material productivity. It's about supporting innovators through grants, software donations and training. And it's about leading by example in its own operations, advancing sustainability business practices and supporting every employee to make a positive impact.
Headquarters: Redmond, Washington, United States
CEO: Satya Nadella
Every company has a mission. Microsoft is to empower every person and every organisation to achieve more. The business believes technology can and should be a force for good and that meaningful innovation contributes to a brighter world in the future and today. Microsoft's culture doesn't just encourage curiosity; it embraces it.
By 2030, Microsoft has pledged to be carbon-negative, and by 2050, it will remove all of its historical emissions since the business was founded in 1975. What's more, by 2030, Microsoft will replenish more water than it uses and there will be zero waste across its direct waste footprint.
Microsoft operates in 190 countries and is made up of more than 220,000 passionate employees worldwide.
Headquarters: Seattle, Washington, United States
CEO: Andy Jassy
Amazon is guided by four principles: Customer obsession rather than competitor focus, passion for invention, commitment to operational excellence, and long-term thinking. / Amazon is driven by the excitement of building technologies, inventing products, and providing services that change lives. The business embraces new ways of doing things, making decisions quickly without the fear of failure. Amazon has the scope and capabilities of a large company and the spirit and heart of a small one.
Together, Amazonians research and develop new technologies from Amazon Web Services to Alexa on behalf of our customers: Shoppers, sellers, content creators, and developers around the world. What's more, Amazon's mission is to be Earth's most customer-centric company.
Headquarters: Portland, Oregon, United States
Schnitzer is a global leader in the collection, processing, and sale of the world's most recycled product: steel. Since its founding in 1906, Schnitzer has grown into a global leader in metals recycling through a combination of organic investments and acquisitions that provide state-of-the-art processing, manufacturing and information technologies.
Today, Schnitzer operates 95 recycling facilities, including seven deep water ports – on both US coasts, in Hawaii and Puerto Rico – which enable efficient delivery of processed scrap metals to steel mills and foundries around the world.
Schnitzer's facilities are powered by 100% net carbon-free sourced electricity, its finished steel products are made of 95% recycled content, and it recycles and reuses 88% of its total water withdrawal. Schnitzer continues to build on these foundations at all its operations — investing in advanced metals recovery technology systems, air emissions and stormwater control systems, and fuel-efficient equipment — to improve the business's ability to recover valuable resources, divert material from landfills, improve air and water quality, and reduce greenhouse gas emissions.
Headquarters: Pittsburgh, Pennsylvania, United States
CEO: Ron Keating
Evoqua Water Technologies is the global leader in helping municipalities and industrial customers protect and improve the world's most fundamental natural resource: water. Evoqua has a more than 100-year heritage of innovation and industry firsts, market-leading expertise and unmatched customer service, where it continues to transform water and wastewater. Its cost-effective and reliable treatment systems and services ensure uninterrupted quantity and quality of water, enable regulatory and environmental compliance, increase efficiency through water reuse, and prepare customers for next-generation demands.
Evoqua's unparalleled portfolio of proven brands, advanced technologies, mobile and emergency water supply solutions and services helps cities across the world provide and discharge clean water, and enable the leisure and commercial industries to maximise productivity and profitability.
Evoqua serves a wide range of industrial markets including food and beverage, chemical processing, hydrocarbon processing, life sciences, marine, microelectronics, mining, oil and gas, and power. The company also serves the municipal water and wastewater market and provides support to more than 200,000 installations worldwide.
Evoqua offers reliable and responsive services backed by knowledgeable water experts and the water industry's most extensive service network.
*************************************************
For more insights into Sustainability - check out the latest edition of Sustainability Magazine and be sure to follow us on LinkedIn & Twitter
Other magazines that may be of interest - EV Magazine | Energy Digital
Please also check out our upcoming event - Sustainability LIVE in London at the BDC on Sept 6/7th 2023
*********************************************
BizClik is a global provider of B2B digital media platforms that cover 'Executive Communities' for CEO's, CFO's, CMO's, Sustainability Leaders, Procurement & Supply Chain Leaders, Technology & AI Leaders, Cyber Leaders, FinTech & InsurTech Leaders as well as covering industries such as Manufacturing, Mining, Energy, EV, Construction, Healthcare + Food & Drink.
BizClik, based in London, Dubai & New York offers services such as Content Creation, Advertising & Sponsorship Solutions, Webinars & Events