Danone: leading regenerative agriculture for sustainability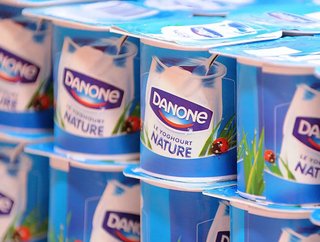 Danone has been an avid cheerleader for regenerative agriculture for some time, but how is the company tackling its own sustainable production processes?
Back in 2015, Danone announced its refocus on sustainable practices within its production and supply processes and hasn't looked back. Fuelled with a renewable and sustainable motivation largely unseen in the industry, the French company is targeting carbon neutrality by 2050, the reduction of its emissions by 50% by 2030, and a maintained decrease of over 30% of its scope 1 and 2 emissions. 
But how is Danone planning to reduce its 60% agricultural supply emissions? A key ingredient in its not-so-secret plan: regenerative agriculture. 
What is regenerative agriculture?
In theory, regenerative agriculture takes damaging carbon out of the atmosphere and returns it to the ground beneath our feet, subsequently reducing CO2 emissions and enhancing productivity through carbon sequestration. The process provides the opportunity to cut down on fertilisers and aid in the regeneration of the farming system using methods that include:
Cover cropping

No-till methods

Crop rotation

Mixed farming

Hedgerows
Danone has stated its criteria for regenerative success, highlighting the need to keep planetary health, animal health, and farmer livelihoods at the forefront of its sustainable endeavours, thus creating a thriving agricultural cycle through the knock-on effect of all-around agricultural happiness. Therefore, productivity is made more efficient as a direct result of biodiversity and water quality improvement. 
"Everything we do is with no-till, with cover cropping, with crop rotation, with support of biodiversity through hedges and wildlife boxes," says Yann-Gaël Rio, Vice President of Agricultural Procurement. "This is all helping the resilience of the crop itself. As a consequence, this reduces the need for chemical inputs.
"We need to look at it as a system. Moving the entire system has many different benefits. It is going to have benefits on the chemical input reduction and water usage reduction because a better soil structure means better water holding capacity. 
"You have many positive side effects to all the basic regenerative AG practices."
Danone also recognises the importance of maintaining animal welfare after identifying an evident link between animal health and farm performance. Similarly, farmer resilience has likewise been hailed as a pillar of significance when addressing agricultural efficiency, ensuring a smooth generational transition between farmers and the sustainability of the trade overall. 
"Nothing will change without the farmers," says Rio. "It's all about changing farming practices, how farmers can, and are able, and willing to change farming practices and the farming system. In our mind, it all starts with the farmer."
The future of Danone's agricultural sustainability vision
The company prides itself on its ability to steer the industry in the right direction, using its influence to have a positive effect on the environment. 
Rio continues: "Our ability to influence a change of behaviour is very different for this type of supply chain. We need to have a pre-competitive approach and leverage peer companies who have the same interest as us when it comes to transforming the supply chain. This happens through alliances of peers."
However, like any industry in the modern world, technology is key to development, innovation, and widespread accessibility. This same notion applies to the agricultural sustainability sector. 
The gradual adoption of advanced technology in an industry that has a reputation for remaining stubborn in the face of modern innovation is essential for success. AI, data, predictive analytics, and precision agriculture are all key to ensuring the sustainability of a sustainable endeavour, without which the endeavour would struggle to improve farming practices and reach environmental targets while maintaining appropriate levels of output. 
"These two pieces - AG science and AG tech - are developing very fast," explains Rio. "There are a lot of innovative companies that are and will be part of the solution. 
"We don't have all of the technical solutions posed by a transition to regenerative agriculture today. AG science and AG tech is going to play a major role."
As a company that is avidly aware of its influence within the industry and its power to make a difference, Danone looks to be comfortable in its own mission and its endeavour to stimulate increased agricultural action. The company is itching to reduce its own emissions, simultaneously encouraging its partners to do so too. Yet with time running short regarding climate change and the transition to endorsed sustainable practices, it's a question of whether changes are coming too late.