How tyre manufacturers are becoming more sustainable in 2021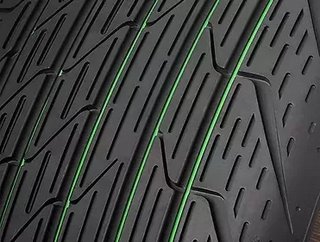 Continental and Hankook Tire have shown great innovative skill when it comes to waste management in manufacturing of new tyres
One of the pain points, when it comes to disposing of vehicle parts, is tyres. According to research by ReportLinker, the US tyre industry is expected to produce around 568.2 million units during the period of 2020 to 2027. The Chinese automotive sector is estimated to produce 592.9 million units within the same time period. With more than one billion tyres being produced by two countries, it's time for carmakers to get creative with the disposal of rubber.
The majority of automotive manufacturers are taking on initiatives to improve the sustainability of their operations. Whether that involves reducing carbon emissions in their operations, designing more efficient vehicles or managing the waste produced from those vehicles. Despite the increased number of cars on the road, the automotive industry has become more proficient in its waste management practices. But as copious amounts of vehicle materials are left to deal with each year, industry leaders have become more innovative with how they recycle them. 
How can businesses use recycled tyres?
Known for its high-grade, high ticket tyres, Continental has an exciting project underway, which will determine a new formulation of its tyres. The Conti GreenConcept tyre concept was released at IAA MOBILITY—an international motoring show based in Germany. The company has made some important changes to the way it sources its materials, with the concept comprising of rubber from renewable sources and recycled materials.
It doesn't stop there. The tread compound of the tyre will be 100% Taraxagum natural rubber, which means it can retreat multiple times. According to David O'Donnell, Head of Continental's tyre original equipment business, the 'Conti GreenConcept delivers maximum performance in terms of both flexibility and sustainability, enabling modern mobility to truly hit the streets'. 
Another great example of innovative waste management is Hankook's footwear venture. This project shows how tyres can be utilised in different applications, like the fashion industry, to create more value while minimising any further contribution to waste figures. The company's collaboration with YASE on the 'ZERO - LEAVE NOTHING BEHIND' project is a way of linking tyres and shoes, which play similar roles in enabling mobility in different applications. 
Jimmy Kwon, Vice President of Hankook Tire's Brand Lab, says, 'We are happy to announce the collaboration which leads to mutually inspired progressive innovation for both companies. It's thrilling that we can help customers choose footwear that will contribute to making the world a greener place. It's also great to see our tires that have reached the end of their lives turning into outsoles of footwear to take people to where they want with much comfort like they did on vehicles. Shoes made of our old tires will not only make a positive social impact but also will be hard-wearing and robust as our tires are developed with high-quality materials and cutting-edge technologies'. 

For more industry insights, check out the latest issue of Sustainability Magazine.