Supply Chain Sustainability
Why retailers must close the door on unsustainable practices
By Hannah Prangnell, Head of European Marketing at B-Stock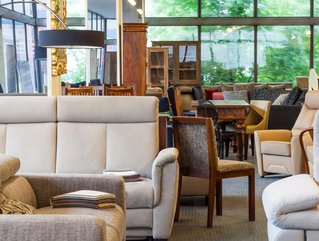 Source: B-Stock
Hannah Prangnell, Head of European Marketing at global re-commerce platform B-Stock, comments on the accelerating trend of 'fast furniture'
The demand of consumers is a driving force for new products landing on shelves, which in turn plays a part in its disposal. In the textile industry, the rate of production has doubled since 2000 - not only a result of people buying more products, but also throwing them away much sooner.
If the trajectory of the 'fast furniture' trend is accelerating towards the same detrimental environmental consequences associated with the fashion industry (which the Ellen MacArthur Foundation expects will account for 26% of the world's carbon emissions by 2050), retailers need to show more accountability for their contribution in order to curb this trend.
The environmental impact of the fast fashion industry
The UK is the second-largest furniture market in Europe after Germany, disposing of roughly 1.6m tonnes of furniture/bulky waste every year. The vast majority of this is thrown into landfill sites or burnt in an incinerator.
From a retailer's point of view, one of the biggest challenges is controlling the flow of returns—which makes planning storage a more difficult task. Utilising planning and prediction tools to better understand customers will result in a product more suited to their needs and will ultimately help reduce pressures throughout the supply chain funnel.
Retailers are coming under immense scrutiny from governments and consumers alike to become more environmentally friendly. An ethical and sustainable alternative is the secondary market which offers an effective strategy to keep excess inventory and returned items out of landfills, while minimising financial loss and maintaining brand integrity.
The re-commerce sustainability solution
Second-hand shopping isn't a new concept, but growing environmental concerns and rising prices are shifting more consumers to the practice of re-commerce. Sometimes referred to as 'resale' or 'reverse commerce', the buying and selling of pre-owned goods, like furniture, is a promising prospect for the sustainability movement.
Rather than relying on the production of new goods along the supply chain and surrendering unwanted items to landfill, consumers can both re-use and re-sell fully functional but unwanted products - and therefore support the development of a circular economy.
B-Stock is a re-commerce company that empowers entrepreneurs, of small and large businesses, to buy and sell liquidation inventory in its online auctions.