How is Müller managing its food-grade packaging waste?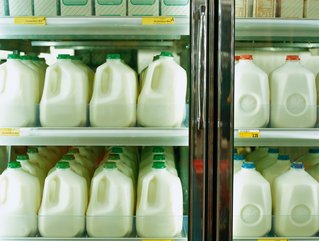 In collaboration with its latest partner, Waitrose, Müller is making packaging changes to manage waste and create more sustainable food-grade packaging
Industries can't be 100% certain when sustainable packaging will become available for their products. There is a significant amount of pressure on packaging suppliers to innovate in this area and while this is out of the hands of food producers, they can make incremental changes to ensure a better, more sustainable lifecycle of their products and packaging.

Müller, in partnership with Waitrose, is making a change that will shift the packaging of its milk products away from coloured caps. But why?
All sentiments point towards a circular economy
It's not simply in the hands of the consumer or the business. To make products more sustainable, consideration must be given to the type of packaging used. Also, for businesses to thrive after initiatives to adapt their packaging, they must ensure that customers will continue to purchase their products.

For Müller to take the leap to clear plastic bottle caps, it confirmed that sales won't be affected by the development.

Liam McNamara, Commercial Director at Müller Milk & Ingredients says "everyone is thinking more about what they buy, the nutritional benefits, the value it represents and the packaging used."

"We want to be the partner of choice for our customers, we recognise the commitments they are making in this area, and following a successful trial period, then this is another step we can offer. As the first dairy company in the UK to trial clear caps on fresh milk, we are working hard to innovate and lead in issues that are not only important for customers, but for consumers too."
Research carried out by the company suggests that around 80% of buyers would choose a clear cap over a coloured, product-specific cap because it is recyclable.

"As food businesses, we need to do more to protect our planet from unnecessary plastic waste so we're delighted to be involved in this trial," says Karen Graley, Packaging Innovation lead at Waitrose.

"We have a proud heritage of being first to trial step-change innovations in this space – from rolling out the UK's first refillables in-store to removing single-use plastic toys in children's magazines. And we are proud to be working alongside Müller to show that leadership again."
Companies are developing sustainable packaging initiatives
While the switch to recycled plastics shows initiatives on Müller's part, the ultimate aim for the food and beverage industry is to incorporate biodegradable materials into packaging. Organisations like Unilever, Coca-Cola, and Delivery Hero—a food delivery firm based in Berlin, Germany—are innovating in this space, and one of the most significant changes to be seen in the next few years is the switch to paper-based bottles.