SAP Concur shows emissions are key for business travellers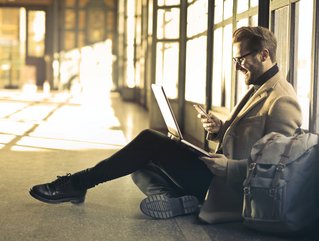 SAP Concur produces sustainable business travel insights and partners with Thrust Carbon to help organisations manage their spend against emissions targets
More business travel is taking place and the effects of the coronavirus pandemic seem to be dwindling, but there still remains another concern that plagues the minds of companies as they release employees to overseas destinations—emissions reduction.

While sentiments change around business travel, more are looking for ways to travel sustainably, particularly in the US where a lot of interstate travel is carried out by air.

SAP Concur, the leading technology firm's expense management arm, carried out a survey to find out what changes are happening among businesses and whether they are on the hunt for more sustainable solutions to transport.

Travel managers want to encourage sustainable spending
The survey carried out by SAP Concur collated the responses of 100 travel managers in the US, of which 76% reported that changes had been made to their companies' policies and travel guidelines.
Alongside this survey, SAP produced a second survey, which shows the answers of 1,000 business travellers and 89% said that sustainability was high on the agenda for their organisations when it comes to booking business trips. So much that this has become a crucial part of their pre-approval processes.
The survey also provided valuable insight into the sentiments of business travellers as they shift their priorities towards their carbon footprints and will do so by:
Taking fewer business trips and prioritising longer-distance travel (40%)
Changing their hotels to those that are more sustainable, even if it means comprise (40%)
Switching to using public transport (33%) and using less preferred modes of transport (28%)
The changes seem to be more prominent among younger business people, such as Gen Z and millennials, but the figures still remain high for Gen X and baby boomers.
SAP Concur partners to reduce travel carbon emissions
A partnership between SAP Concur and Thrust Carbon, a developer of technology for sustainability initiatives, will allow users to leverage the expense and travel management platforms of SAP with more sustainable implementations through input from Thrust Carbon.
Clients will be able to use the application to assess the emissions of their travel and spend data to make the necessary adjustments. The data can be assessed in real-time and measured against company goals to ensure that employees are aligning themselves with the overall business strategy.
"This integration enables companies to effortlessly track and manage their global travel emissions with customisable reports and data visualisations," says the Founder and Director of Thrust Carbon, Mark Corbett.
"This is important because without oversight, it simply won't be a priority. We empower organisations of all types and sizes to focus on their climate goals and get on with reducing emissions."