Sustainability LIVE: a wealth of ESG and net-zero talent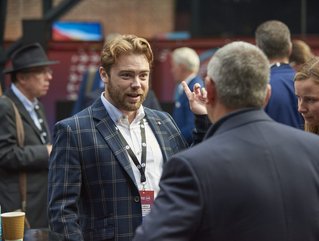 Coming to Tobacco Dock, London, on the 23rd February, Sustainability LIVE adds new speakers to its hybrid lineup to bring important net-zero and ESG insigh
A catalyst for change, Sustainability LIVE succeeds the previous shows that were hosted by BizClik Media Group (BMG) in 2021, including Technology, AI & Cyber LIVE, Procurement & Supply Chain LIVE, and FinTech & InsurTech LIVE. On the 23rd of February, BMG will return to Tobacco Dock, London, to host another event that is based on a hot topic in all industries.

Join the latest speakers as they take to the stage — which can be attended either online on in-person — to discuss the important topics of environmental, social and governance (ESG), diversity and inclusion, supply chain sustainability, and much more. Now, who will be joining the speaker lineup?
Stuart Broadley
As the Chief Executive Officer of the Energy Industries Council (EIC), Stuart Broadley will join us in London to divulge what he has learned from almost six years at the organisation, along with his experience of working with various other companies, including Rolls-Royce, Lucas Aerospace International, Wood, RWG, and HOERBIGER.
Jenny Bofinger-Schuster
She has already featured in Sustainability Magazine in an exclusive interview featuring Siemens, Jenny Bofinger-Schuster is the Senior Vice President of Sustainability and Operational Excellence at the company. Bofinger-Schuster previously spent more than eight years with Siemens Management Consulting before taking on a sustainability role within its wider operations and is a member of the board for Siemens Mobility.
Stew Horne
Head of Policy at the Energy Saving Trust, Stew Horne has over 15 years as a consumer-driven policymaker and has now turned his attention to the Energy Saving Trust, following his previous role at Citizens Advice. Horne will discuss some key points that will allow viewers to gain great insight into net-zero strategy and ultimately create more responsible businesses.
Jono Adams
Jono Adams is the Director of Anthesis Group, a consultancy that delivers knowledge and insights to drive businesses to create positive change in terms of the environment and the overall climate. Adams has travelled the world throughout his career and has applied his skills to various different sectors, including finance, IT, retail, defence, mining, real estate and government.
• Join global business leaders and sustainability experts taking meaningful action at Sustainability LIVE, held at Tobacco Dock, London, 23-24 February 2022. Register to attend today! Click here to learn more.