Digital ESG Health Index says companies need to be proactive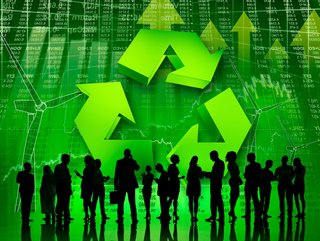 Kearney's Digital ESG Health Index helps companies to gauge their sustainability credentials and progress
Kearney says organisations are struggling with digital transformation and sustainability in its Digital ESG Health Index, and should embrace data and AI
When it comes to ESG, organisations need to be more proactive if they want to survive.
That's according to global management consultancy Kearney – which has released its Digital ESG Health Index to help organisations gauge their sustainability credentials and progress.
Faced with the twin challenges of digital transformation and sustainability, many organisations have the best of intentions but are struggling with direction, according to the initial findings, yet data and artificial intelligence (AI) can be leveraged to drive environmental, social, and governance (ESG) performance and turn goals into gains.
AI has emerged as a valuable weapon in the ESG battle thanks to its ability to analyse huge amounts of data, which enables businesses to both comply with regulations and transform their own operations to achieve efficiencies and improvements.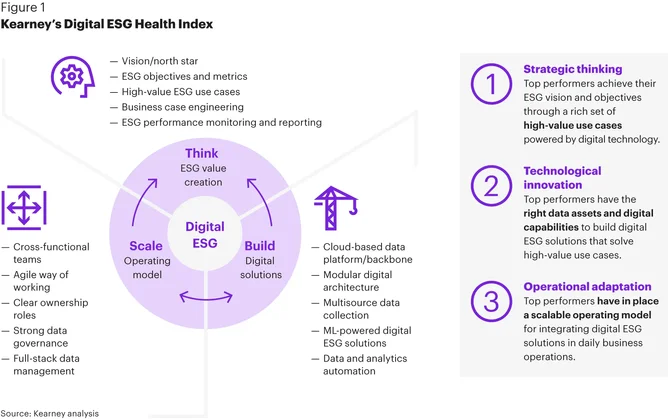 The Digital ESG Health Index is a benchmarking tool
The Digital ESG Health Index is a benchmarking tool that evaluates maturity in across three areas.
Strategic thinking
Technological innovation
Operational adaptation
Kearney has released initial findings of the Digital ESG Health Index, with 100 organisations undertaking self assessment.
The findings show that In 2023, only 3% of organisations are classified as leaders in digital ESG. However, only 13% are lagging. This means most companies are somewhere in the middle and have at last embarked on their ESG journeys.
The report says that when it comes to strategic thinking, 92% said they have a defined ESG vision, and 86% have specific targets and metrics.
But compliance is driving this transformation rather than a proactive desire for change.
More than 85% of companies say complying with regulations and meeting reporting standards is a priority, while only 36% saw sustainability-driven business transformation as competitive advantage.
Kearney believes there are two key components to success in this context – using innovative technologies and adapting operations.
Some 61% are investing in digital solutions to enable their ESG ambitions, but that means more than a third are not ready to deliver real ESG impact.
Embrace data and AI​​​​​​​

All is not lost. Kearney suggests two ways organisations can turn this around – mining the data opportunity and embracing the transformative powers of AI.
As companies that have embarked on a digital transformation know, getting the technology in is only one part of the battle: the rest of the organisation has to adapt if the transformation is to succeed in the long term.
Kearney says reaching operational maturity rests on four factors.
1. Introducing cross-functional teams
2. Switching to agile ways of working
3. Defining clear roles and accountabilities
4. Managing data effectively
Key takeaways
Digital technologies and ESG have the potential to transform business, but there is much work to do


With just 3% of organisations leading, most are lagging or loitering around mediocrity


Compliance and reporting are important but getting hung up on what's required – rather than what's possible – is clearly holding companies back


The top performers share a transformative ESG vision and objectives, empowered by data and digital technology


With the right data foundations in place, ML and Gen AI can take digital ESG to a whole new level
Want to know how you can tackle the transformation? Take the Digital ESG Health Index to see how your organisation stacks up.
*************************************************
For more insights into Sustainability - check out the latest edition of Sustainability Magazine and be sure to follow us on LinkedIn & Twitter
Other magazines that may be of interest - EV Magazine | Energy Digital
*********************************************
Sustainability LIVE Net Zero will be hosted live from the QEII Centre, London on the 6th and 7th of March, and streamed globally via our virtual event platform Brella. Sustainability LIVE Net Zero will delve deeper into the strategies, innovations, and collaborative efforts propelling us toward a net-zero future. The conference and exhibition gives the opportunity to connect with like-minded peers and actively contribute to crafting a sustainable future.
Following Sustainability LIVE Net Zero, viewers can also sign up for Sustainability LIVE Dubai, Singapore and New York.
Sign up to the The Global Sustainability & ESG Awards 2024, coming to London on the 10th September 2024.
*********************************************
BizClik is a global provider of B2B digital media platforms that cover 'Executive Communities' for CEO's, CFO's, CMO's, Sustainability Leaders, Procurement & Supply Chain Leaders, Technology & AI Leaders, Cyber Leaders, FinTech & InsurTech Leaders as well as covering industries such as Manufacturing, Mining, Energy, EV, Construction, Healthcare + Food & Drink.
BizClik, based in London, Dubai & New York offers services such as Content Creation, Advertising & Sponsorship Solutions, Webinars & Events. ​​​​​​​