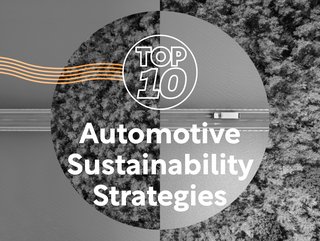 Sustainability Magazine's Top 10 Automotive Sustainability Strategies
Sustainability Magazine recognises the top organisations in the automotive industry and their strategies for ESG and reducing climate change contribution
While seemingly a thankless task to rank companies based on their sustainability credentials, we endeavour to recognise the great achievements of the major industries and their strategies towards carbon neutrality.
With that said, the automotive sector is one where strategy is key at the moment and here are 10 organisations in the auto industry with big plans to change the way we drive.
10. Toyota
CEO: Koji Sato
Toyota's vision extends beyond being a leading automaker. The company's dedication to sustainability and responsible governance is evident in every stride it takes.
With a very comprehensive 'Sustainability Data Book', Toyota delineates its approach and policies for environmental, social, and governance (ESG) initiatives. The company doesn't just lay out its strategies on paper, but showcases practical cases and supporting numerical data.
Beyond the glossy brochures, Toyota ensures its environmental performance aligns with both national and international standards and laws. Although experiencing some negative attention for its previous CEO's lack of commitment to electrification, the company now pushes forward with its EV plans with a new leader at the helm.
As the world pivots to more sustainable practices, Toyota's commitment to building a better and greener future shines through. Its vehicles might be on the road, but Toyota's vision is now clearer: driving forward with sustainability at the wheel.

9. Mercedes-Benz
CEO: Ola Kaellenius
Mercedes-Benz recognises necessary, strategic consideration to both economic and sustainability metrics when implementing its company-wide strategy. Sustainability for Mercedes means "permanently creating value for all stakeholder groups", including customers, employees and investors.
Supporting economic growth as well as that of environmental and social practices, the company looks to build upon ESG within its entire value chain.
Mercedes' Ambition 2039 outlines its fully electric future, which is already in the works with a number of EVs roaming the roads with the three-point badge. The primary ambition is to switch its entire fleet of vehicle carbon neutral by 2039 and continue to reduce emission from its own operations.
8. Hyundai
CEO: Jaehoon Chang
Put simply by the organisation's President and CEO Jaehoon Chang: "One thing will remain constant and abiding: Hyundai Motor Company's management philosophy that places humanity above all other considerations".
The company is in pursuit of sustainability with a growing emphasis on ESG regulations. Hyundai recognises the need to promote proper reporting standards and ESG disclosures to truly become a sustainable business—as opposed to delivering a range of products and claiming their compliance. The company was one of the early ones to shift towards more hybrid model vehicles before it formalised its IONIQ range of all-electric cars that differentiated from its ICE-related models.
Through software lectures and augmenting its autonomous driving courses, Hyundai hopes to educate its teams to further progress in this space while influencing the industry at large.
7. Audi
CEO: Gernot Dollner
Beyond its EV endeavours, Audi looks to educate, empower, and engage with the industry to influence meaningful change. The company's name is written in the traditional vehicle industry, but is doing everything in its power to innovate and build a name for itself in the electric realm.
Audi recognises the specific challenges imposed on the business as an original equipment manufacturer (OEM), which govern its parameters for innovation in the EV sector.
A key statement that not drives the company's overall mindset is its promise to "unleash the beauty of sustainable mobility", which we can see through some of its latest vehicles, including recent updates to its sought after Q4 e-tron model.
The company aims to be completely carbon-neutral no later than 2050.
6. General Motors
CEO: Mary Barra
There's one word to describe the progress that General Motors (GM) has made towards decarbonisation—progress. With its Chair & CEO Mary Barra at helm, the company seems to be producing some exciting and innovative vehicles that allow the industry to see what a more sustainable future will look like. In doing so, the company breaks the stigma that EVs are boring and incomparable to ICE vehicles.
In GM's 2022 Sustainability Report, it provides an overview of its endeavours and achievements with an emphasis on innovation and a dynamic approach to automotive development. The company is not hiding in the shadows, but becoming an influencer in this space. The development of GM's Ultium EV platform created a means to electrify all of its vehicles, but simplifying the manufacturing process with a scalable chassis.
5. Ford
CEO: Jim Farley
An influential car maker in the sector, Ford is streamlining its product range and electrifying the rest. This year the company discontinued its much-loved Ford Fiesta, but in return, delivered one of the most sustainable utility vehicles—The Ford F-150 Lightning—along with many other electrified vans in its commercial-vehicle business.
The brand's efforts to innovate extend beyond electrified vehicle development to the technology within them, which is enabling more efficiencies and bringing electric power to the commercial sector.
Ford's 2023 Integrated Sustainability Report showcases a comprehensive view of its environmental activities past, present and future, and the tangible milestones the company has reached. With a greener portfolio of products comes greater impact, which is why Ford is focused on shifting its range into the future.
4. Volvo
CEO: Jim Rowan
Volvo Cars has been quite vocal in the news throughout 2023. New EV announcements showcase immense progress in not only electrification, but digital solutions that can improve safety on the road. The company emphasises three pillars that surround everything that it does. The first is climate-neutrality, the second is a circular economy, and the final is responsible business practices.
Volvo is dedicated to sharing these ideas throughout new vehicle models that echo more circular principles and are built with the driver and the environment in mind. By adopting circular economic principles, Volvo is reducing the impact of its designs and manufacturing processes, but never fails to impress and uphold the Volvo style.
3. Nissan
CEO: Makoto Uchida
Nissan is navigating its way to a much green future. As the manufacturer of one of the first EVs received by the automotive industry, the company has an environmental focus embedded in its corporate strategy with two primary goals: to achieve net-zero emissions through product innovation and improve facilities on the road.
This commitment is part of the organisation's Nissan Green Program 2022, which not only sets out the company's target for carbon reduction from new cars, but also shows its progress in doing so, having exceeded its goal of 40% less emissions.
Nissan can be seen as one of the pioneers in the EV space and aims to reach European EV adoption targets five years early.
2. BMW
CEO: Oliver Zipse
BMW isn't just about premium cars and thrilling drives; the company is wholeheartedly committed to driving sustainability forward. The German automaker's dedication to a sustainable future can be witnessed through its tangible targets and actions.
Approximately 70% of the leftover aluminium and steel offcuts from BMW production process are repurposed, emphasising the brand's emphasis on recycling and reducing waste.
BMW Group charted a clear roadmap for 2030 that involves rigorous steps to reduce CO2 emissions across its entire value chain, aiming to make a significant dent in its carbon footprint. The car maker's commitment to sustainability isn't a mere buzzword; it's a holistic approach that encompasses every facet of its corporate strategy, from slashing emissions to prioritising recycling and further expanding eco-friendly practices. With BMW at the forefront, the road to a sustainable automotive future looks promising.
1. Tesla
CEO: Elon Musk
Tesla is not only here to sell cars; it has a wider vision for the environment. In 2023, its sales might have turned heads, but its commitment to sustainability continues to grab our attention.
While Tesla is laser-focused on leading the transition to a greener world, it acknowledges that achieving total sustainability is a mammoth task, one that extends beyond its reach. However, that doesn't deter the company from innovating and delivering key components to accelerate its EV production line.
With a five-step plan in place, Tesla is making strides towards a sustainable future. In April 2023, the company pulled the curtains back on its latest 'Master Plan'. The company's CEO Elon Musk is confident in steering not just the company, but the world, towards a "sustainable energy Earth". As Tesla cars continue to vroom across the streets, the company's eyes are fixed on the bigger picture, ensuring the Earth remains as splendid and vibrant as ever.
*************************************************
For more insights into Sustainability - check out the latest edition of Sustainability Magazine and be sure to follow us on LinkedIn & Twitter
Other magazines that may be of interest - EV Magazine | Energy Digital
*********************************************
BizClik is a global provider of B2B digital media platforms that cover 'Executive Communities' for CEO's, CFO's, CMO's, Sustainability Leaders, Procurement & Supply Chain Leaders, Technology & AI Leaders, Cyber Leaders, FinTech & InsurTech Leaders as well as covering industries such as Manufacturing, Mining, Energy, EV, Construction, Healthcare + Food & Drink.
BizClik, based in London, Dubai & New York offers services such as Content Creation, Advertising & Sponsorship Solutions, Webinars & Events.