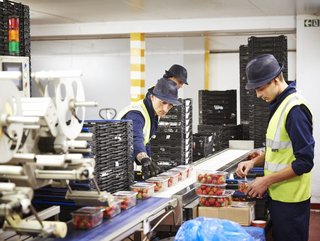 Credit: Getty Images
One-third of human-generated GHG is linked to the food production sector - we highlight the top businesses pioneering a sustainable future for the secotor
Having sustainable food manufacturers is crucial due to the significant impact of food production on greenhouse gas emissions (GHG), especially as an estimated one-third of human-generated GHG can be attributed to the food production sector. This alarming statistic underscores the urgent need for a transformation in how we cultivate, manufacture and select our food.
By transitioning to sustainable food manufacturing practices, businesses can mitigate the environmental impact associated with food production. Sustainable food manufacturers must prioritise resource efficiency, waste reduction and renewable energy sources, thereby reducing GHG emissions. They adopt innovative technologies and methodologies to minimise carbon footprints and promote sustainable agriculture.
We've rounded up the top 10 sustainable food manufacturers to showcase the businesses going above and beyond to ensure tonight's dinner does not cost the earth.
Headquartered: Bristol, UK
Founded: 1981
Known for its tofu, falafel, and vegetarian sausages, Cauldron aims to achieve a net positive status by 2030. Meanwhile, the company is actively engaged in supporting offsetting projects in the UK, Brazil, Nicaragua and Nigeria.
According to a spokesperson from Cauldron, the company has successfully transitioned to using 100% renewable electricity across all its factory sites. Additionally, they have made significant progress in ensuring that 97% of their packaging is recyclable.
Headquartered: Castelletto Stura, Italy
Founded: 1878
In a recent interview with Manufacturing Digital, Venchi's Marketing Director, Cècile Osti, discussed how the luxury chocolate brand was moving in a sustainable direction. She said: "Venchi's investments, dedicated to reducing its environmental impact, have grown steadily over the years, focusing on the continuous improvement of production processes and careful selection of materials and suppliers."
Headquartered: Burgstall, Italy
Founded: 1981
Dr Schär is committed to manufacturing sustainability by protecting minor crops, promoting biodiversity and implementing ethical practices. The company prioritise biodiversity preservation by promoting the cultivation of lesser-known crops like buckwheat, sorghum, and millet. Sustainable farming practices are encouraged, and a deforestation-free supply chain is pursued. Additionally, D. Schär exclusively sources cage-free eggs from hens raised on the ground, demonstrating their dedication to animal welfare.
Headquartered: Gent, Oost-Vlaanderen
Founded: 1980
As a company, ensures that its soya is 100% Proterra certified, a label exclusively granted to soybeans that are ecologically sustainable, socially responsible and sourced from non-GMO origins. Their commitment to sustainability is evident as there is absolutely no deforestation linked to their soya production.

Sue Garfitt, General Manager at Alpro, adds: "We have to change the way we look at food production and consumption. Our brand has a mission to promote more flexitarian diets. We want to keep bringing more choice and that's why innovation lies at the heart of what we do at Alpro.''
Headquartered: North York, Canada
Founded: 2013

As a certified B Corp, Riverside Natural Foods is a trusted sustainable food manufacturer. Producer of MadeGood's popular granola and cookies, the company believes the food chain needs a complete business transformation if society is to flourish in the 21st Century. The company is dedicated to reducing its Scope 1, 2 and 3 emissions and reuses, recycles or composts 90% of its waste.

Headquartered: Wayzata, Minnesota, USA
Founded: 1865
Cargill is driven by the ambition to establish the most sustainable food supply chains worldwide. It actively strive to incorporate new sustainable practices across all levels, from small family farms to global shipping lanes, with the aim of minimising their ecological footprint and safeguarding people's well-being. Recognising the multifaceted impacts of their business, Cargill has identified key priorities that encompass ESG considerations.

Headquartered: London, UK
Founded: 1998
Designed with sustainable manufacturing as a core focus, innocent's state-of-the-art carbon-neutral factory, constructed at a cost of US$250 million, stands as an impressive testament. Situated in The Netherlands, this facility, named 'the blender,' is powered by solar panels and wind turbines, positioning itself as the world's most environmentally friendly healthy drinks factory.

With its sustainable energy sources, the blender has the capacity to produce up to 300 million litres of beverages annually. innocent's commitment to sustainable practices is evident in the creation of this groundbreaking factory.
Headquartered: Paris, France
Founded: 1919
More than 50% of Danone's global sales are covered by B Corp certification, showing that the company has made significant progress to reach the highest social and environmental criteria.
In the Nutricia Cuijk facility, specialised manufacturing processes are applied to enable Danone to produce foods for special medical purposes
"The Nutricia Cuijk facility is a significant investment towards achieving our One Planet. One Health vision. We will be producing food for vulnerable babies; and we're also doing everything we can to preserve a healthy and clean environment for future generations," said Véronique Penchienati-Bosetta, Executive Vice President Danone Specialised Nutrition.
Headquartered: Vevey, Switzerland
Founded: 1866
Nestlé employs scientific advancements and technological innovations to create products that prioritise both individual health and environmental wellbeing. The company is committed to achieving net zero emissions and is dedicated to supporting regeneration efforts. As part of this commitment, Nestlé actively assists farmers in cultivating high-quality, lower-carbon ingredients while also upholding a deep respect for nature's delicate balance.
"Our organic growth was strong, with broad-based market share gains, following disciplined execution, rapid innovation and increased digitalisation," said Mark Schneider, Nestlé CEO, of Nestlé's performance in 2021.
Headquartered: London, UK
Founded: 1872
Unilever, a leading global food manufacturer, recognises its role in shaping a fair and equitable global food system. In line with this responsibility, the company has launched the 'Future Foods' initiative, aimed at empowering consumers to make choices that minimise their environmental footprint.
Under the Future Foods initiative, Unilever has made the following commitments:
By 2025, they aim to reduce food waste in their direct operations, spanning from factory to shelf, by 50%.

Unilever will continue its efforts to reduce calories, salt and sugar across all its products. This ongoing commitment emphasises their dedication to promoting healthier choices and improving the overall nutritional value of their offerings.
Through the Future Foods initiative, Unilever demonstrates its proactive approach to addressing environmental concerns and promoting healthier lifestyles.