Diversity & Inclusion (D&I)
Top 10: ways to improve workplace D,E&I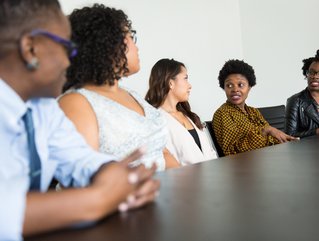 Businesses are seeing the value of their employees, but some lack the initiatives that encourage D,E&I in the workplace, so here are 10 ways to do so
Diversity, equity and inclusion (D,E&I) sums up a major area for consideration among organisations. Businesses are faced with new challenges when it comes to incorporating this into their teams, and human resources processes for employee retention.

As a result of workplace culture shifts, companies are looking to become more diverse and leverage the abilities of their employees to spark ideas and growth. So, for them, D,E&I is a huge part of their daily working lives. Here are some of the ways in which firms can improve the workplace.

10. Incorporate diversity holidays into work
While it's commonplace for organisations to celebrate traditional holidays, such as Christmas and bank holidays, or Thanksgiving if you're based in the states, there are also days that celebrate diversity, equity and inclusion within the workplace.
Gay Pride marked the beginning of the diversity revolution and has since become an occasion celebrated by the masses. Other notable days for your business calendar include International Women's Day, International Day to End Racism, and International Day of People with Disability. Celebrating these will not only let your employees know that you care, but also businesses and shareholders.
9. Promote diversity and inclusion across social media platforms
In the digital era, the majority of businesses are on social media and customers and employees—particularly those of large organisations—want to know what is going on behind the scenes. If your business is diverse at heart and strives to include everyone then this is something worth shouting about.
Sharing these insights on social media and your website could drive the next generation of hiring and encourage more ideas and growth in the organisation.
8. Hire a diverse team
As mentioned previously, hiring can be inspired by diversity and inclusion. Often the same person who is in charge of human resources at an organisation will also oversee its D,E&I strategy. Many leaders have spoken about diversity of the workforce and the benefits that it brings to an organisation, which can be heard in talks at February's Sustainability LIVE conference.

Make every step of the process as diverse as possible. Candidates that sit in front of an interviewing panel can expect to see varying members to represent race, religion and the LGBT community.
7. Learn exactly how diverse your company is
To provoke change in the organisation requires insight. Undergoing employee resource groups (ERGs) allow companies to find out from their employees what they think of the organisation and how it incorporates diversity. ERGs must consist of individuals of variety and allow ample opportunity for them to speak out about the business without intervention or discrimination.
6. Speak to your diverse workforce
The workplace may already seem diverse, but to encourage further growth in this area, speak to employees from all backgrounds individually and find out firsthand what they think could be achieved as a result of developing D,E&I. This is an ongoing process and one that great HR leaders will be able to incorporate regularly into business operations.
Use this information to spread the word about the company's diversity and incorporate quotes and interviews into the business' marketing strategy. Create videos and other promotional content to let the outside world know.
5. Standardise inclusive language
There are many adjustments to be made to language in the workplace. With no clear separation like 'ladies and gentlemen', it's important to incorporate inclusive terms that don't exclude individuals based on their gender choices. While adhering to political correctness, terms like 'normal', 'guys', and 'minorities, are exclusive.
Addressing the 'people' in your organisation in the correct ways will include all 'teammates' irrespective of their origins.
4. As CEO, address D,E&I regularly
We see many organisations publishing reports on D,E&I, but regular contact from the company's CEO, or representative of the c-suite, will motivate and inspire the workforce to team up and continue its great work. Alternatively, if there are negative connotations towards D,E&I, the leadership team can address this regularly to let employees know that it has recognised the need for change.
3. Mentor and developing underrepresented groups
'Underrepresented' being the more inclusive term for 'minority', this is something that will instantly shed light on the company's success with D,E&I. Not only will leaders gain insight into the current trends of the workforce, but they will be able to mentor and encourage the development of these groups to increase the representation in higher roles. If the organisation is seen to incorporate diversity into its leadership team, it is likely to receive further diverse applications for jobs.
2. Create a dedicate diversity video or report
Take a deep dive into the company's history and come up with a message to support the need for diversity in the workplace. Search online for the videos and reports presented by leading organisations, such as this video from Apple which also contributes with its own impact accelerator project.
More firms are using data to analyse their teams alongside human testimonials to get the most out of their D,E&I strategies.
1. Make employment valuable for diverse groups
Updating your employee value proposition is a start. Following COVID-19, there appears to have been a shift in sentiment towards working, particularly when it comes to job satisfaction. Money is no longer the be-all and end-all of work and more individuals require job satisfaction to uphold their positions.
Businesses must understand the value of their employees, despite their backgrounds, and provide opportunities beyond their paychecks. Training, personal development, social support, and the chance to support charitable movements.