Echo Research explores ESG & sustainability strategy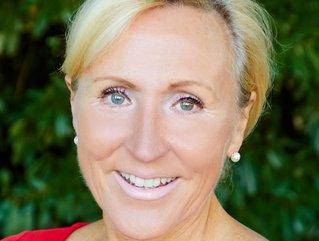 Sandra Macleod, Group CEO of Echo Research. Credit | Echo Research
Sandra Macleod, Group CEO of Echo Research, provides insight on sustainability programmes & gives advice for strategy, breaking down ESG impact & reporting
An Expert Witness in Reputation and cited as among the 100 most influential people in PR, Sandra Macleod is Group CEO of Echo Research, which provides brand and reputation research and valuation for clients globally.
In addition to its global listening and stakeholder research — and running Britain's Most Admired Companies Study — Echo launched its ESG Practice in 2020.
Sandra is Ambassador to the International Integrated Reporting Council, Chartered Manager and Companion of the Chartered Institute of Management, and former Visiting Professor on Reputation at NYU.
Former Independent Advisor on the Governance and Sustainability Committee of Richemont SA, Sandra is recipient of the Page Distinguished Service Award the Don Bartholomew Award in 2020 for her contribution to reputation management and measurement internationally.
Originally from Montreal, Canada, Sandra is fluently bilingual, with two grown up children and a second home in France.
Sandra sat down with Sustainability Magazine to discuss ESG and sustainability strategy.
Where is ESG and sustainability heading?
From its initial origins in corporate social responsibility and spurred on by The United Nations Global Compact to get businesses and firms worldwide to adopt sustainable and socially responsible policies and report on their implementation, ESG and sustainability have landed either enthusiastically or highly uncomfortably on the boardroom table.
At Echo, we see in our research for Britain's Most Admired Companies Study over the past 30 years across the FTSE, of all the key reputation drivers, the one that is rising in importance fastest for C-suite listed Directors and financial analysts is ESG.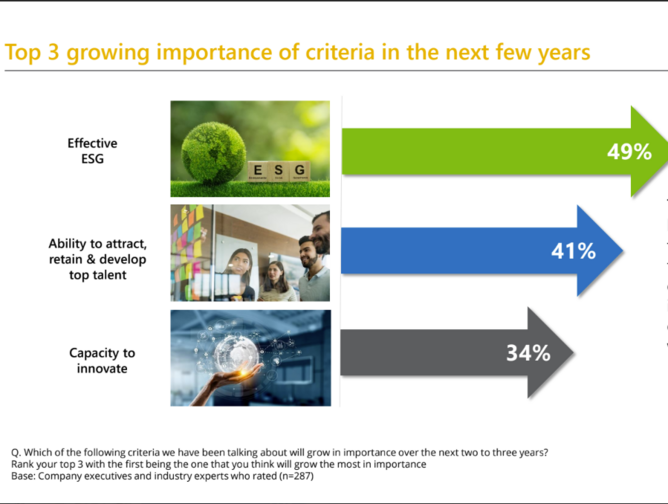 Top 3 growing importance of criteria in the next few years. Credit | Echo Research
Driven by investor interest focusing on reputation risk, along with the reporting requirements of the alphabet-soup of analyst ratings, and rapidly increasing regulation, the danger is that ESG starts to be relegated to tick-box compliance, under either the Chief Risk Officer, the Company Secretary or Chief Legal Officer.
If left to the CMO, the danger is that greenwishing leads to greenwashing and often unintended hypocrisy called out by consumer groups, incurring legal fines or bans. At this rate, we're in danger of moving far from the much-needed purpose-driven leadership to transform for better.
How are companies keeping track of their sustainability programmes?
As ever, we talk about sustainability as a journey — a journey of discovery, learning, implementing, culture change, continuous improvement, innovation and transformation.
Often through newly-created roles of the Chief Sustainability Officer, we see companies build sustainability SMART goals into their strategic plans and integrate ESG metrics into their operations, starting with internal education and guidance on setting baseline measures and commitments for improvements.
It's proven far easier to measure the environmental portion of ESG.
While ensuring a sound baseline, evidence and scientific data can be complicated in assessing how a company performs as a steward of the physical environment — such as its use of natural resources and the effect of their operations on the environment. Both in their direct operations and across their supply chains, it's ultimately an engineering focus to deliver agreed targets.
Collecting and analysing data on a wide range of sustainability-related factors, including energy and resource use, greenhouse gas emissions, and supply chain performance generates insights needed to guide their sustainability-related initiatives and improve their overall resource efficiency. Neglecting the environmental issues within ESG risk incurring significant fines.
The governance aspects involving issues such as executive compensation, board diversity, and shareholder rights are increasingly in headlines calling for greater transparency and commitments in this area.
The hardest of all is the middle 'S' of ESG — social. Human rights, labour practices and community relations are all harder to measure, often more subjective and can vary significantly in acceptability and desirability around the world. Neglecting these issues can lead to outright loss of licence to operate.
For these and other reasons, the 'uncoupling' of ESG measurement and reporting is a high possibility in the future.
How do they know if these sustainability programmes are landing effectively with key stakeholders?
If ESG metrics keep investors and regulators happy, sustainability programmes focus on wider stakeholder relations, be it customers, employees, partners and the wider community.
Either through over-promising or greenwashing, raising unrealistic expectations, or greenhushing through a failure to communicate actions, any misalignment results in a gap between perception and reality. This impacts the intangible yet valuable asset that is reputation and ultimately trust.
Reputation and brand have long been understood to be major drivers of a firm's long-term value which we've quantified time and again. With ESG and reputation now material risks for firms in the modern world, failure to implement an appropriate sustainability strategy involving input from keys stakeholders along the way will not only prevent a firm from optimising long-term value but can also destroy value, by damaging reputation, supplier and investor relations, staff motivation and retention and customer trust.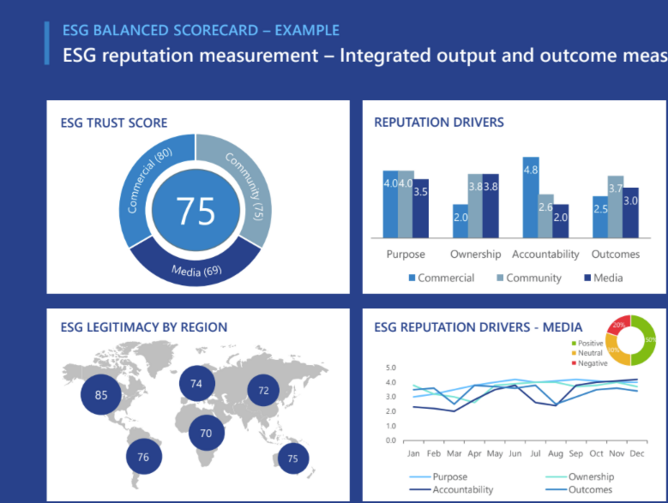 ESG balanced scorecard example. Credit | Echo Research
Ensuring stakeholders understand the journey and impact companies are making, sense checking along the way through social listening and stakeholder research is important in protecting that valuable asset.
What are the criteria you need to measure and keep on top of sustainability programmes and ESG standings in the fast-changing world we're in?
There are a myriad of ESG measurement tools out there. They range from baseline technical and regulatory benchmarks through to where our focus is – impact and reputation.
In the rush to be seen to be doing the right thing, too many organisations have insufficiently thought through the interaction between ESG activity and reputational impact.
There are some noteworthy brands out there who have significantly damaged their reputation (and value) with poorly conceived ESG campaigns.It's the casualty of the evolution from 'CSR', which was a traditionally passive, low value impact exercise from a Board perspective, to ESG where there is far greater Board scrutiny (and quite right too). Too often we see a disconnect between Boards and marketing teams keen to position a brand in the best possible light. ESG has to be led and monitored from the top.
Our advice is to engage stakeholders and influencers (media, NGOs, analysts) proactively and regularly through insight-led research. We work with clients to assess the impact of their ESG strategy using a defined set of criteria developed by our ESG team and fine-tuned over the last two years: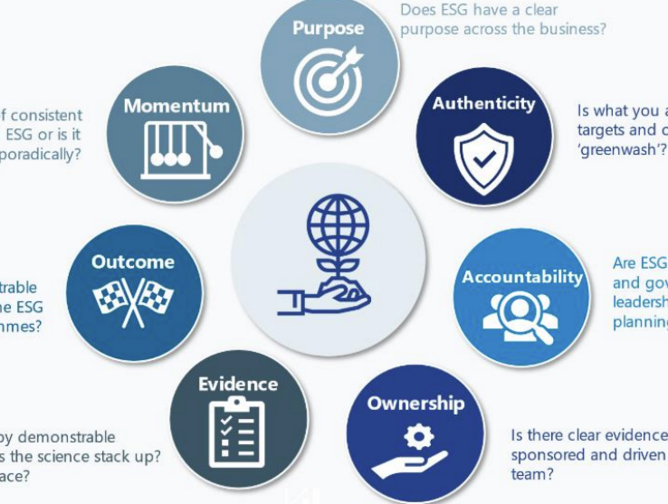 ESG drivers of reputation. Credit | Echo Research
Combined, these measure impact across seven critical areas of ESG effectiveness and from which, programmes can be fine-tuned, adapted and audited by an organisation's leadership and ESG specialists.
What is your one piece of advice for companies planning their sustainability strategy?
As the African saying goes, if you want to travel quickly go alone, if you want to travel safe and well, travel together.
Involve your key stakeholders in your sustainability journey, course correct as you travel based on real insight and evidence, and travel together.
*************************************************
For more insights into Sustainability - check out the latest edition of Sustainability Magazine and be sure to follow us on LinkedIn & Twitter
Other magazines that may be of interest - EV Magazine | Energy Digital
Please also check out our upcoming event - Sustainability LIVE in London at the BDC on Sept 6/7th 2023
*********************************************
BizClik is a global provider of B2B digital media platforms that cover 'Executive Communities' for CEO's, CFO's, CMO's, Sustainability Leaders, Procurement & Supply Chain Leaders, Technology & AI Leaders, Cyber Leaders, FinTech & InsurTech Leaders as well as covering industries such as Manufacturing, Mining, Energy, EV, Construction, Healthcare + Food & Drink.
BizClik, based in London, Dubai & New York offers services such as Content Creation, Advertising & Sponsorship Solutions, Webinars & Events.