Microsoft signs industry impacting Heirloom CO2 removal deal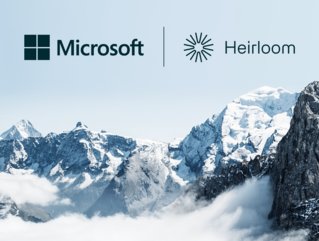 Credit | Heirloom
Microsoft's agreement with Heirloom is helping build the carbon removal market whilst supporting our carbon negative 2030 goal says Microsoft's Brian Marrs
Heirloom builds low-cost Direct Air Capture technology, permanently removing CO2 at a billion-tonne scale using a technology that rapidly accelerates natural processes enabling limestone to absorb CO2 from the air from a timespan of years to days.
Heirloom — which is funded by Bill Gates' Breakthrough Energy Ventures and others — has the only Direct Air Capture facility in North America permanently capturing CO2.
The company's customers are some of the world's biggest buyers of carbon removal, and include Stripe, Klarna, Shopify and more.
Heirloom enables Microsoft to purchase up to 315,000 metric tons of CO2 removal
Microsoft has signed a long term contract to purchase up to 315,000 metric tons of CO2 removal over a multi-year period from Heirloom, in one of the largest carbon dioxide removal deals to-date.
"Microsoft's agreement with Heirloom is another important step in helping build the market for high-quality carbon removal and supports our path to become carbon negative by 2030," believes Brian Marrs, Microsoft's Senior Director of Energy and Carbon.
"As an investor in and customer of Heirloom, we believe that Heirloom's technical approach and plan are designed for rapid iteration to help drive down the cost of large-scale Direct Air Capture at the urgent pace needed to meet the goals of the Paris Agreement."
"Microsoft has been an incredible supporter of Heirloom, helping us scale one of the world's most cost-effective Direct Air Capture solutions," says Shashank Samala, Heirloom CEO.
Financially supporting the energy transition
The deal between Microsoft and Heirloom represents one of the first bankable carbon dioxide removal agreements.
This opens up a crucial funding mechanism, allowing Heirloom to finance future Direct Air Capture facilities similarly to how other large-scale infrastructure projects have been financed for decades. As the energy transition accelerates, this funding mechanism allows the rapid scaling and commercialisation of wind, solar, and other renewable energy technologies.
"Bankable agreements of this magnitude enable Heirloom to raise project finance for our rapid scale-up, fueling exponential growth like what we've seen in the renewable energy industry," Samala shares.
Widespread support for carbon dioxide removal (CDR) scaling alongside renewable energy and other green technologies is on the up. JPMorgan Chase, for example, is targeting US$2.5tn for sustainable development and climate action by 2030.
"It is incredibly encouraging to see agreements of this magnitude because corporate buyers, like Microsoft, can unlock a significantly lower cost of capital for Direct Air Capture companies that are seeking to finance infrastructure projects, such as future carbon dioxide removal facilities," says Robert Keepers, Managing Director, J.P. Morgan Green Economy Banking.
CDR: Working towards net zero goals
The CO2 removal credits purchased as part of this agreement will be generated at Heirloom's next two commercial deployments in the US.
The removal supports Microsoft's goal to be carbon-negative by 2030, as well as its ambition to remove all of the CO2 the company has ever emitted by 2050.
Combined with rapid decarbonisation efforts, the suite of technologies that remove atmospheric CO2 are essential to limit global temperature rise to the Paris Agreement's 1.5 degree Celsius target.
*************************************************
For more insights into Sustainability - check out the latest edition of Sustainability Magazine and be sure to follow us on LinkedIn & Twitter
Other magazines that may be of interest - EV Magazine | Energy Digital
*********************************************
BizClik is a global provider of B2B digital media platforms that cover 'Executive Communities' for CEO's, CFO's, CMO's, Sustainability Leaders, Procurement & Supply Chain Leaders, Technology & AI Leaders, Cyber Leaders, FinTech & InsurTech Leaders as well as covering industries such as Manufacturing, Mining, Energy, EV, Construction, Healthcare + Food & Drink.
BizClik, based in London, Dubai & New York offers services such as Content Creation, Advertising & Sponsorship Solutions, Webinars & Events.