Supply Chain Sustainability
Precisely: The link between data integrity and ESG reporting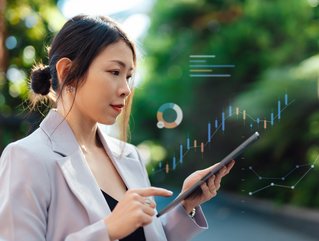 Precisely's Pat McCarthy discusses the link between data integrity and ESG reporting : Getty Images
Pat McCarthy, CRO at Precisely, discusses the link between data integrity and ESG reporting and how it can harness meaningful sustainability outcomes
Precisely is the global leader in data integrity, with the focus of ensuring accuracy, consistency, and context in data for customers all around the world, including 99 of the Fortune 100. In today's world, access to trusted data has never been more essential – it's truly the lifeblood of any business, empowering leaders to make the confident decisions needed to successfully grow revenue, improve operational agility, and manage risk.
As chief revenue officer (CRO), Pat McCarthy is responsible for driving sales and renewal performance, client satisfaction, go-to-market strategy, and overall operations of the global field-facing organisation. He has a deep, genuine passion for helping drive positive outcomes for the business's clients. The powerful role trustworthy data has in fuelling large-scale digital transformation, powering AI and automation programmes, and driving meaningful outcomes from ESG initiatives makes this a very exciting time for Precisely.
We sat down with Pat to gain a deeper understanding of these issues.
What is data integrity?
To put it simply, data integrity means having access to data that can be trusted for confident decision-making. To achieve this, a data integrity strategy helps businesses connect disparate data sources, ensures the highest levels of quality and governance, and continuously monitors it so that issues can be proactively addressed before they create problems downstream. Location intelligence and data enrichment can also help to unlock additional insights from the data that may otherwise be missed.
Explain why data integrity is important to ESG reporting?
Data plays a critical role in ESG initiatives because it provides the necessary qualitative and quantitative insights to effectively measure, monitor, and improve performance. Companies need to collect and analyse relevant data across a spectrum of areas, such as greenhouse gas emissions, waste production, diversity and inclusion metrics, employee health and safety records, board diversity, and executive compensation.
A data integrity strategy is key to getting ESG initiatives right because it ensures access to trustworthy data that helps companies identify areas for improvement, set targets, make adjustments in real time, and demonstrate their commitment to sustainability to investors and other stakeholders. These issues are often complex and require a comprehensive understanding of a company's operations, supply chain, and stakeholder relationships. Without data, it would be difficult to track progress toward achieving stated ESG imperatives.
Further, investors – who are increasingly interested in investing in companies that are socially responsible and sustainable – expect credible data to evaluate a company's sustainability performance and its potential risks and opportunities. As a result, companies that can provide transparent and accurate ESG data are more likely to attract investment and achieve better financial performance in the long-term.
How can organisations harness trusted data for meaningful sustainability outcomes?
Organisations that approach ESG initiatives or data management in silos are likely to struggle. The key to meaningful outcomes is to incorporate the metrics, priorities, and practices into the fabric of the organisation's overarching mission and operations. For example, ESG data management should be considered within the context and boundaries of a broader enterprise-wide data management strategy.

This means investing in systems and processes that prioritise the integrity of all organisational and third-party data, creating a strategic foundation upon which a variety of internal initiatives and programmes, including ESG programmes, can be based. By doing so, organisations can build a more sustainable future for their business while simultaneously supporting ESG priorities and governance.
What do the next 12 months hold for you?
As mentioned prior, when ESG projects are managed independently of larger corporate data integrity initiatives, they are generally underfunded, under-resourced, and, ultimately, not sustainable. ESG reporting has historically been board sponsored but as a one-off or point-in-time initiative.

Over the next 12 months, we will continue to evangelise the significance of viewing sustainability measures within the context of a broader corporate data integrity programme. This will ensure that data platforms include the granular and enriched content required for flexible but consistent reporting and insights.