'COP26 House' in progress for climate change gig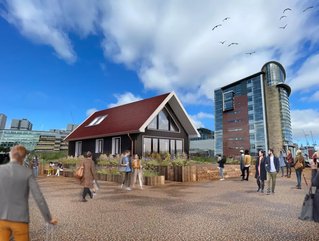 Beyond Zero Homes and MEDITE SMARTPLY's COP26 House will showcase what is achievable with today's materials and technologies
Work is in progress on the construction of the COP26 House – a zero carbon, timber frame building built by Beyond Zero Homes. Meanwhile, sustainable wood-based panel manufacturer, MEDITE SMARTPLY is also playing a vital role in the trailblazing build. 
The project will showcase low carbon, circular solutions in building and living during the 2021 UN Climate Change Conference in Glasgow this October 31st- November 12th, demonstrating how the climate emergency can be met with products and building strategies that are already in existence.
Chris King, Managing Director at MEDITE SMARTPLY, commented on the project: "Actions speak louder than words. This building encapsulates MEDITE SMARTPLY's commitment to building a more sustainable future. "We in the construction industry have not only the opportunity but the responsibility to put theories into action and show the world how we can build and live sustainably, using wood and ecologically responsible solutions."
The members of Beyond Zero Homes are united by a common goal that goes beyond zero carbon: to demonstrate how beautiful, affordable, healthy homes can be developed with minimal impact on the environment throughout their lifecycle, to help us meet our climate commitments.
The Construction
The one-bedroom house has been specifically designed to use homegrown C16 Spruce to avoid the need for imported timber, lending itself perfectly to the specification of SMARTPLY OSB, sustainably produced in Ireland and already stored across the UK.
The build features the integration of SMARTPLY PROPASSIV, a structural OSB panel with integrated vapour control and air barrier properties for use as structural sheathing in timber frame structures. Additionally, the build is incorporating SMARTPLY ULTIMA for the internal flooring and underside boarding, while SMARTPLY STRONGDECK is being used for the internal mezzanine level flooring.  
The construction is based on a 1.2m grid, allowing it to be easily panelised and prefabricated, or even self-built on site by two people, driving potential emissions from construction down even further. The design has been adapted from one of Roderick James Architect's signature designs, the barn house.
Max Bishop, Specification Manager at MEDITE SMARTPLY said: "It's fantastic to see progression on site of the COP26 zero carbon build. This is a statement to the rest of the world that sustainable zero carbon building is possible, and it can happen right now."
While the house has been designed with small scale, rural self-build developments in mind, the potential for it to become the future of sustainable residential building is real, as it can be adapted to larger scale developments and offsite prefabrication.
As part of the Coillte Group, MEDITE SMARTPLY prides itself on its sustainable supply chain and manufacturing processes, meaning the company's products are as environmentally conscious in their make up as they are in their application.