Sustainability legend: Steve Irwin 1962 - 2006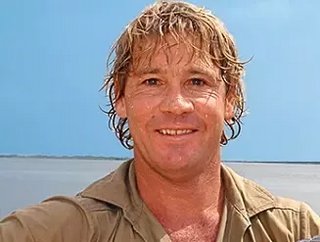 Legend: Australian environmentalist Steve Irwin made the environment entertaining to Australia Zoo visitors and viewers of his conservation documentaries
It's been 15 years since Steve Irwin was killed by a stingray while snorkelling on the Great Barrier Reef.
The khaki-clad Aussie icon is an unlikely business legend - but the Crocodile Hunter was posthumously inducted into The Queensland Business Leaders Hall of Fame for his conservation efforts, support of quarantine and popularising Australian tourism to the world. 
Steve Irwin was born in Melbourne, in 1962, to wildlife enthusiasts Bob and Lyn Irwin.
In 1970, the Irwin family opened the Beerwah Reptile Park, now called the Australia Zoo. Steve spent his childhood feeding the animals and eventually became the owner. In 1991, 27-year-old Terri Raines visited Australia Zoo on holiday and met Steve at a crocodile show. He devastated Terri by inviting her to meet his girlfriend, which turned out to be his dog, Suey. The pair became engaged just months later and went to film crocodiles on their honeymoon.
An infectious passion for animals 
Animal populations have declined by 60% since 1970, something which horrified Irwin's parents. They raised their son to love animals, and he made this his life's work. 
Irwin made over 100 documentaries, which have been broadcast in 142 countries and viewed by an audience of 500m. 
"I believe that the time has come where if we don't get animals into people's hearts, they're going to go extinct", said Steve Irwin to television show host Larry King. "People don't want to save something they don't know."
Through Steve's television shows, documentaries, chat show interviews and Australia Zoo, Irwin led businesses and individuals to consider their environmental impact and the importance of conservation.
Business ideas
In 1996, Australian wildlife show The Crocodile Hunter began, cannonballing Steve Irwin into becoming one of the world's most famous television stars.
Irwin made over 100 documentaries, which have been broadcast in 142 countries and viewed by an audience of 500m. 
In an interview, Irwin explained that he wanted to take the 'Croc Hunter message' commercial, through kids toys and clothing, to advertise conservation to those who had not seen the show. 
Well ahead of 2020, Irwin was a keen promoter of Australian quarantine procedures and featured in adverts encouraging travelers to adhere to the rules. 
Through his documentaries and chat show appearances, Irwin was able to advertise Australia as a tourist destination. His contribution was described as 'immeasurable' by Tourism Australia.
Wildlife legend 
Irwin's children, Bindi and Robert, have also forayed into broadcasting with Bindi the Jungle Girl and Growing Up Wild. His family still live at Australia Zoo and have grown to include Bindi's husband, Chandler, and their daughter, Grace Warrior Irwin Powell - born on the 25th March 2021, the first year anniversary of Bindi and Chandler's wedding. 
Steve Irwin's enthusiasm for animals made conservation cool, leading many to take on protecting the environment as a passion.